This week, the 2022 Washington state legislative session concluded, with a few notable achievements for the environment in our state. In even-numbered years, the session lasts 60 days, shorter than it is in odd-numbered years. Time is always of the essence when advocating for people and the environment, but it becomes even more important during the short session as there are fewer chances to influence and deliberate on legislation.
Here at The Nature Conservancy in Washington, we built off the achievements from the 2021 session by addressing climate change, ensuring communities plan for more resilience in the face of climate vulnerabilities, supporting key investments in salmon and riparian habitat recovery and conservation programs, creating green stormwater infrastructure, and reducing air and water pollution in transportation.
Along with your support, we're thrilled to have played a part in making more progress this year towards a thriving Washington for both people and nature. Here are some notable outcomes we helped advance in this legislative session: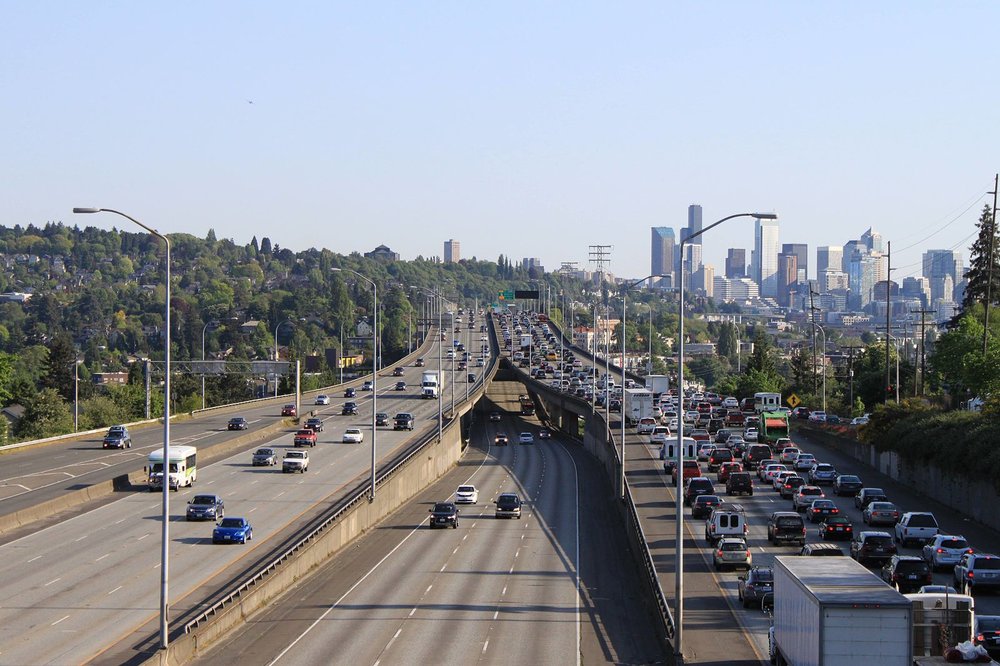 Transportation Pollution
Move Ahead Washington is the most-environmentally sustainable transportation investment package in our state's history. With the support of funding from Washington's new climate emissions reduction law, the Climate Commitment Act, and recent robust federal infrastructure and relief funding, Sen. Marko Liias and Rep. Jake Fey, with many others, shepherded a package that invests in existing roadways over expansion. It will make public transit widely available and affordable, create robust bus, train and create walking connections, and initiate funding for large scale decarbonization projects. This transportation package strikes directly at the state's largest source of greenhouse gas emissions.
In support of the transportation package, the state Legislature invested over $100 million to support the transition to electric vehicles, including EV rebates and charging infrastructure.
Finally, Move Ahead Washington also includes the largest investment in treating toxic stormwater runoff pollution from roadways that harm salmon and communities. TNC successfully advocated for the prioritization of $500 million over 16 years toward retrofits of existing pollution sources, using green stormwater infrastructure clean runoff and address environmental health disparities and salmon recovery.
Climate Change Resilience and Mitigation
Buildings are the fastest growing source of greenhouse gas pollution in the state, and meaningful action on climate change means curbing this source of pollution. That includes reducing our reliance on greenhouse gas pollution from buildings. Sen. Joe Nguyen's bill, SB 5722, will require performance standards for energy systems in existing buildings and decarbonization of building heating and cooling loads.
Climate-smart agriculture holds incredible potential to reduce and sequester greenhouse gas emissions while supporting farmers and ranchers, critical on-the-ground conservation partners. For the first time, the Legislature is providing funding–$2 million–for the Sustainable Farms and Fields grant program established in 2020 to tap the potential of farmers to lead on climate action.
Additionally, despite the supplemental budget year, the legislature is spending $57 million to support solar energy projects, including priority funding for "preferred-sites" for this clean energy infrastructure.
Finally, we thank state Rep. Davina Duerr, and state Sens. Jesse Salomon and Andy Billig, for their work in enacting SB 5042, which closes the sprawl loophole within the Growth Management Act.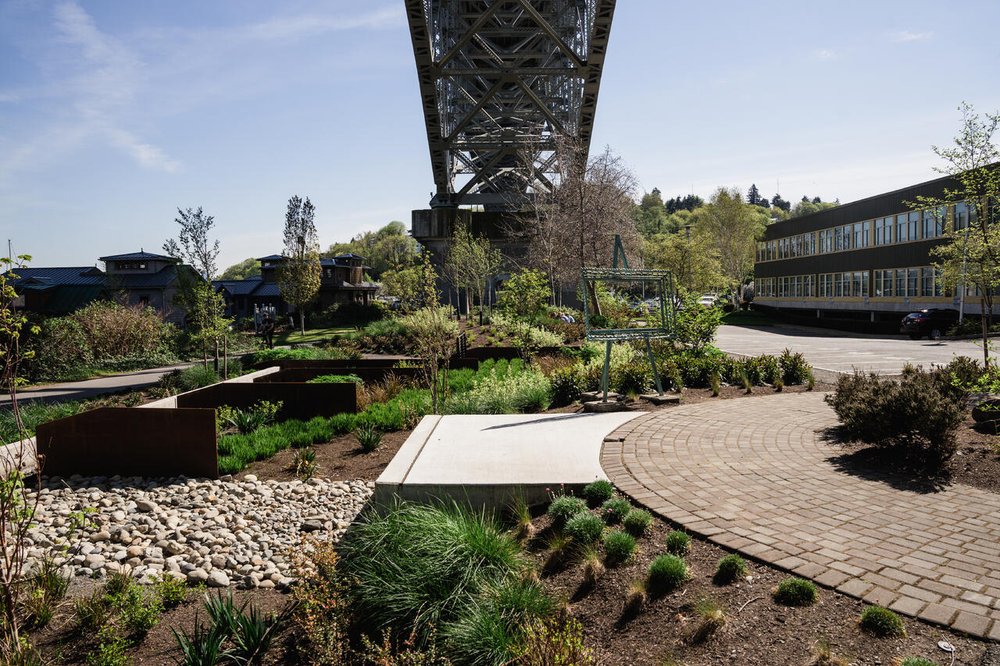 Green Infrastructure and Nature-Based Solutions
Green infrastructure also includes managing urban environments to reduce harm to essential habitats. We advocated for the Legislature to invest in green stormwater infrastructure, such as bioswales and rain gardens, to limit pollution and runoff entering waterways and Puget Sound. In addition to $500 million included for stormwater projects in the transportation package, one notable project—green infrastructure under the I-5 Ship Canal Bridge in Seattle—was funded with $10 million. Sen. Reuven Carylyle was instrumental in getting the Legislature to reflect care for healthy, thriving habitats through the budget by including this stormwater infrastructure funding. We are thankful for his leadership on this important project!
Other notable achievements:
SB 5619, revitalization of kelp forests and eelgrass meadows
Kelp and eelgrass and other aquatic habitats are facing threats from climate change and other stressors. We're thankful Sen. Liz Lovelett and Rep. Sharon Shewmake recognized the importance of kelp and eelgrass and successfully passed SB 5722, which will focus Washington to conserve and restore kelp and eelgrass marine areas.
Salmon recovery
Salmon are an integral part of Washington and the whole Pacific Northwest. Integral to Indigenous cultures and as a food staple, salmon are a part of the people and the landscape of the region. The climate change crisis and habitat destruction threatens salmon.
This session saw more than $150 million—a record level of off-year investments—in voluntary restoration projects and critical data assessments to help capitalize on federal infrastructure funding. The Legislature also called for recommendations to set the stage for more action for salmon in future years.
Additionally, the Move Ahead Washington transportation package addresses the state's court-ordered obligation to adhere to tribal treaty rights by investing in removing state-owned salmon blocking infrastructure, such as culverts.  Sen. Christine Rolfes, Rep. Debra Lekanoff and Gov. Jay Inslee were leaders in making salmon recovery a priority in 2022.
We will expand on the following in 2023:
Salmon habitat
While salmon recovery funding was strong in 2022, two bills this session, HB 1838 (the Lorraine Loomis Act) and HB 1117 (Salmon Recovery and Comprehensive Planning)  aimed to protect and restore greenspaces along riverways, riparian habitat, to help salmon populations. Neither bill made it through the Legislature this year, but important dialogue occurred amongst Tribes, stakeholders, and local governments, which lays the foundation for Washington state to bring forward creative solutions for salmon and communities in future years.
Keep Washington Evergreen
Over the past two decades, Washington has converted forest and other open lands into other uses, which has damaged habitats, communities and the state's ability to respond to climate change. The state Department of Natural Resources, led by Commissioner Hillary Franz and in partnership with Rep. Kirsten Harris-Talley and Sen. Christine Rolfes, created a proposal to establish targets and action plans to conserve 1 million acres of working forestland and reforest another million acres of urban tree canopy and recently burned areas by 2040. It would have also prioritized adding trees and green space in overburdened communities who often face the worse of our climate crisis. Though the proposed bill did not pass, Rep. Harris-Talley, Sen. Rolfes, and Commissioner Franz started an important conversation around how to avoid conversion of working and natural forests. Here at TNC, we will continue to advocate for the preservation and revitalization of our working and natural lands and building resilient, thriving communities.
Green energy in buildings
Buildings represent the second largest source of emissions in Washington, and of four well-thought proposals this year, only one proposal was enacted.  To meet our decarbonization goals, the state must continue to embed energy efficiency into the built environment by strengthening building energy codes, all public utilities to target residential electrification to replace fossil fuel infrastructure, and require utilities to develop clean heat transition plans. Reps. Alex Ramel and Davina Duerr, and Sen. Marko Liias put these proposals forward but they  did not get through the Legislature, they started the necessary conversation on what Washington must eventually do on energy efficiency.