Let me start by saying, if you have decided to visit Faroe Islands, you have got to be someone who loves adventure, is crazy about nature, can't imagine a life without hiking, and prefers to stay away from the crowds. Faroe Islands aren't easy to get to, and not cheap either, and while they're one of the least crowded and most uninhabited territories that exist, you'll see raw nature while you're here and more sheep than people. Accommodations and hotels are far and few, restaurants are scattered and difficult to find, and you're in the middle of nowhere, surrounded by rugged, unrivalled, striking beauty! 5 days in Faroe Islands are just not enough, even though the archipelago is fairly small, and easy to traverse from one end to the other.
Before we dive into the itinerary, start by reading all you need to know before visiting Faroe Islands here. While there are buses that connect one town to another, public transportation will only take you so far. Renting a car and driving is your best bet else be prepared to walk from the bus stop to your destination (or hitch hike, if you're adventurous enough). Its next to impossible to cover so much ground in 5 days in Faroe Islands without a car, especially due to the unpredictability and instability of the weather.
Firstly, I highly recommend getting your accommodation in either the capital, Tórshavn or Vágar, two of the most commercialised towns in Faroe Islands. These are the areas where you'll find maximum restaurants, shops, and groceries as well so unless you the sorts who wants to live in a completely disconnected, and remote location, you'll find several cosy BnBs in these lively towns. The drawback of living in Vágar is that you will end up crossing the toll sub-sea tunnel every time you leave the island (3 out of 5 days, as per my recommended itinerary) and the tolls aren't cheap!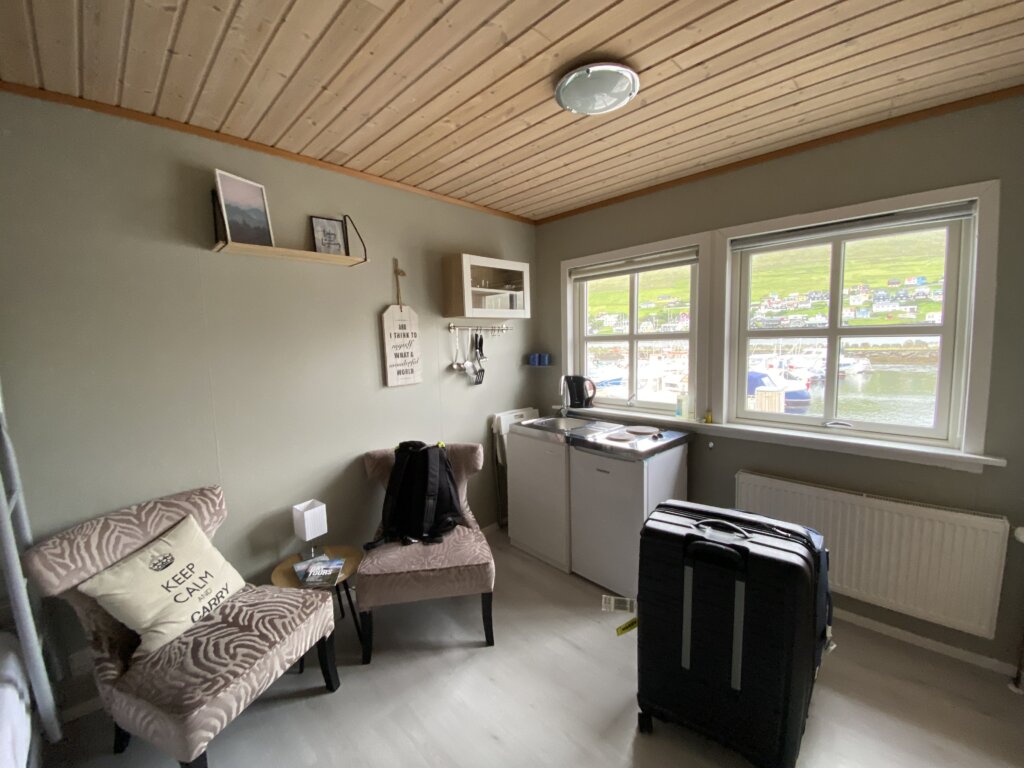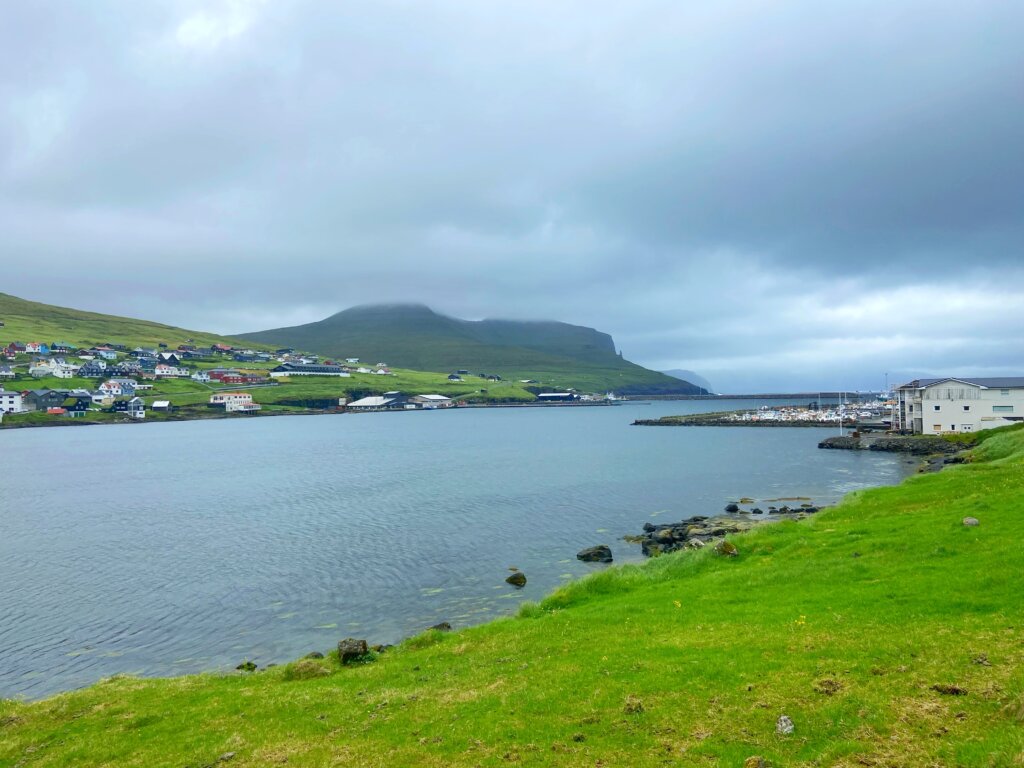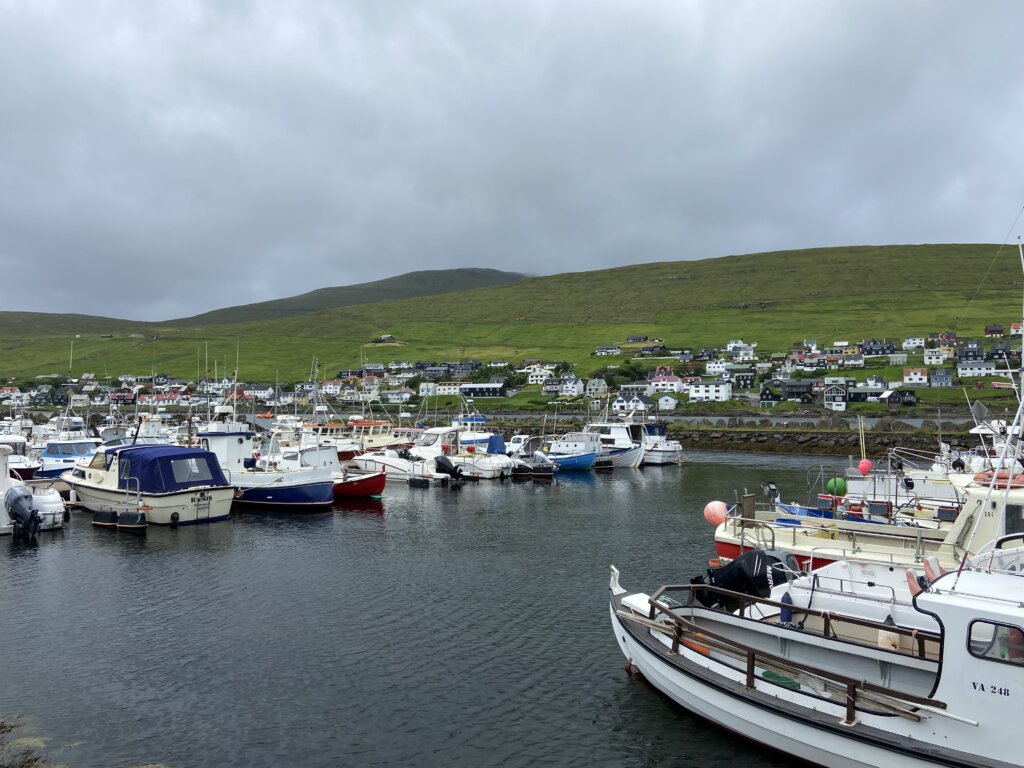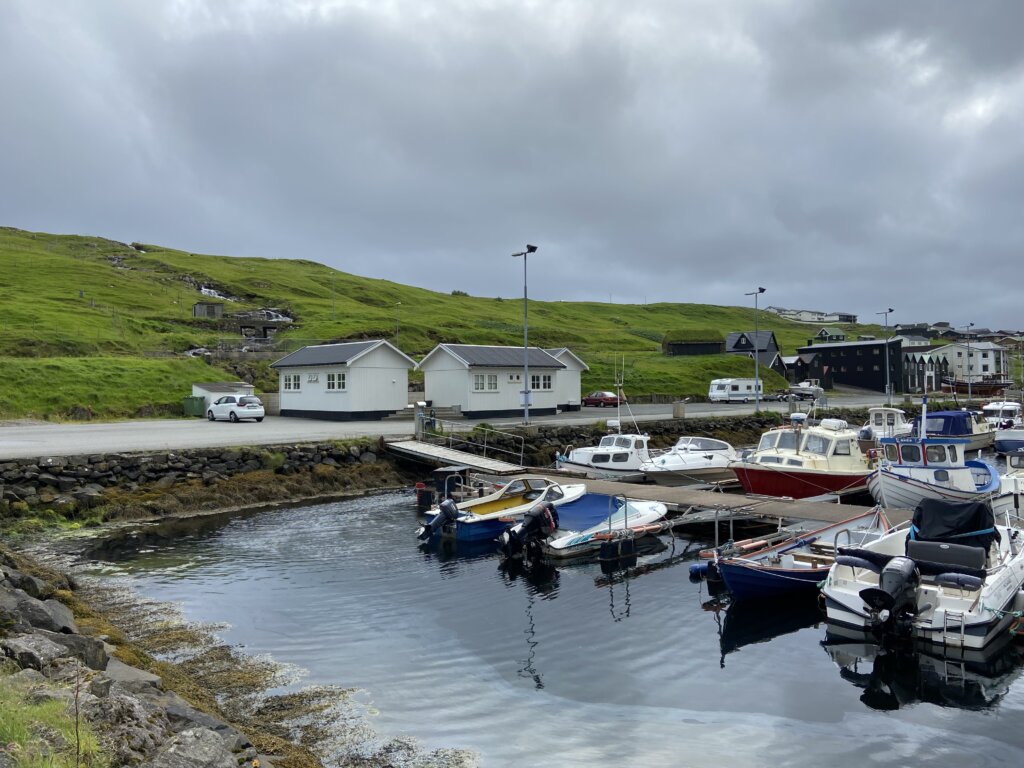 We found an amazing accommodation in Vágar which was reasonably priced and perfectly located, right next to the harbour, offering an excellent view. It was cosy but well equipped with cooking equipment, an attached bathroom, and a bunk bed! Click here to book your stay at Kristjanshavn.
Most flights to Faroe Islands will arrive in the morning so you'll have the full day to explore. If you're travelling in the summer (July, August), you'll have sunlight until 11 pm, which gives you a really long day! This was my first ever experience with midnight sun (well, dusk) and it was unique. Driving after dark isn't really recommended because of the absence of any street lighting, so it's good that the days last long enough for you to explore and get back to your base before night sets in.
---
Day 1: Streymoy Island, Kirkjubøur & Boat Trip
Start your day in the capital city of the Faroe Islands, Tórshavn, located on Streymoy Island. If you're staying in Vágar, you'll take the under-sea tunnel (and there's a heavy toll for this but totally worth it) and get to the charming old town, Tinganes, with its colorful houses and historic buildings, in about 45 minutes. If you're a history buff, then visiting the National Museum of the Faroe Islands might be of interest to you. This part of Faroe Islands is the most happening, active and crowded so if you wish to shop or buy souvenirs, this is the best moment to do it. This is also where you'll find the most cafes, restaurants, and bars, so do take this opportunity to grab some Faroese cuisine while you're here. Try local specialties such as fermented fish (ræst kjøt), Faroese lamb, and seafood dishes.
Hardly a 15-minute drive from here is the village of Kirkjubøur, located on the southern part of Streymoy. Here you can visit the ruins of the 13th-century Magnus Cathedral and the oldest still-inhabited wooden house in Europe, Kirkjubøargarður. This is your first day in Faroe Islands, so be prepared to be greeted by pristine, raw, untouched nature with hardly any souls around, but sheep. You can take a nice walk along the coast with spectacular views, especially if you're lucky to have a clear day with blue skies. The Faroe Islands offer incredible natural beauty, so take the time to appreciate the landscapes and enjoy the peaceful atmosphere during your visit.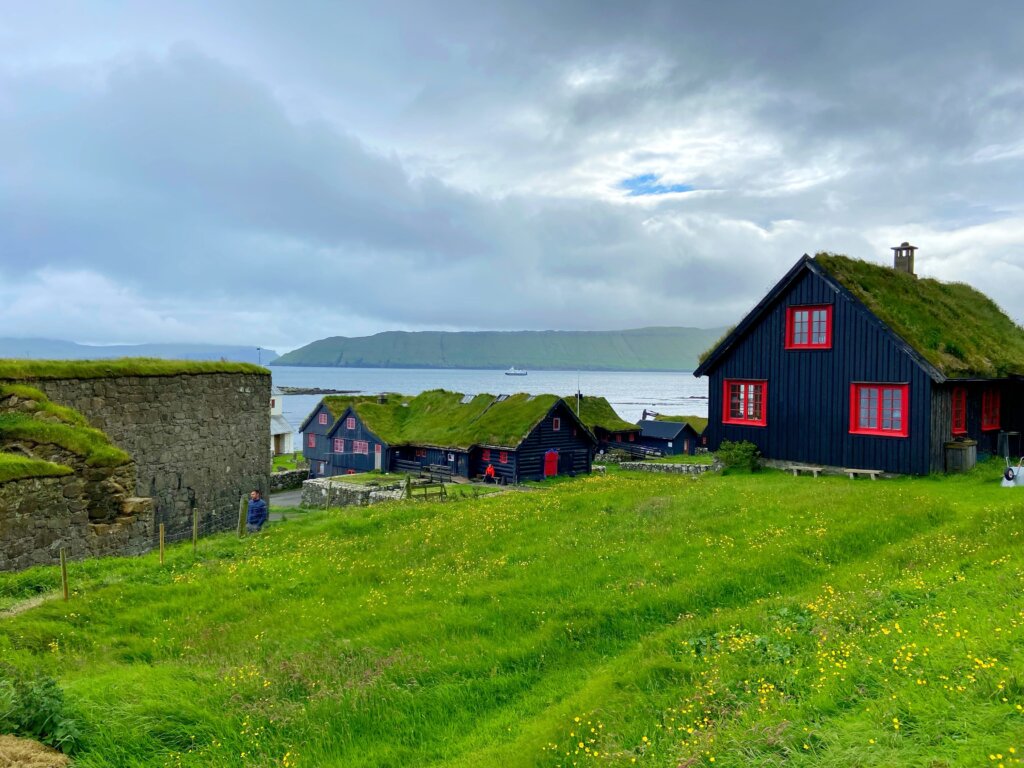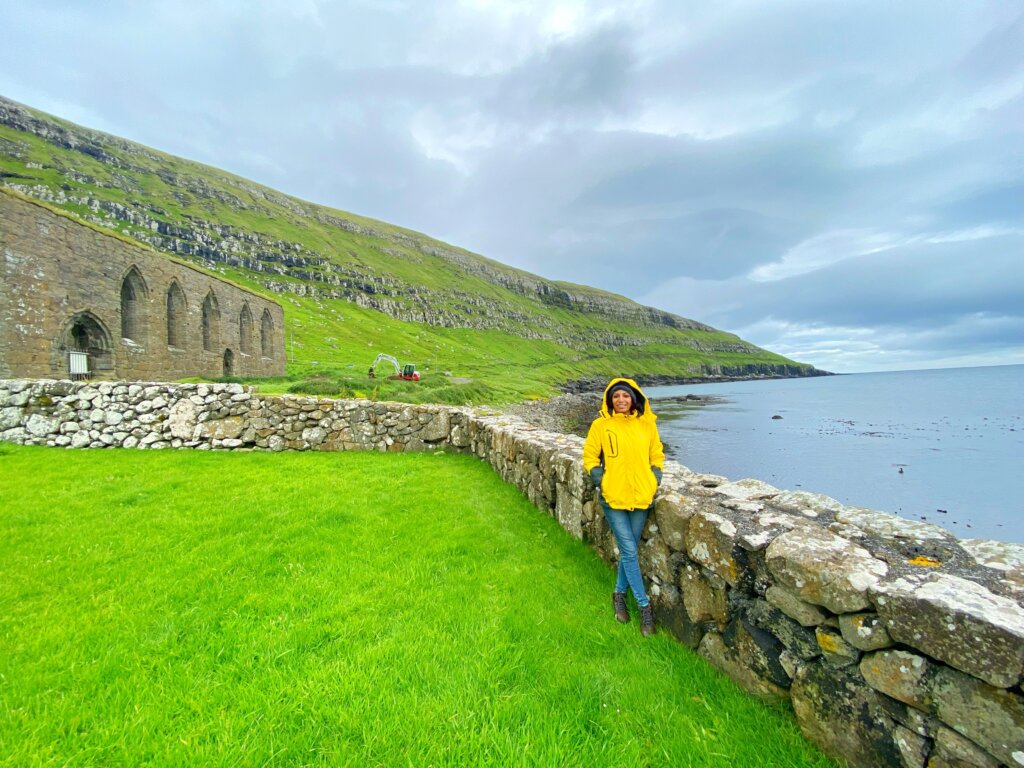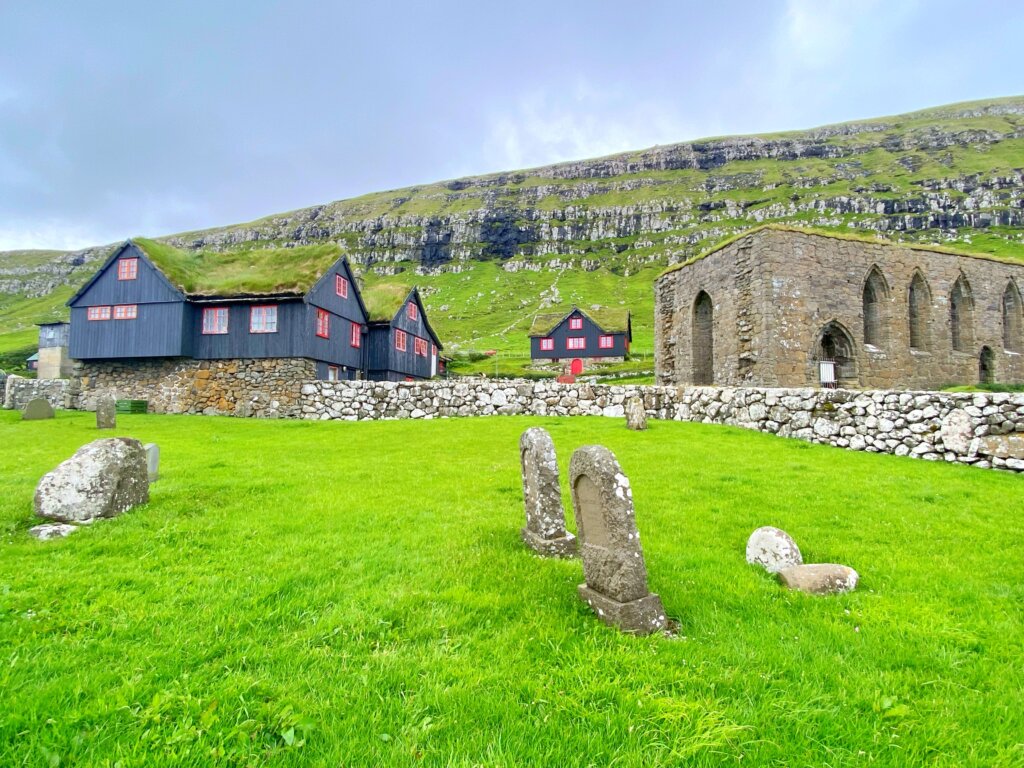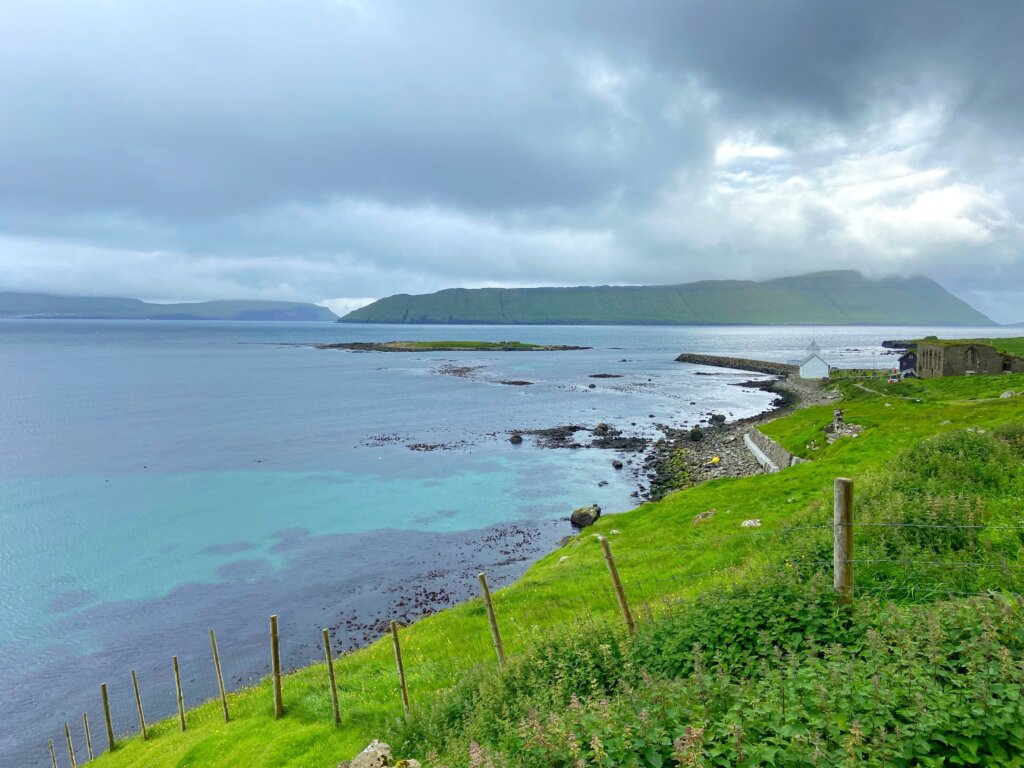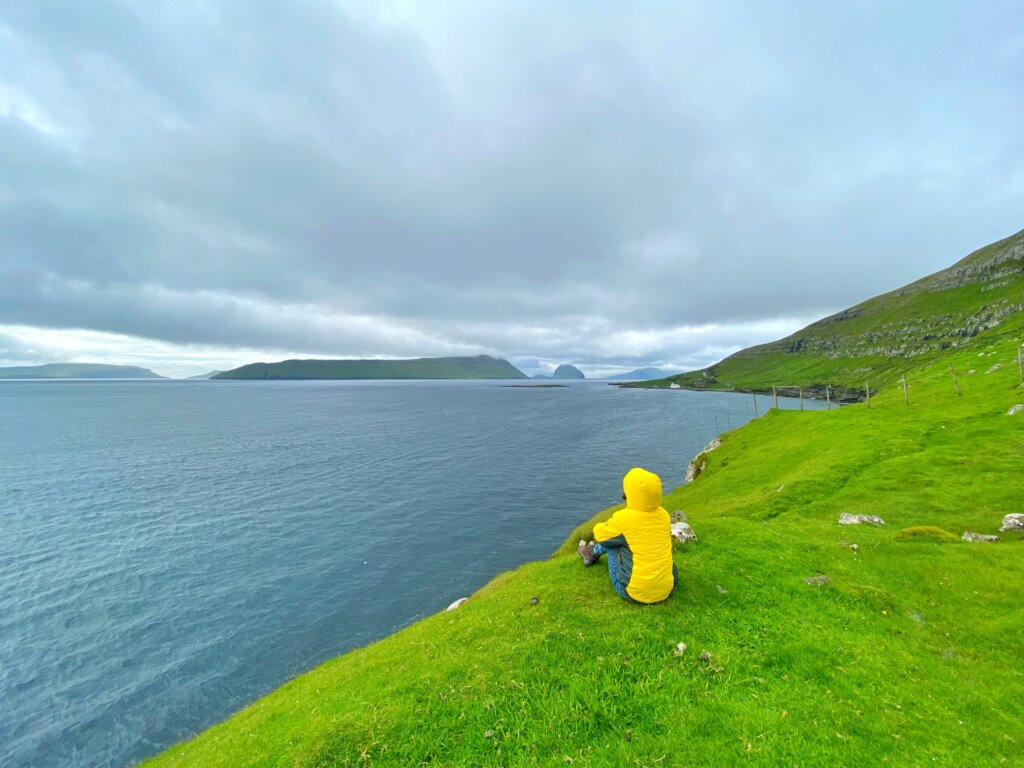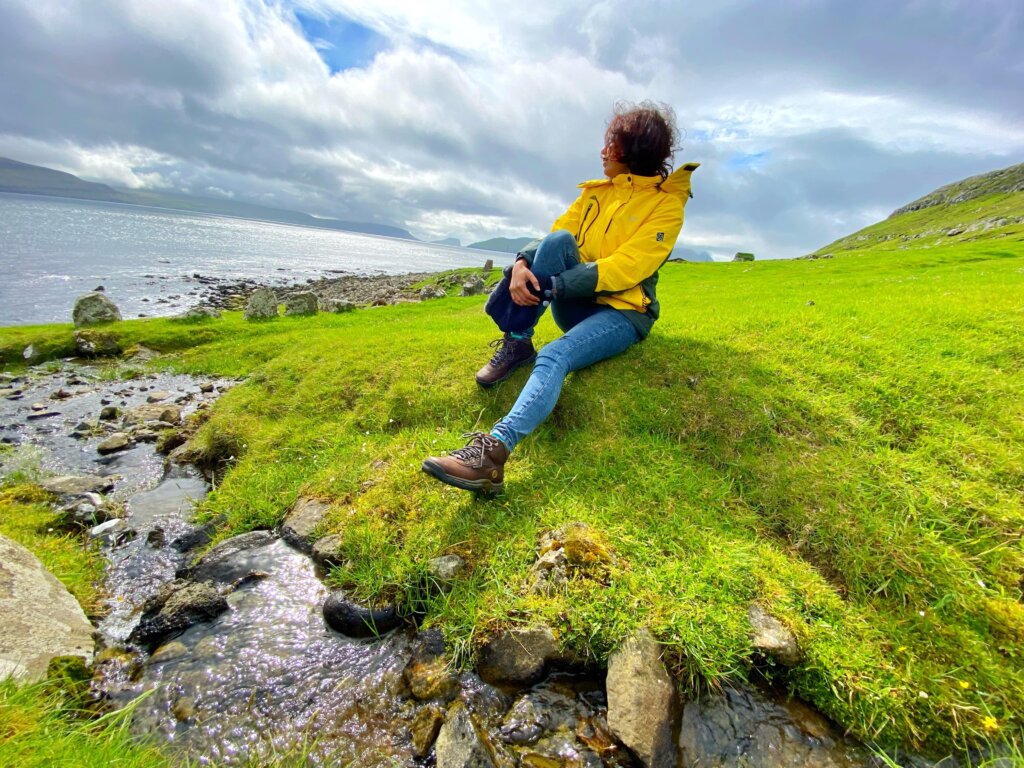 If the weather allows (yes, there will be a lot of mention on my blog of the unpredictability and dependence of the plans on the weather in Faroe Islands), take a boat tour from Tórshavn to the Vestmanna Sea Cliffs and caves, located on the west coast of Streymoy. These dramatic cliffs rise straight out of the ocean and provide nesting grounds for numerous bird species. The boat tour takes you through narrow straits and caves, offering a unique perspective of the cliffs. During the summer season, you will see a lot of puffins in their natural environment. The tour lasts for about 1.5 hours, runs in the afternoons, and costs about $60.
Alternatively, you can also consider taking a boat trip to Hestur Island that starts from Gamlarætt in Streymoy and lasts 1.5 hours. Very similar to the Vestmanna Sea Cliffs tour, this one also takes you to some cliffs around the Hestur Island, located in the west of Streymoy, where you can spot guillemots, puffins, black guillemots, shags, fulmars, and eiders. A couple of seal caves are there as well, that they will sail into if possible.
Lastly, if you have more time and don't want to rush into a 90-minute boat tour, you can plan on visiting Nolsoy Island, located on the east of Faroe Islands, by a 30-minute ferry that runs several times per day from Torshavn to get you to this small, charming town, with less than 300 inhabitants. Home to several historical excavations that are believed to be dating back to Viking era, Nolsoy offers several possibilities to those looking to hike along the rugged mountains offering excellent coastal views. The ferry to Nolsoy Island, at the time we travelled, didn't carry any cars. However, there were talks of a new car-carrying ferry starting soon, so make sure to check that before you go!
Important Note: Whenever taking a ferry from one island to another in Faroe Islands, do keep an eye out on the timetables as you do not want to miss the last ferry back. Most ferries allow cars on board, which is a great thing, however, many islands are so remote and lack proper facilities for tourists / guests which means if you get stuck without a way back, you're likely to have to sleep in your car overnight or request a local to take you in for the night!
---
Day 2: Vidoy, Klaksvik & Kalsoy Island
On this day of your 5 days in Faroe Islands itinerary, you will visit Vidoy, the eastern most island of your trip and the northern most island of Faroe Islands. The island is home to the much-visited village Viðareiði, famous for the hike to Villingardalsfjall. The hike offers excellent views and while it's moderately hard, it's highly recommended for those who wish to enjoy stunning views of beautiful coastal mountains while perched up above one of the most idyllic villages of the Faroe Islands, Vidareidi.  The road trip from Vagar to Vidareidi lasts 1.5 hours and will take you through several inter-island, under-sea tunnels.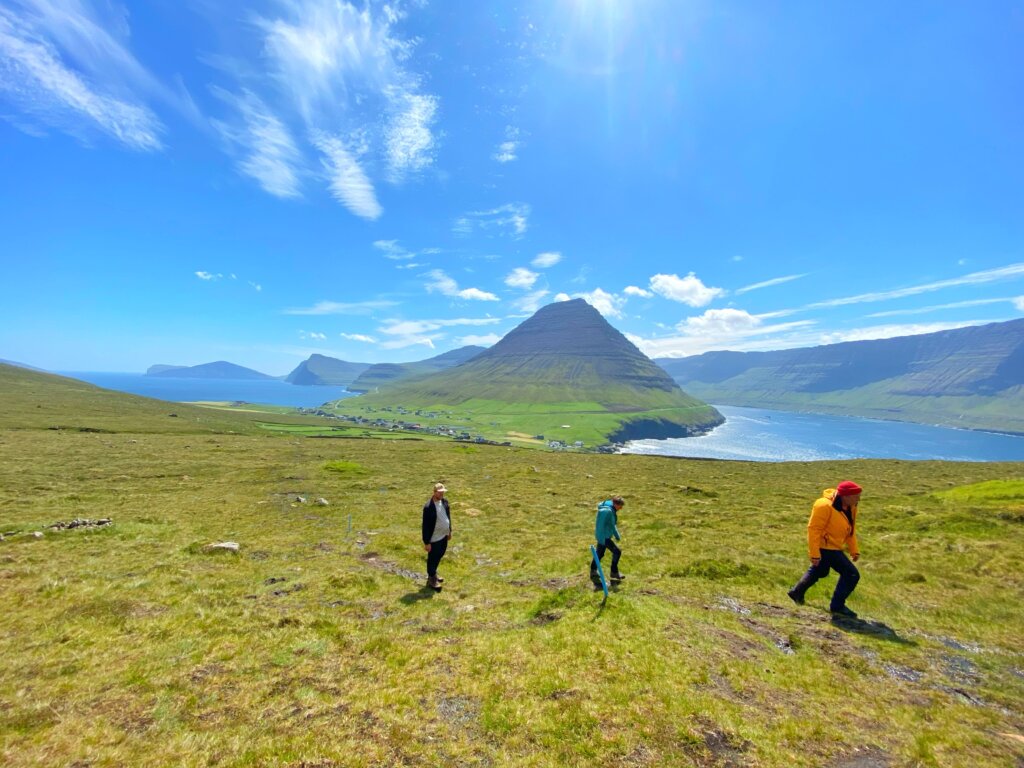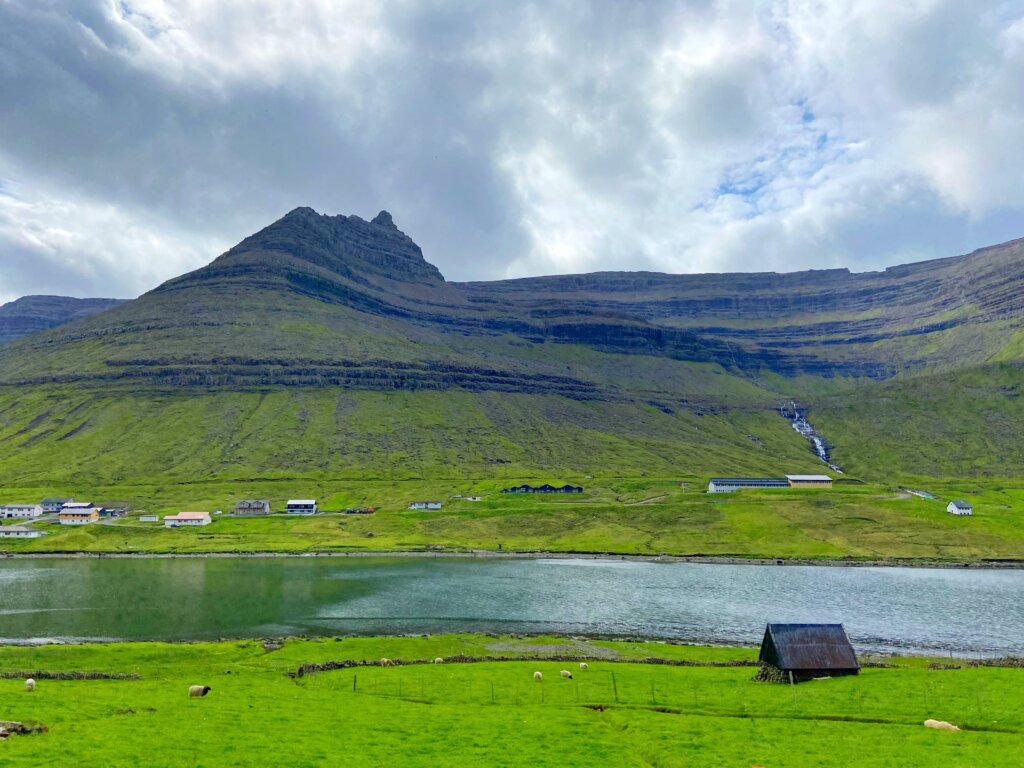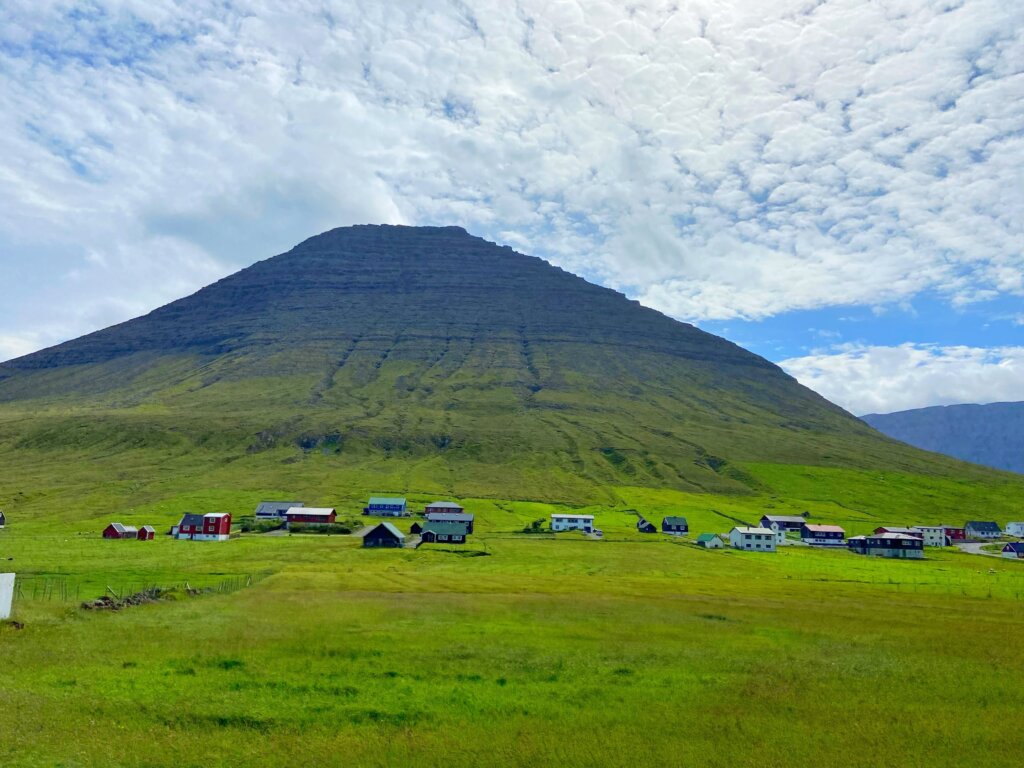 The trail begins at the top of road Vid Gard, in the northern part of the town Vidareidi, and while its only 3.7 miles, lasts about 4 hours due to the strenuous climb, after the first 2 kms. I recommend starting early on this day to allow enough time for both the hikes that are planned on this day.
Important tip: Remember to carry enough water, good shoes, protection from the rains and wind (which can unexpectedly hit anytime, and some snacks for energy. We carried ourselves a little picnic with a bottle of wine and food and a picnic mat, which was a brilliant idea.
In the afternoon, drive to Klaskvik, the second largest city in Faroe Islands and the throbbing heart of the northern islands. Here, you will find several restaurants to have your lunch at (make sure to be there during usual lunch hours as several restaurants shut down after 3 or 4 pm). This is also where you will catch your ferry to Kolsoy Island in the afternoon.
This ferry to the island of Kalsoy departs from the port in Klaksvík and arrives at Syðradalur on Kalsoy after 20 minutes, allowing cars on board. Departure times are seasonal, and you should check the timetable online. Once you arrive on Kolsoy Island, head to the trailhead of the hike to Kallur Lighthouse, which is to the far north of the island and about a 20-minute drive from the ferry port. I am not exaggerating when I say that this was my favourite hike in all of Faroe Islands!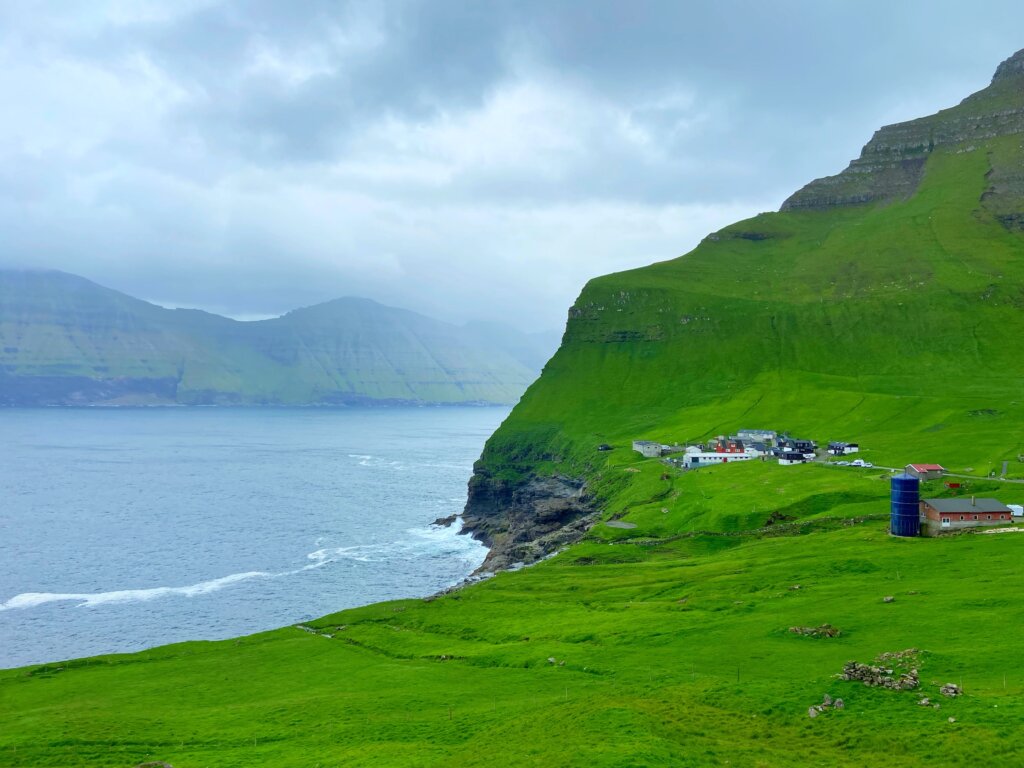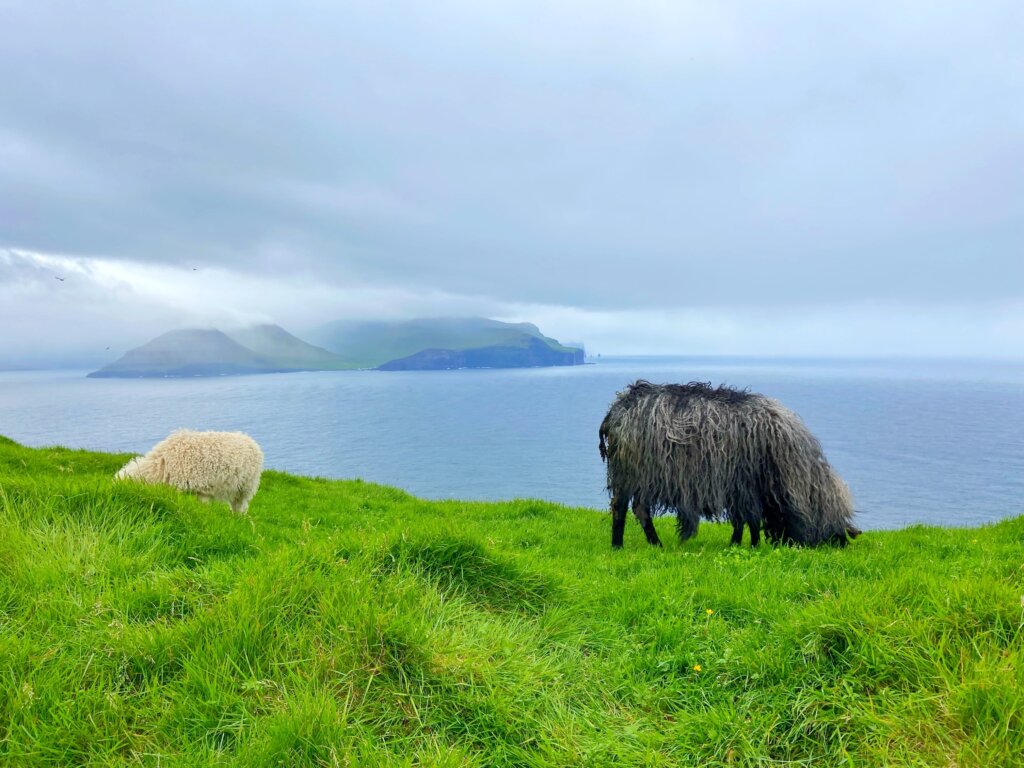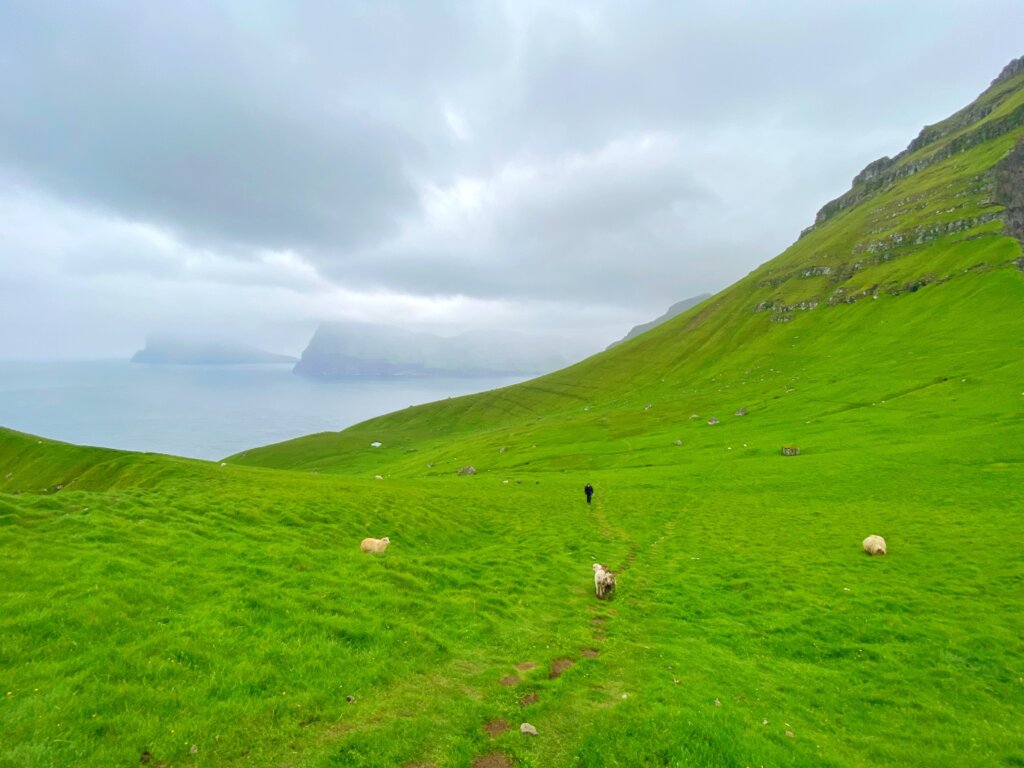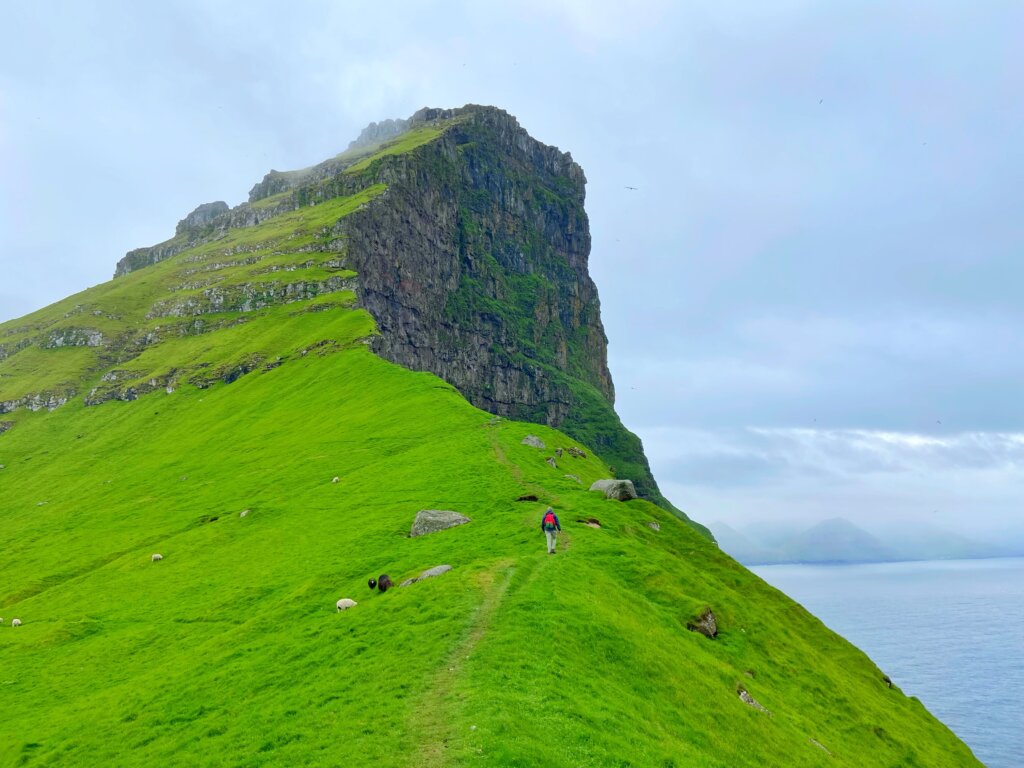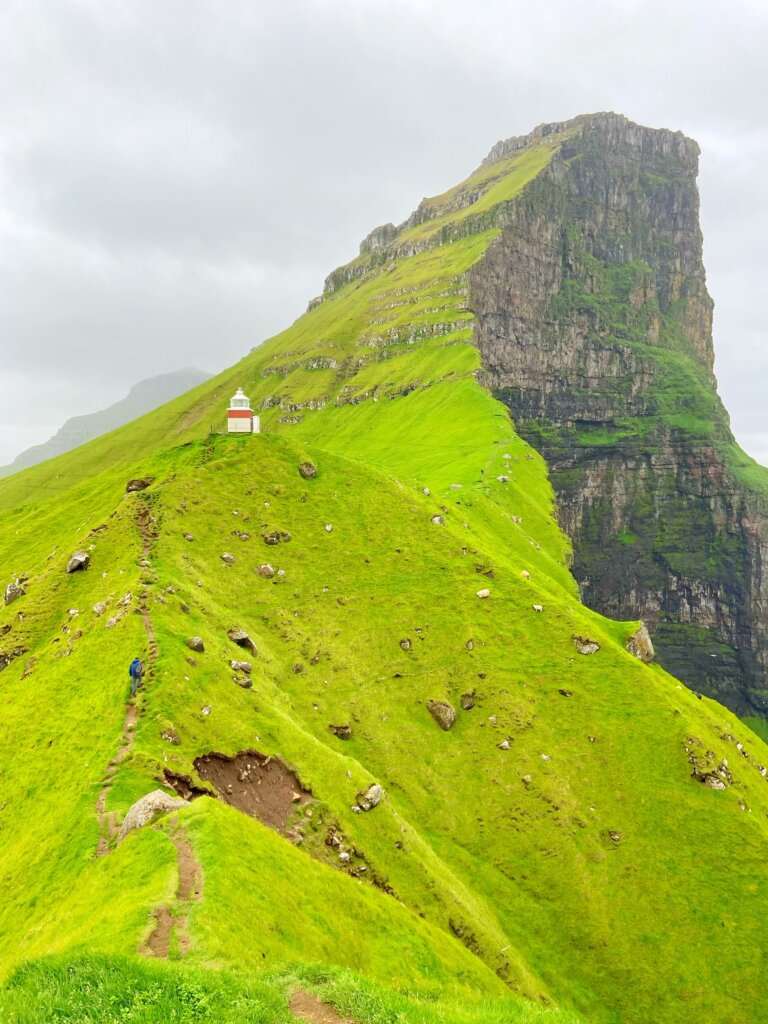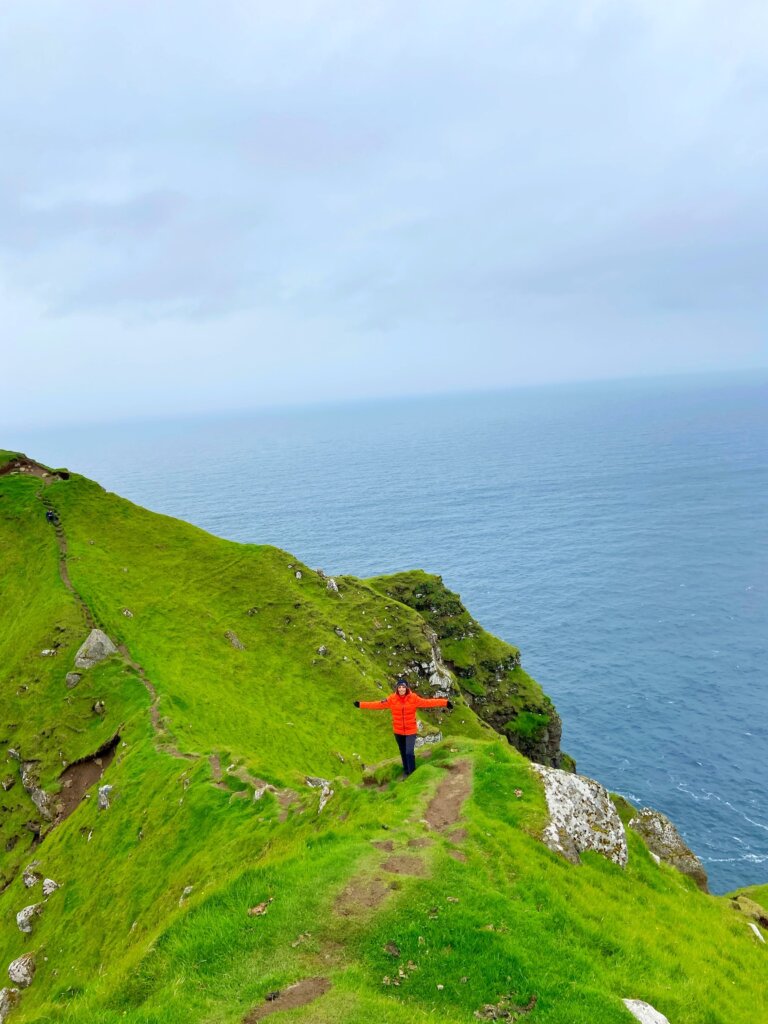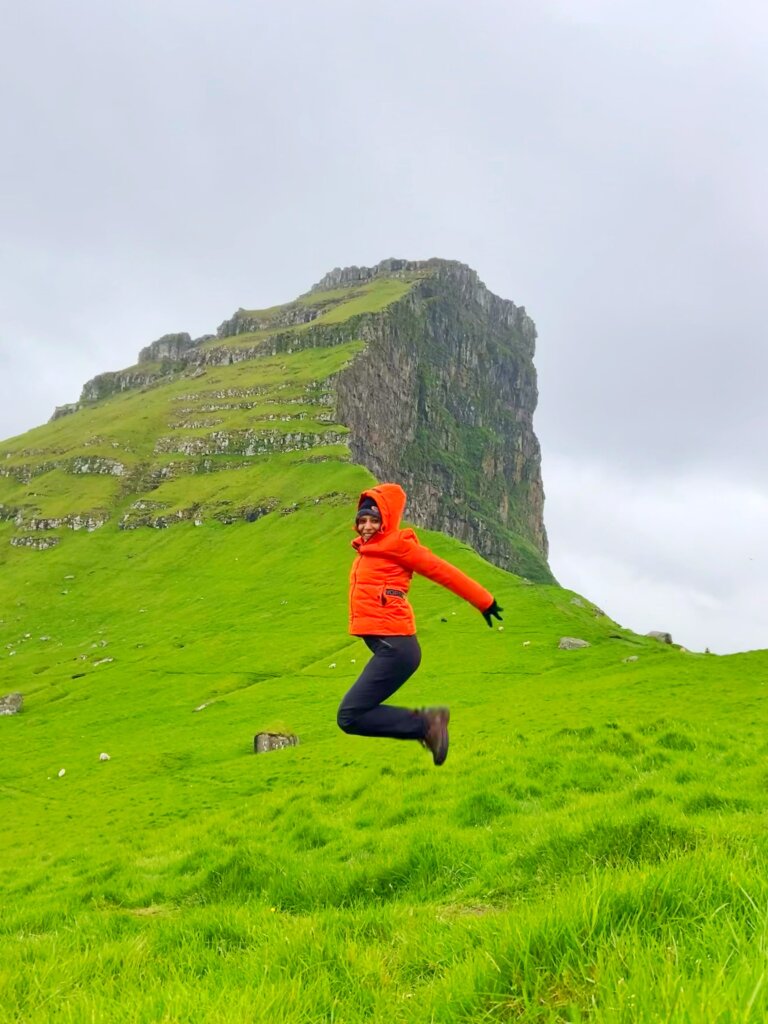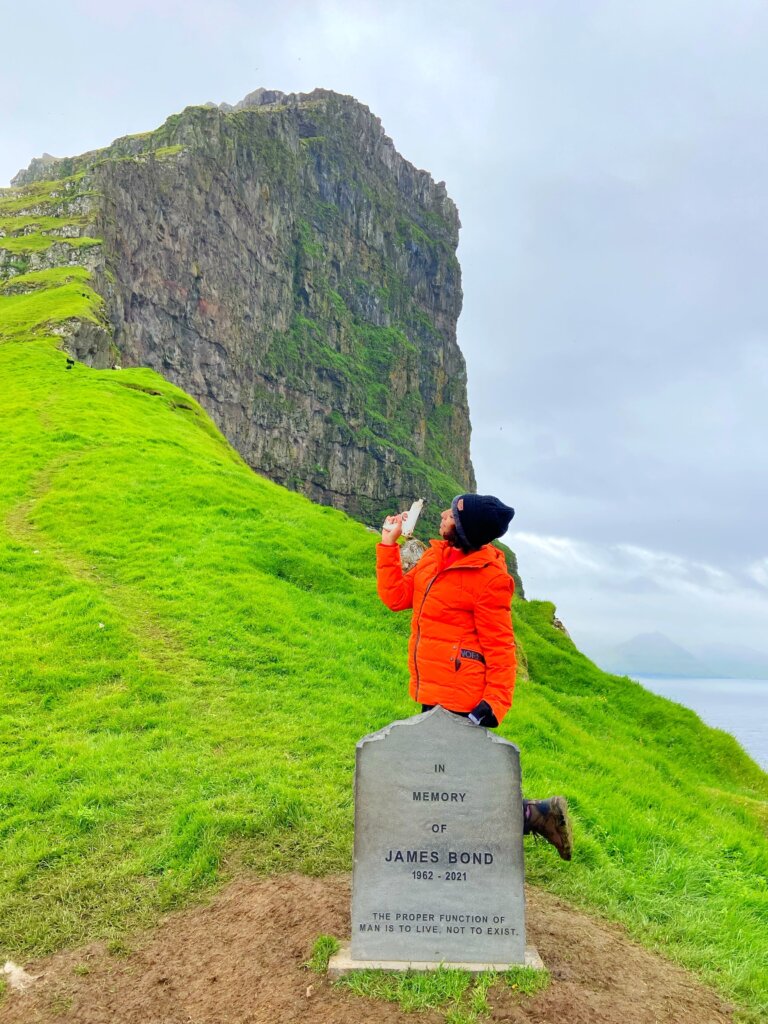 Offering breathtaking views of the surrounding ocean and cliffs, the hike to Kallur Lighthouse is considered moderately challenging and the trail is approximately 3.5 kms (2.2 miles) long, with some uphill sections and uneven terrain. It typically takes about 1.5 hours to reach the lighthouse, depending on your pace and fitness level, and the trail takes you through stunning natural landscapes, green slopes, rocky terrain, and several grazing sheep along the way. The trail eventually leads to a spectacular viewpoint overlooking the lighthouse and the iconic sea stacks called "The Witch and the Giant." I was rendered speechless when I arrived at this location, with the magnanimity of the landscapes and the feeling of being so little in front of mother nature.
This is also where the James Bond movie – No time to die, was shot! Ironically, at the end of this movie, James Bond doesn't make it back home (and this is the first movie where this happens), and the cliff right across the lighthouse is where you can find his tombstone, commemorating the famous spy's life.
Important tip: Remember to keep enough time in hand to make it back to the last ferry out of Kolsoy as there are no accommodation options on the island.
---
Day 3: Eysturoy Island & Saksun
It is likely that you've had enough adventure on the day before, so the third day in your 5 days in Faroe Islands itinerary can be kept a little bit lighter. On this day, you can visit Eysturoy Island, about an hour's drive from Vagar. This location is not too far from Klaksvik, the town you visited on the day before. Eysturoy Island offers a captivating blend of natural beauty, cultural heritage, and outdoor activities, and two of the popular villages to be visited here are Gjógv and Eiði.
A small village located in a stunning natural harbor, Gjógv is known for its picturesque scenery, cliffs, and the distinctive sea-filled gorge (gjógv in Faroese) after which the village is named. It's a popular spot for those looking for easy hiking options. You could visit the historical Gjógv church, and then the gorge, which is the main attraction. A flight of steps enables you to walk down to the landing place for boats. If you take a walk along the bank of the gorge, you will get a first-hand look at puffins in and around the cliffs. Since you are keeping it easy on this day, you can take a walk along the bank of the gorge, then uphill along the coastline until you reach a sheep house at the top. From here you have a spectacular view of the bird cliffs. The walk only takes about 45 minutes and will offer excellent views. A café right at the bottom near the gorge is a wonderful place to relax and grab a drink!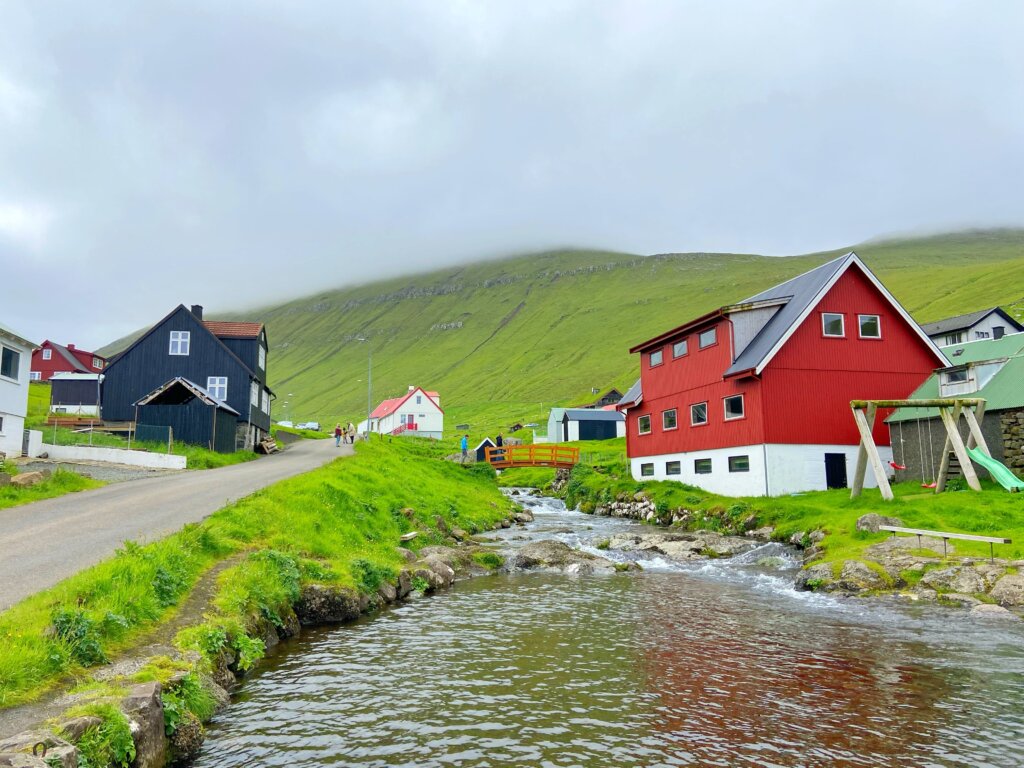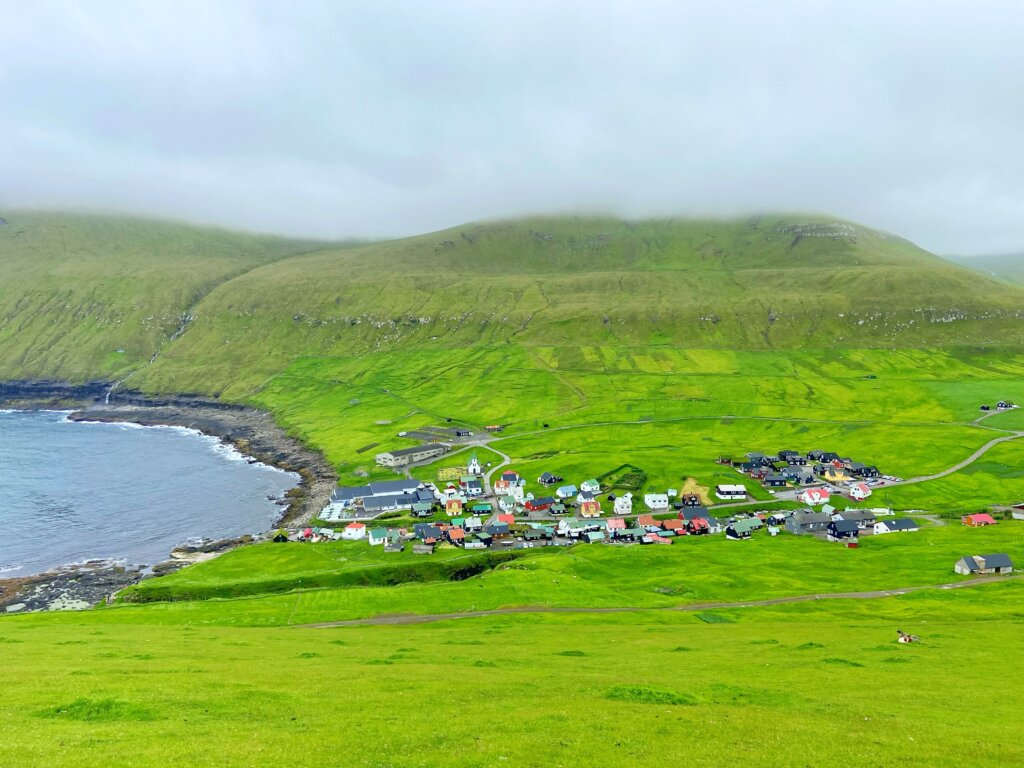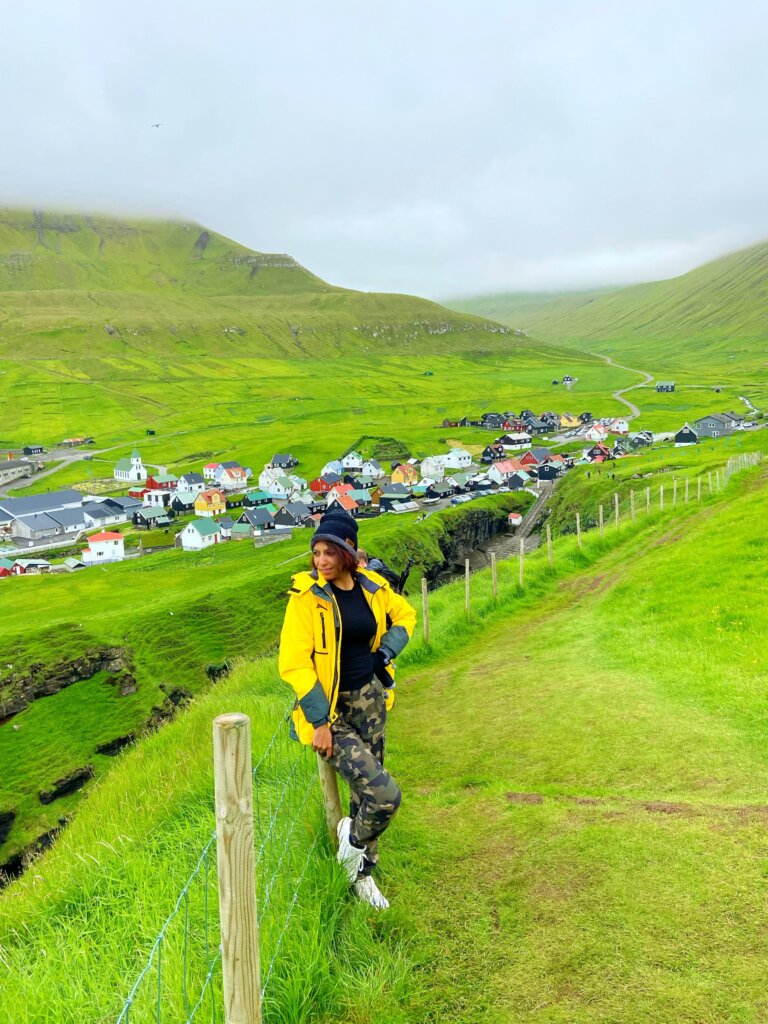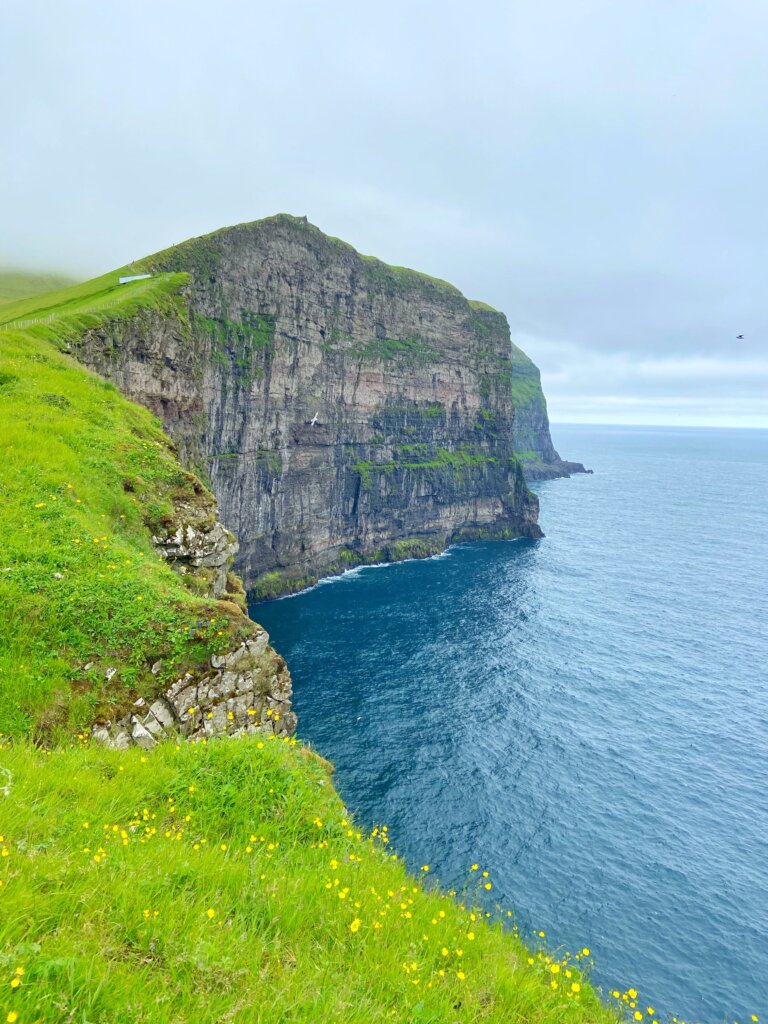 From here, head to either Eiði or Tjørnuvík, another tiny peaceful village tucked in a deep valley on the banks of the North Atlantic Ocean. If you're heading to Tjørnuvík from Eiði or Gjógv, take a quick stop at the Fossa Waterfall on the way. If you're in the mood for an adventure, hike up to the second level of the Fossa waterfall, less than 1.5-mile round trip, that provides epic ocean views, wildflowers, and a chance to get up close and behind this awesome double-tiered waterfall. The trailhead is literally on the coastal road (parking is the only issue as there isn't any close by).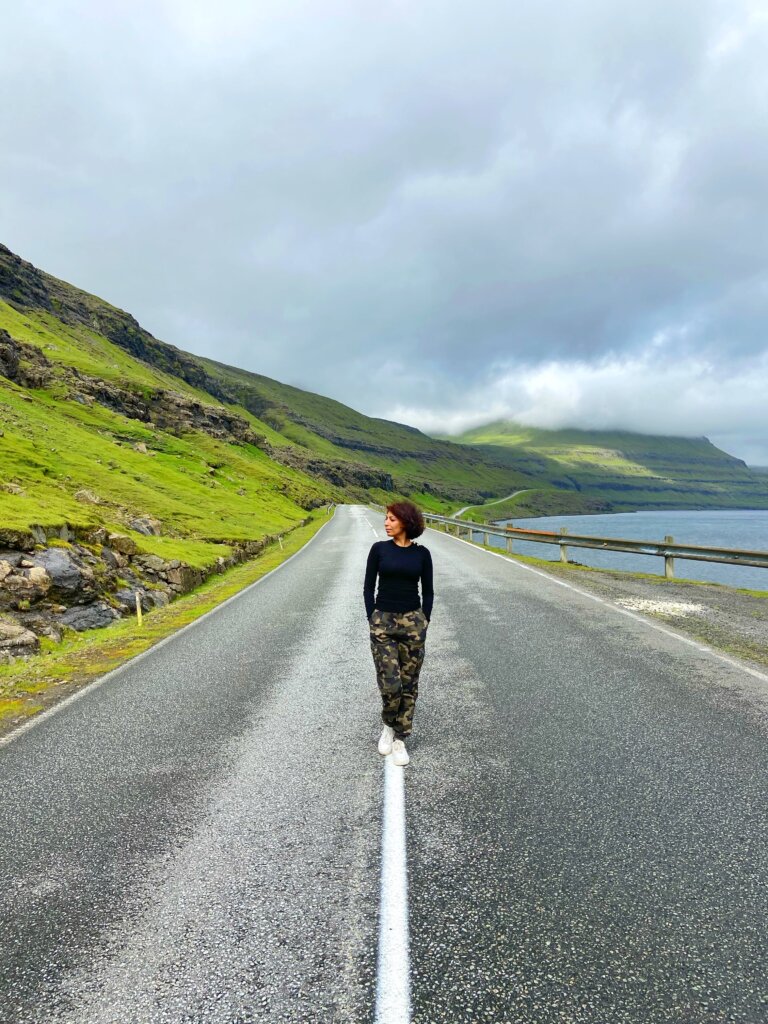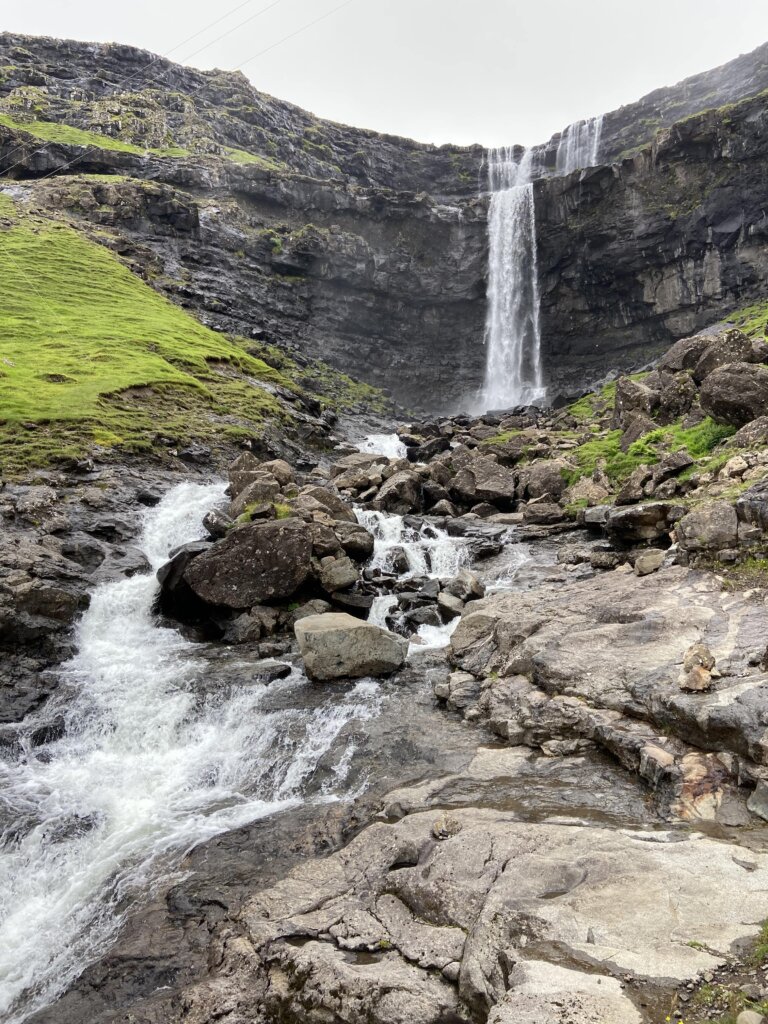 You can then continue your road trip to Tjørnuvík. If you're in the mood for another hike, venture into the mountains and go hiking between Tjørnuvík and Saksun, a 3-hour easy path. Else, just walk around this quant village and engross in the tranquillity of this remote isle.
End your day at Saksun. While Saksun is a part of Streymoy Island, where you're visiting on Day 1, it's likely that you'll have more time on this day to visit it, and it's also on the way back from Eysturoy Island to Vagar. This rural picturesque village was my favourite because of the green grass/ moss covered roofs and the lake sheltered between the mountains, which make for a fantastic photoshoot. The bucolic simplicity of this small village, overtaken by the sheep, makes it an absolutely must-visit on your 5 days in Faroe Islands itinerary.
After Saksun, head to Torshavn for dinner or back to Vagar. If you're heading to Torshavn, take the scenic route: Oyggjarvegur road, known to be the filming location for several movies due to its breathtaking beauty.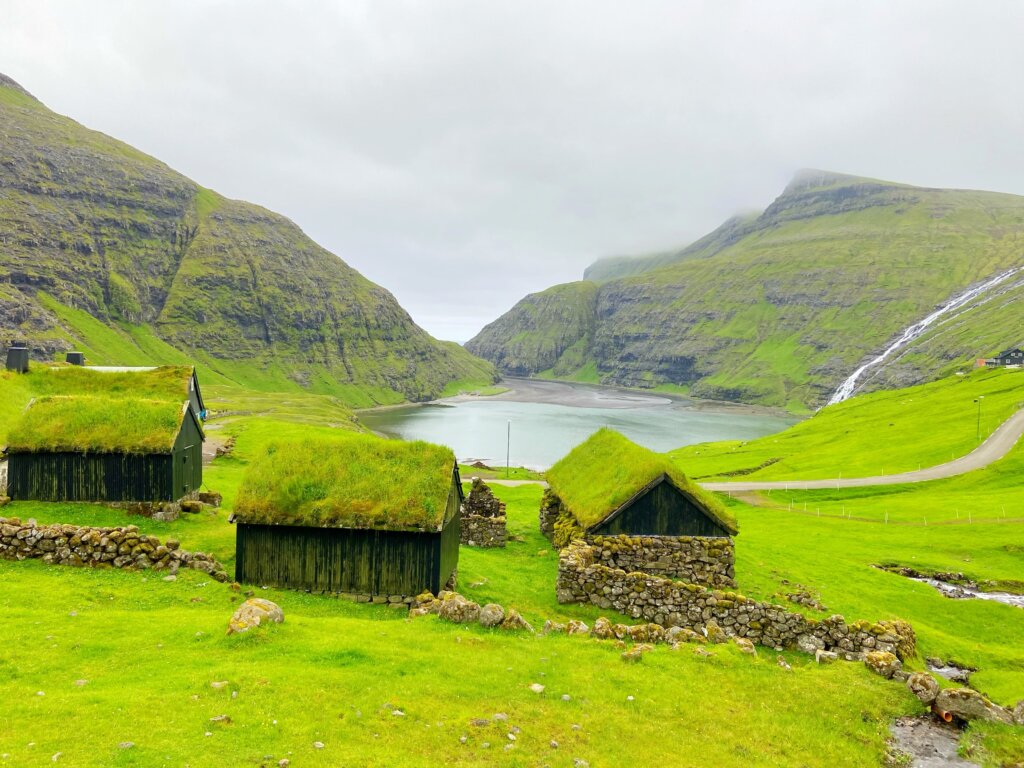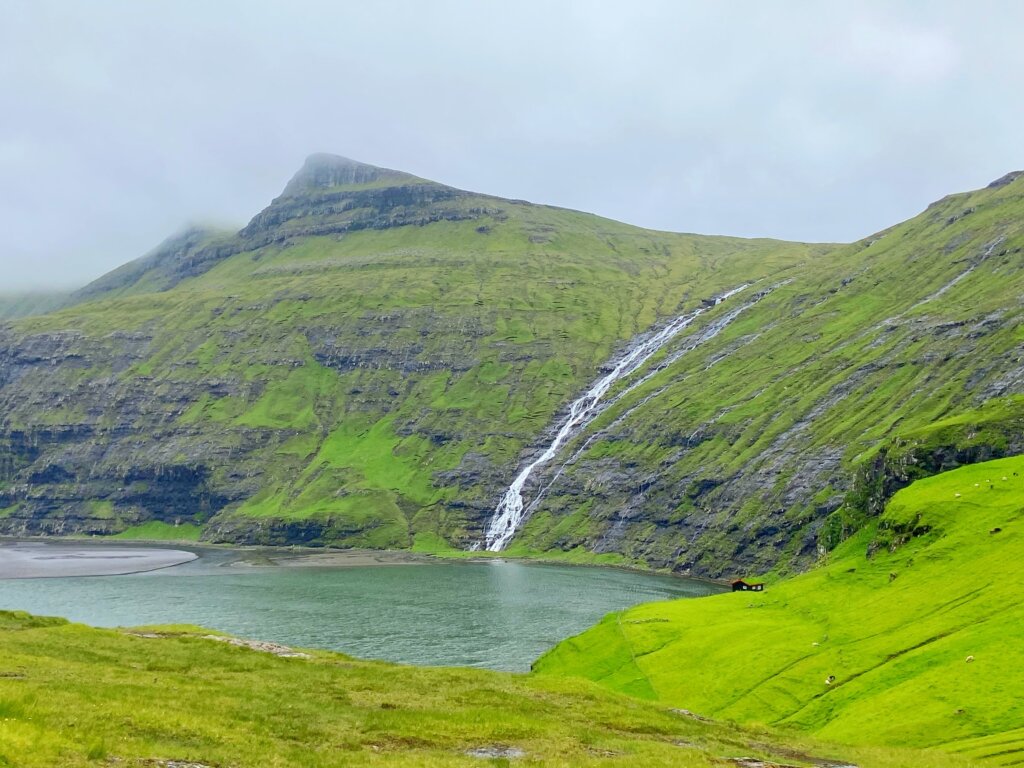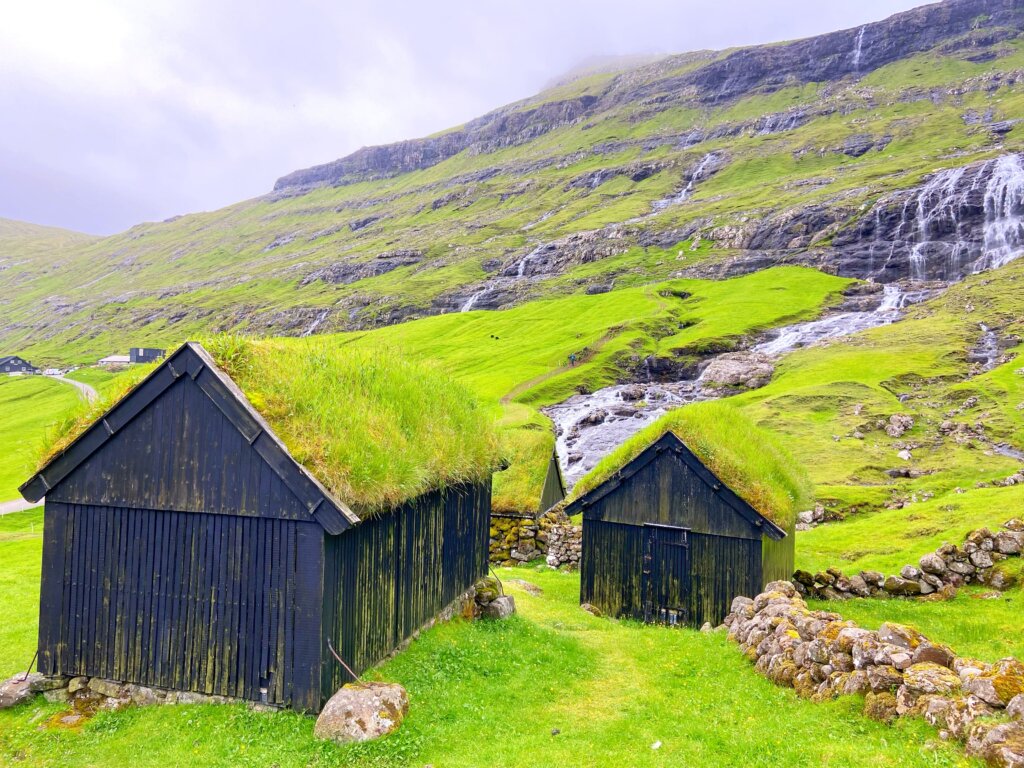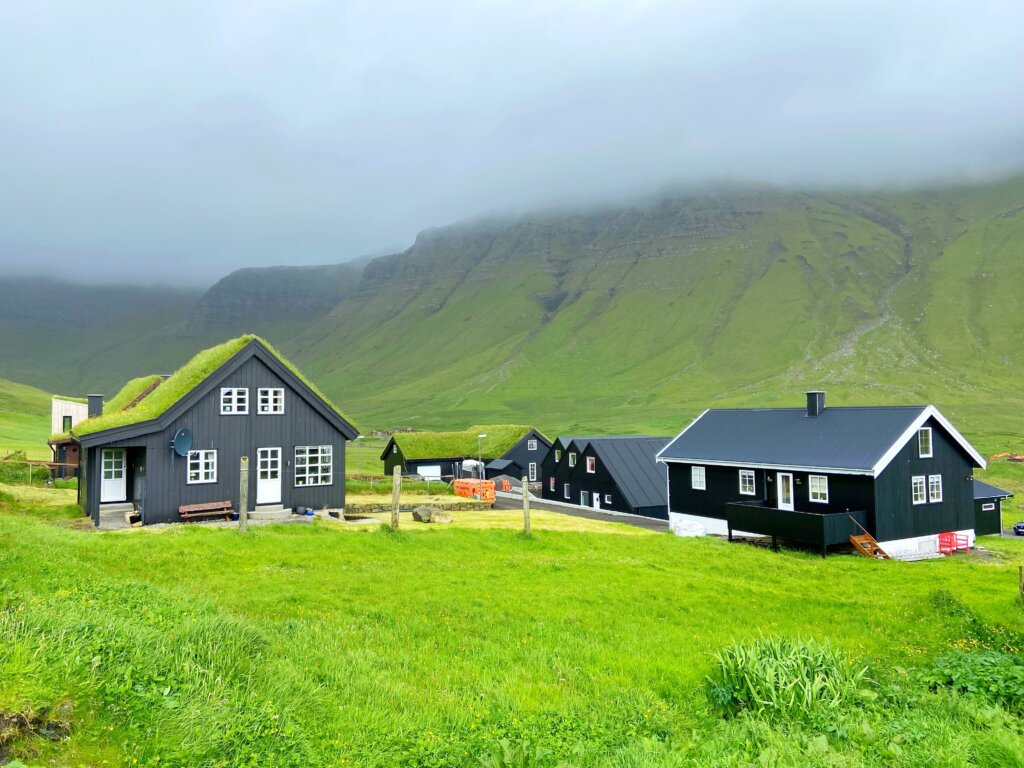 ---
Day 4: Vagar Island
Finally, this is the day to explore Vagar Island! There's a lot to do and see on Vagar so if you are short on time and don't have 5 days on hand, plan your itinerary in a way that you do not miss Vagar.
Vagar is home to my second favourite hike in Faroe Islands (after Kallur Lighthouse): the Trælanípa trail to Bøsdalafossur waterfall. However, you can start the day by visiting another short and easy walk to see an interesting rock formation called Trøllkonufingur (that translates to 'the troll's finger'). You can drive the narrow road that leads to the site or just take the short walk from the village center after parking the car there. You don't need more than an hour for this walk.
From here, head towards the Trælanípa/Bøsdalafossur trailhead, and on the way, you will the The Nix, a horse in the middle of the lake. According to a Faroese legend, his sinister horse-shaped beast lures unsuspecting passersby to mount him, only to drown them in the lake. While this is just a legend, it's an interesting and quick stop to see this installation of the aquatic monster from the Scandinavian folklore.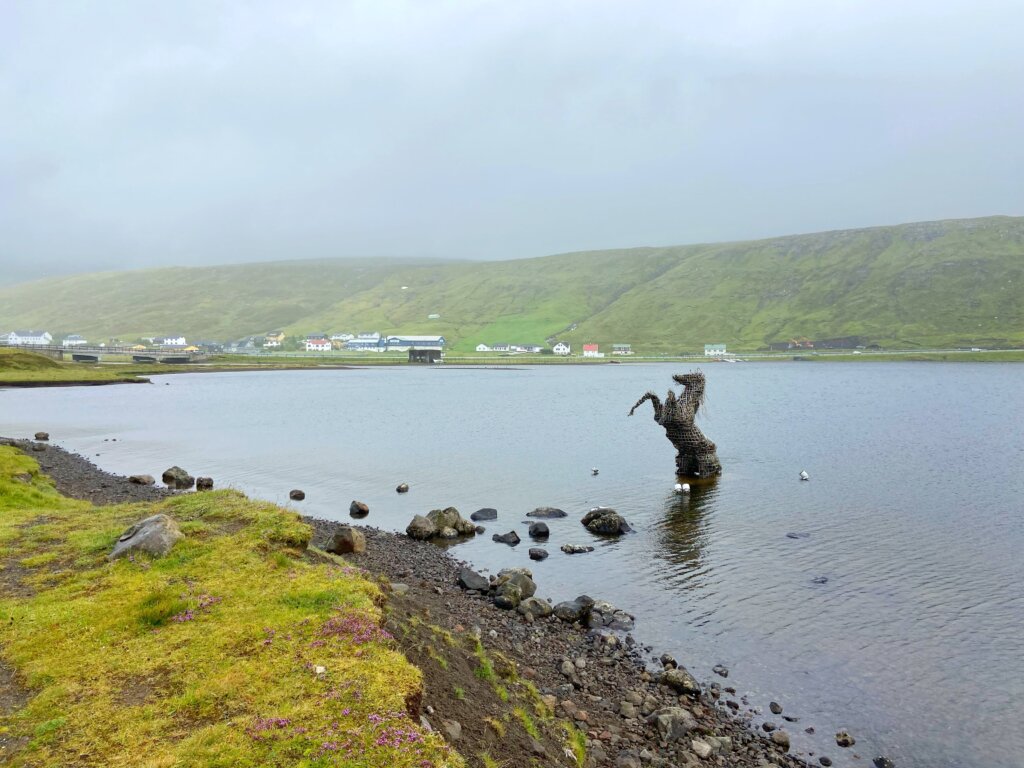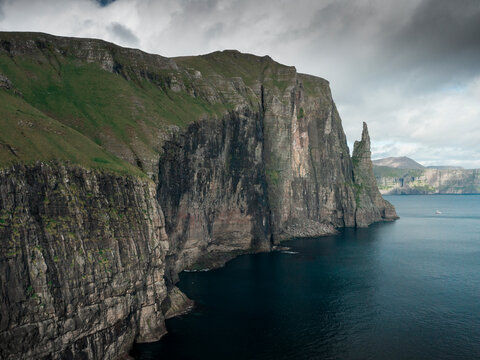 Continue to Trælanípa/Bøsdalafossur trailhead car park in Miðvágur. This is where the easy 2-hour hike along the Lake Sørvágsvatn starts (it costs about $30 per person to enter). Known as the 'floating lake above the ocean', this is a highly photographed hiking trail because of the optical illusion that the lake creates from a certain point (if you walk up to Trælanípa cliff) of it hanging above the ocean. Once you reach the stunning and famous floating lake viewpoint, you can continue the hike to Bøsdalafossur, the waterfall which flows from Lake Sørvágsvatn into the North Atlantic Ocean.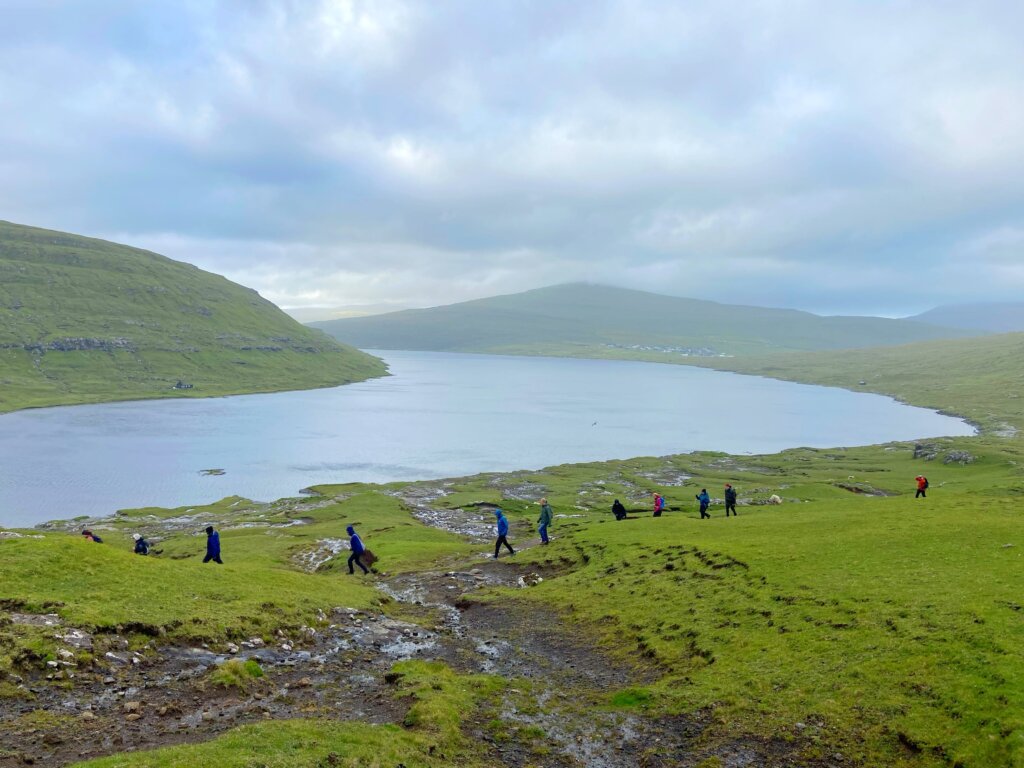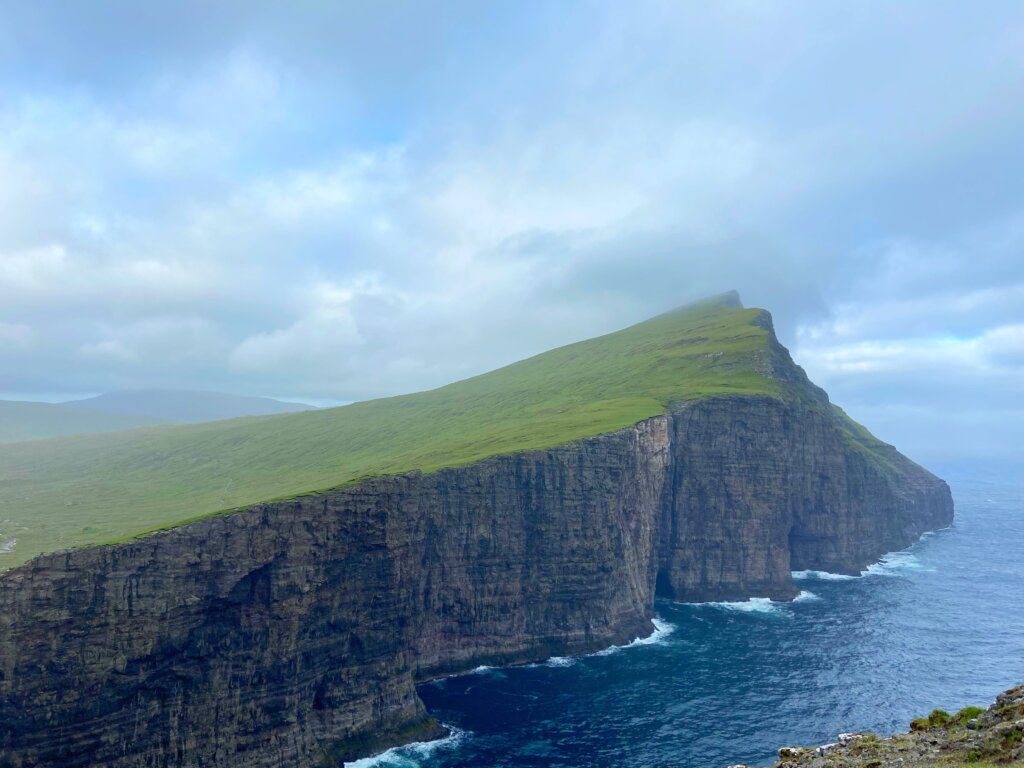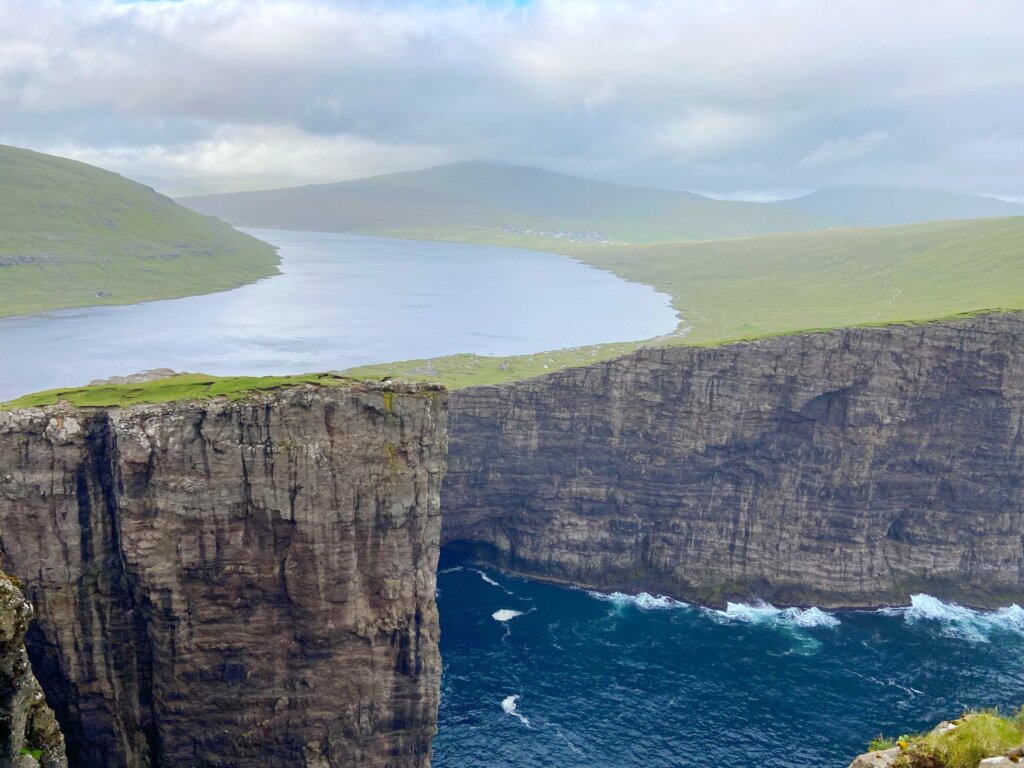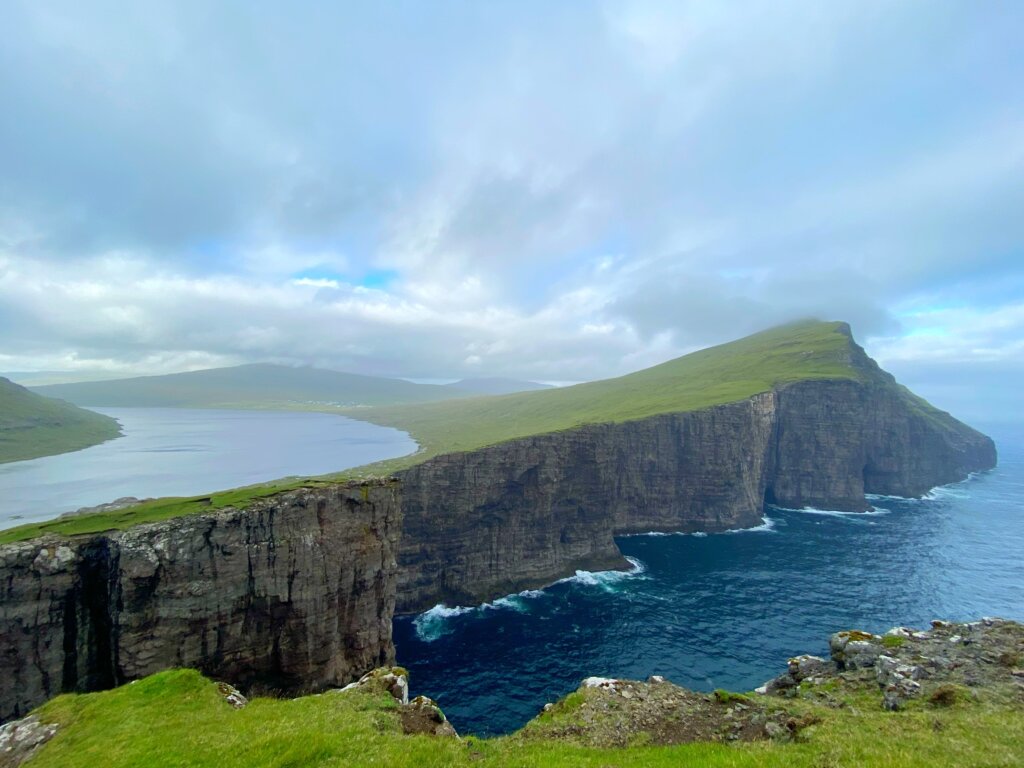 End your day by visiting this yet another Windows Wallpaper location – Múlafossur Waterfall. You can drive to the village of Gásadalur, right up to the waterfall, so there is no hike involved in this. The views are absolutely stunning, and the village, although quite small, has a few cafes and restaurants where you can grab a hot chocolate or a drink to spend sometime in this area.
---
Day 5: Mykines Island
To be honest, I regret leaving this to the last day because the weather was inconducive to visiting the island. However, knowing how unpredictable the weather can be on Faroe Islands, there's only so much that good planning can do. One has to be flexible to last minute change in plans – and the possibility of certain plans being cancelled.
A small and remote island, Mykines offers a unique and diverse landscape. The island features steep cliffs, rugged coastline, green valleys, and rolling hills, creating a breathtaking backdrop for nature enthusiasts and photographers. One of the most iconic landmarks on Mykines is the Mykinesholmur sea stack, a towering rock formation that stands majestically off the coast. During the summer months, the island is known for its rich birdlife, and the population of puffins that call this island home. On can observe the puffins up close in Mykines; in fact, they can even walk through hoards of these birds without scaring them off, something that's rare in any other part of Faroe Islands. This is also why Mykines is sometimes referred to as the Puffin Island.
The only catch is – there are 2 ways to access this island, either a ferry or helicopter, both of which can stop any moment due to bad weather. The ferry to Mykines operates from Vagar and takes about 45 minutes. However, you'll be surprised at how cheap it is to fly by a helicopter to this island! Helicopters are a lot more reliable too, in bad weather, as ferries have a higher chance of being cancelled.
As explained to us by a local, helicopters to Mykines are cheap ($40 per person) because they are used as the primary transport for the locals and goods between the islands and are thus financed by the taxpayers' money. Due to how cheap they are versus the convenience they provide, helicopter seats tend to get sold out and must be booked at least 2 weeks in advance, especially during the peak travel months in summer.
In Mykines, famous for its pristine and untouched beauty, one of the highlights is the hike to the Mykines Lighthouse, which sits on the westernmost point of the island. The hike takes you along rugged coastal cliffs, offering stunning views of the surrounding ocean and bird colonies. Make sure to to wear sturdy footwear and be prepared for changing weather conditions while exploring the island. It's a challenging route of about 3.5 miles and takes about 3 hours to complete.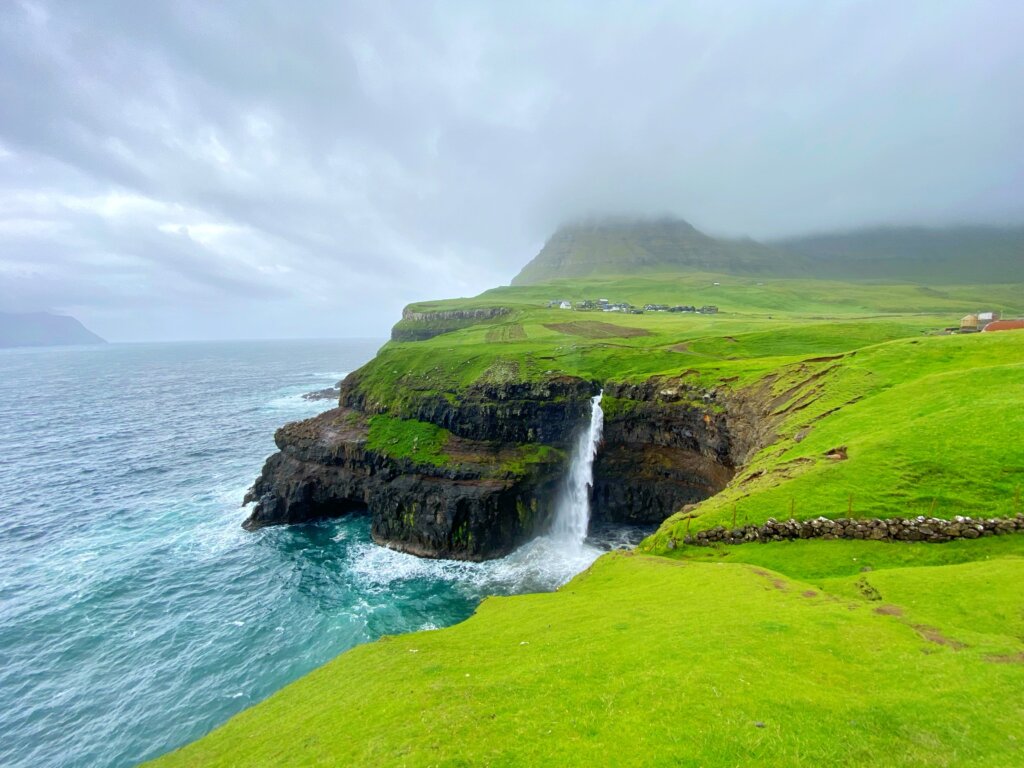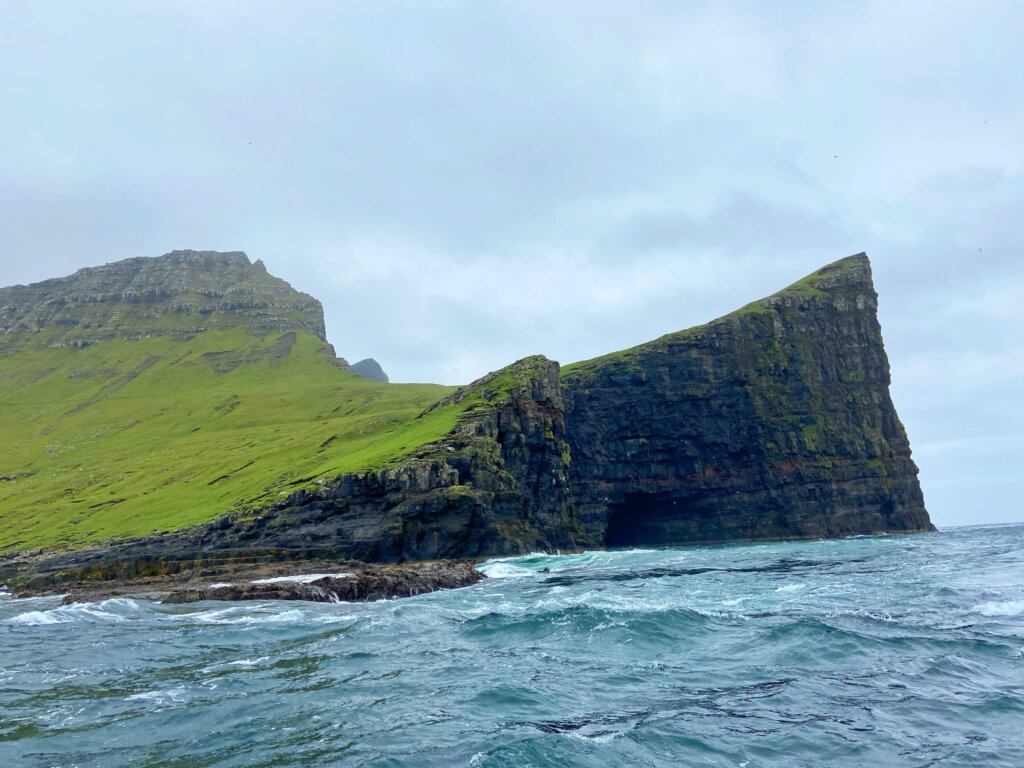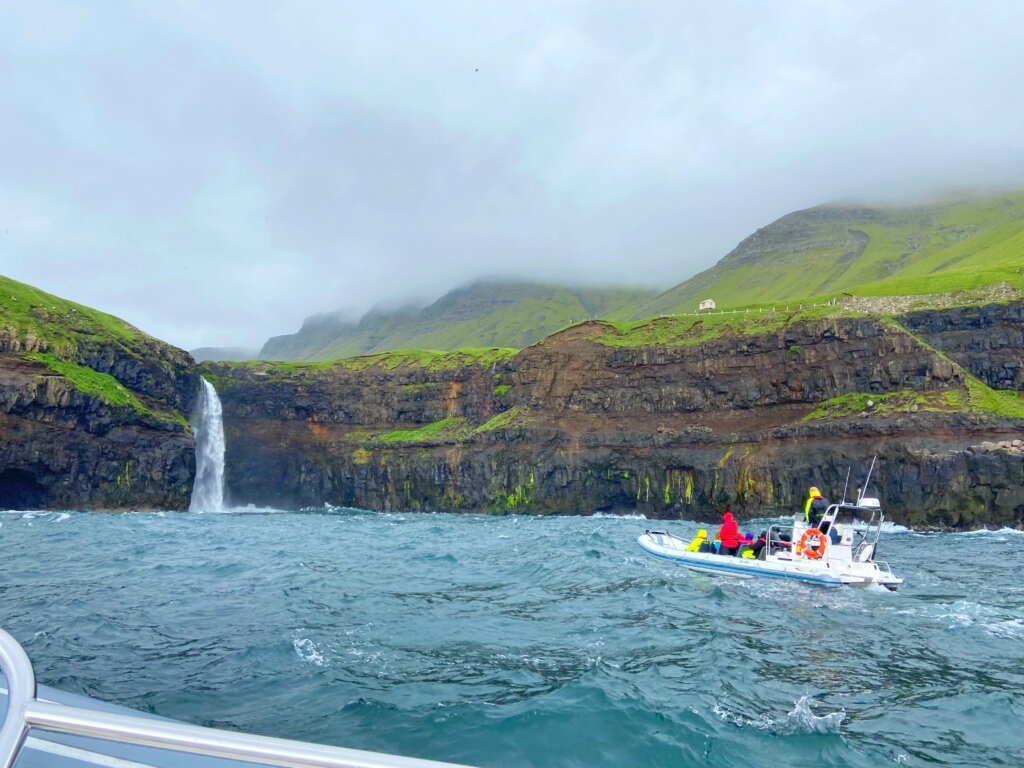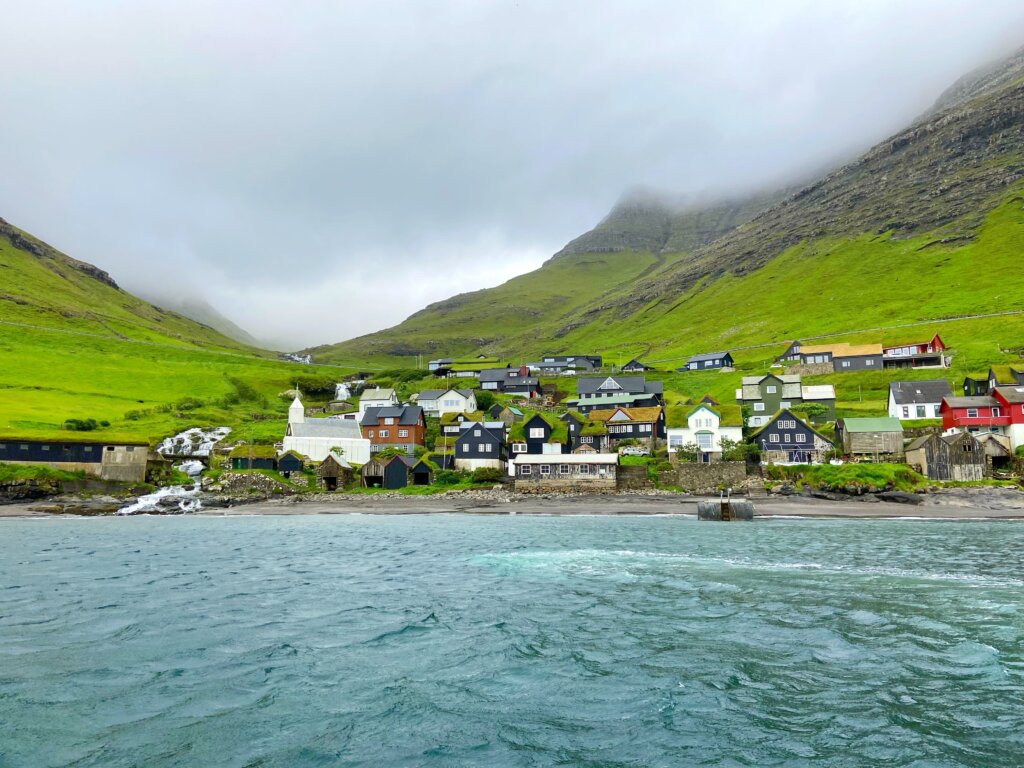 Important note: If you take the ferry to Mykines, you will cross one of the most famous rock formations in Faroe Islands, known as the Drangarnir Sea Arch. An impressive 230 feet tall rock formation that rises straight out of the North Atlantic Ocean forming a sea arch, can be visited in several ways – it is visible by the ferry to Mykines, or by a boat tour from Vagar Island, or a gruelling hike which can take an entire day and rates high on the challenge level. If your ferry to Mykines gets cancelled due to the weather, you can still consider visiting this gigantic sea arch through the boat tour.
---