While Belgium doesn't feature anywhere near my top recommended countries to visit, if you're in Europe and looking for a typical European experience that combines old towns with cobbled stone streets, medieval architecture, great beer, amazing food, and a fantastic vibe, with a lot of convenience and incredible infrastructure, then Belgium is not a bad contender at all. As a nature lover & adventure seeker, Belgium didn't make much sense for me, but this was a trip I did with close friends, so we decided, why not!
1 week in Belgium is enough to cover the highlights and enjoy the vibe. We didn't rent a car throughout our trip because of the excellent connectivity through a well-developed public transportation system (buses and trains) except on one day, when we wanted to explore the Wallonia countryside. Turns out, Wallonia and Bruges became my two favourite destinations in Belgium! Most people I know visit Belgium for Tomorrowland which takes place somewhere between Antwerp & Brussels and they don't make it as far as Bruges, which is a pity because Bruges is so much better than any other city in Belgium. If you're spending 1 week in Belgium, here's my recommended itinerary which checks off the key tourist destinations but at the same time, goes offbeat by venturing into the idyllic countryside.
---
Day 1: Brussels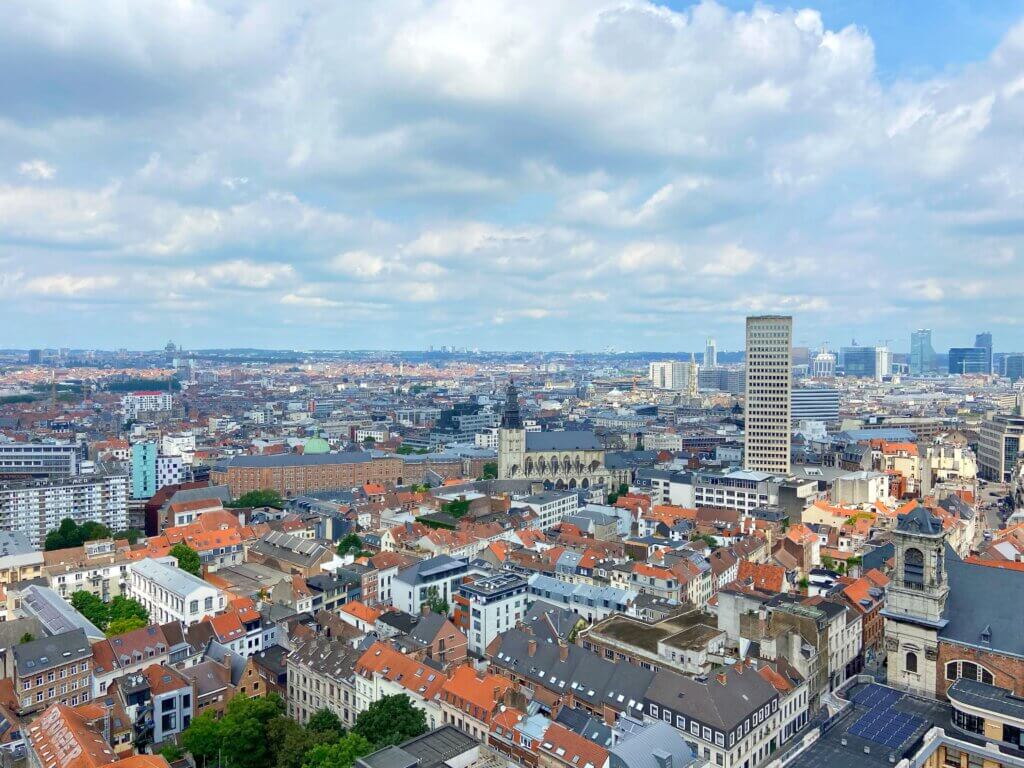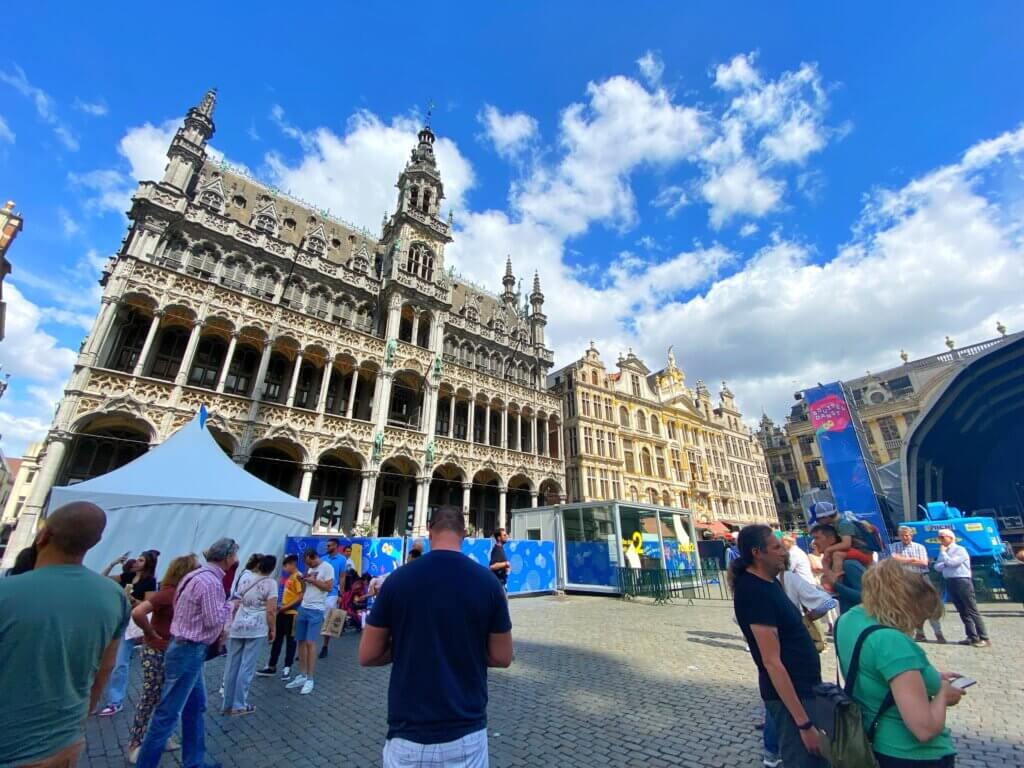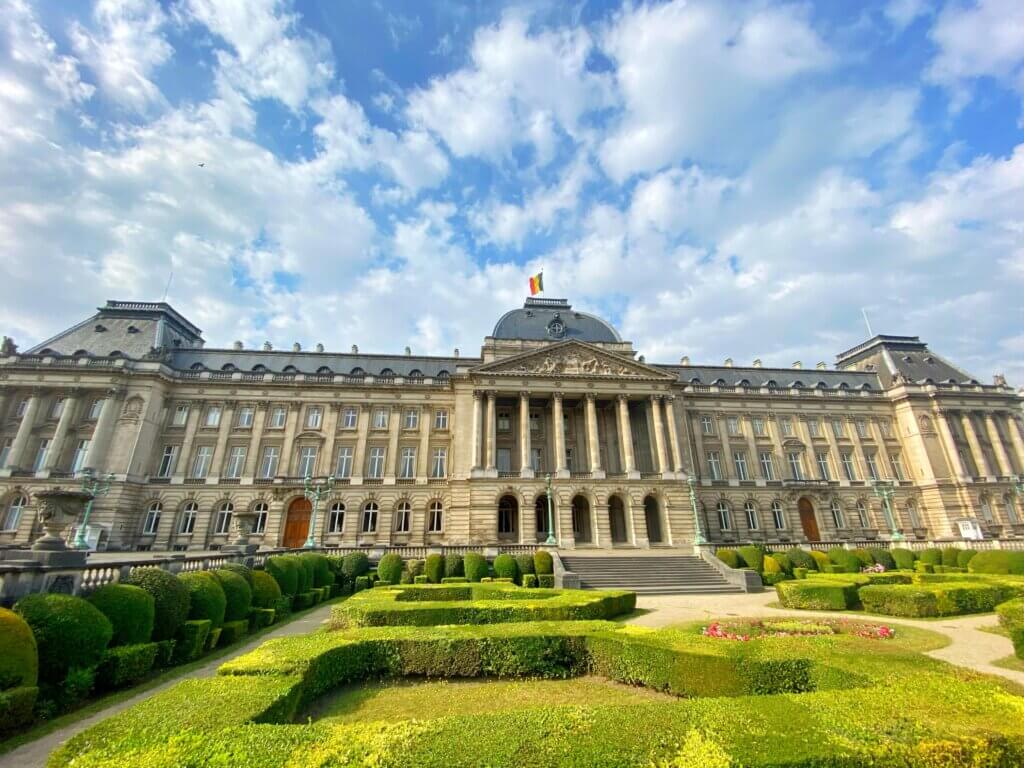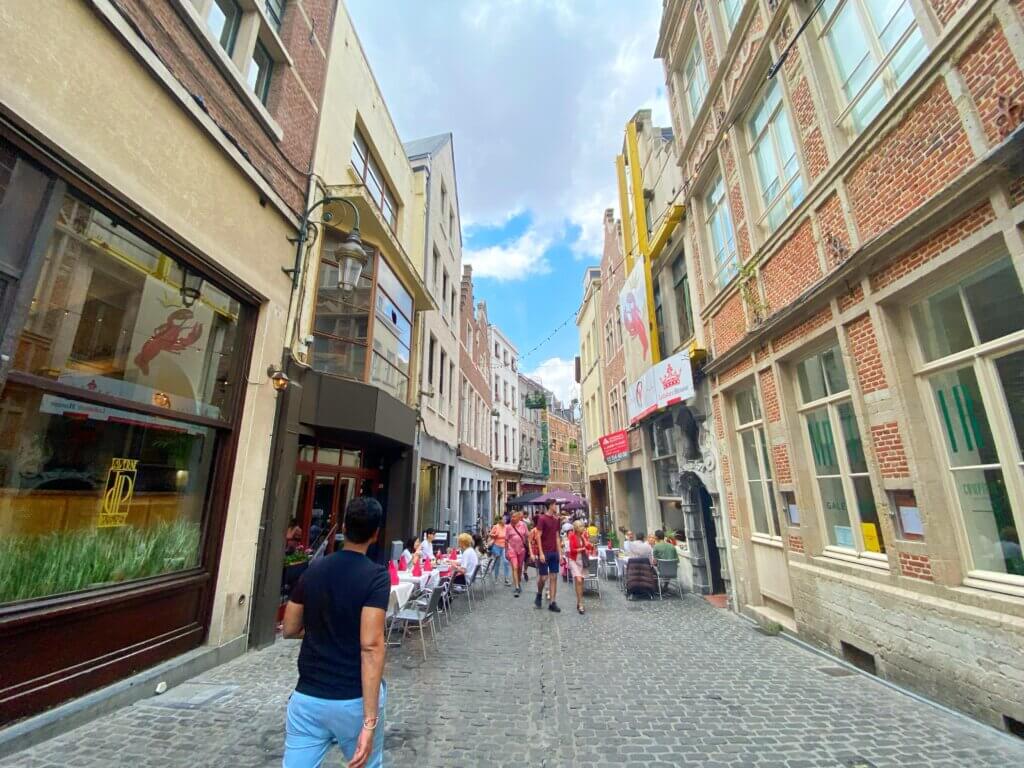 I start my itinerary from Brussels because most flights/ trains into the country will land in the capital city of Belgium. A vibrant and cosmopolitan city, Brussels is a city that offers a modern developed infrastructure in conjunction with a medieval architecture that reflects its heritage. Home to several landmarks and museums, Brussels easily requires 2 days to explore, which also acts as the perfect immersion into this European capital.
A great way to start is to take a free walking tour, several of which start at Grote Markt/Grand Place and will take you through the most noted sites, while explaining the history of the country and the important of the monuments you visit. Usually lasting about 2.5 hours, these tours are my favourite way to be introduced to any city, especially if I'm visiting for the first time. The most common walking tours will take you through Manneken Pis, Downtown Brussels, Royal Galleries, Cathedral of Saint Michael & Saint Gudula, Brussels Park, Royal Palace, and Mont des Arts, to finish with a stunning view. Thereafter, you can relax and soak in the vibe at one of the bars near Mont des Arts or continue towards Delirium Café, a popular beer bar widely recognized for its extensive beer selection, boasting one of the largest beer menus in the world. The bar offers an astonishing variety of over 2,000 different beers from around the world and holds the Guinness World Record for having the most varieties of beer commercially available. This includes a wide range of Belgian beers, Trappist ales, craft beers, and international brews. Beer enthusiasts can explore a diverse selection of styles, flavors, and strengths. The bar itself is in a cellar and features a rustic and cozy ambiance. The walls are adorned with beer-related memorabilia, including beer bottles and signage from different breweries.
We spent all afternoon walking around the city center, popping into restaurants to sample the waffles, the famous Belgian fries, served with an array of sauces, mussels prepared in various styles, and chocolates! From there, we headed to Boulevard Anspach, a trendy area with several shops and beautiful architecture. After a little bit of shopping, the bustling Freedom Quarter – also known as Quartier des Libertés or Notre-Dame-aux-Neiges – an area that packs several event venues plus a lively beer and international cuisine scene.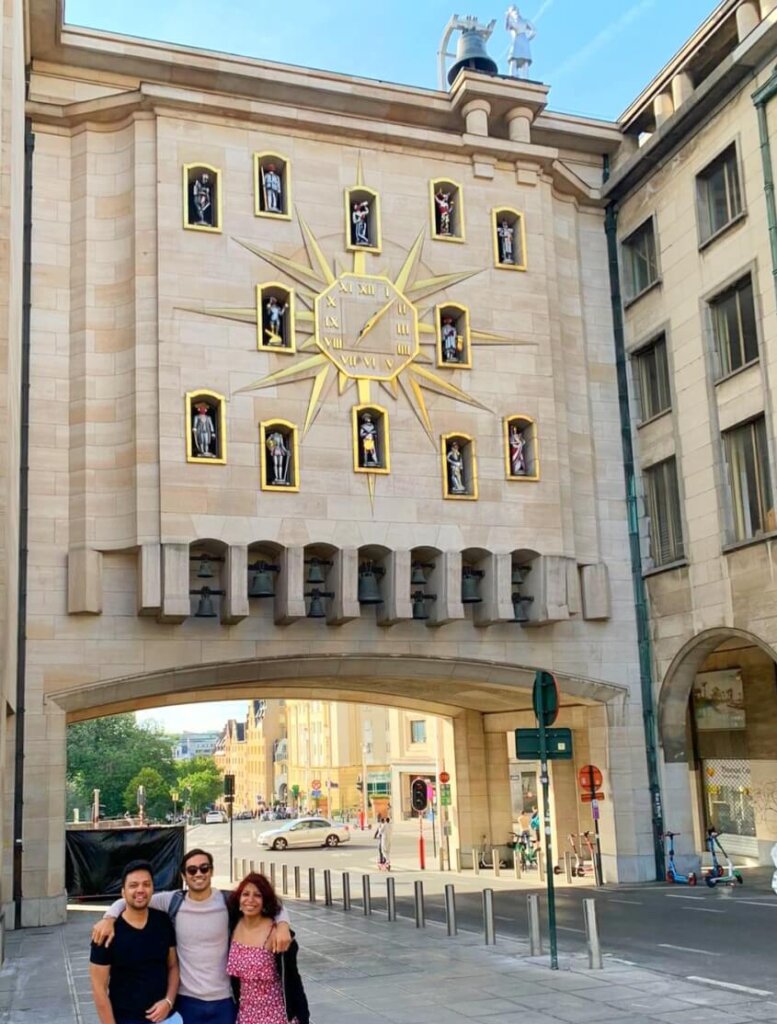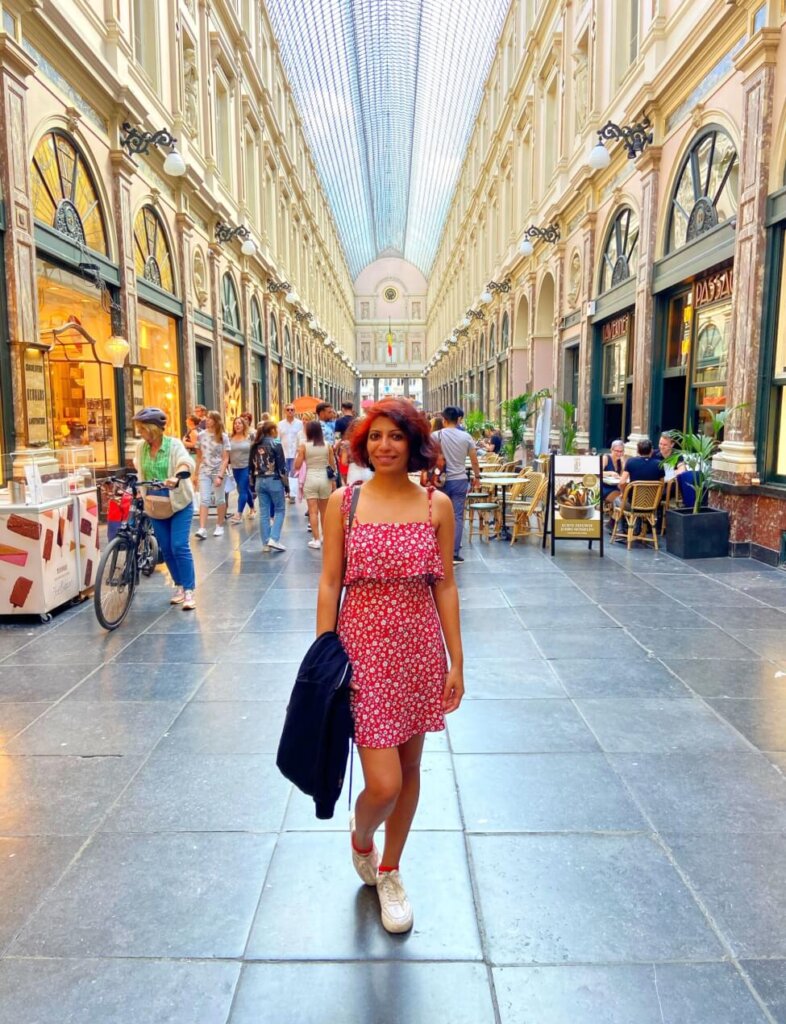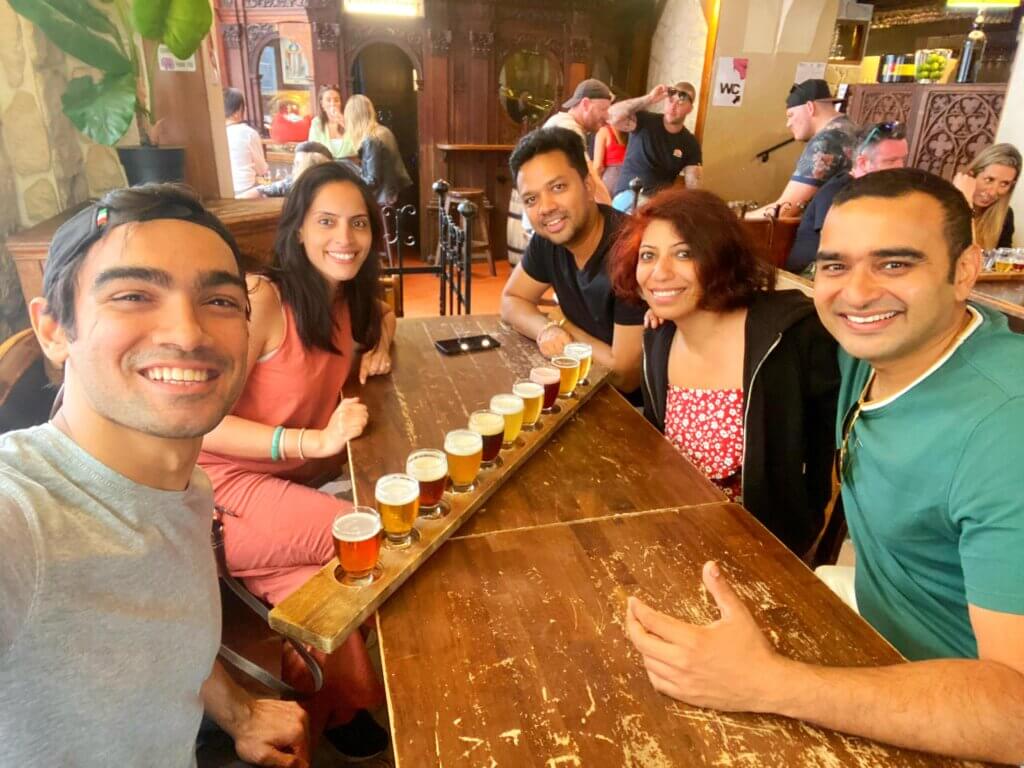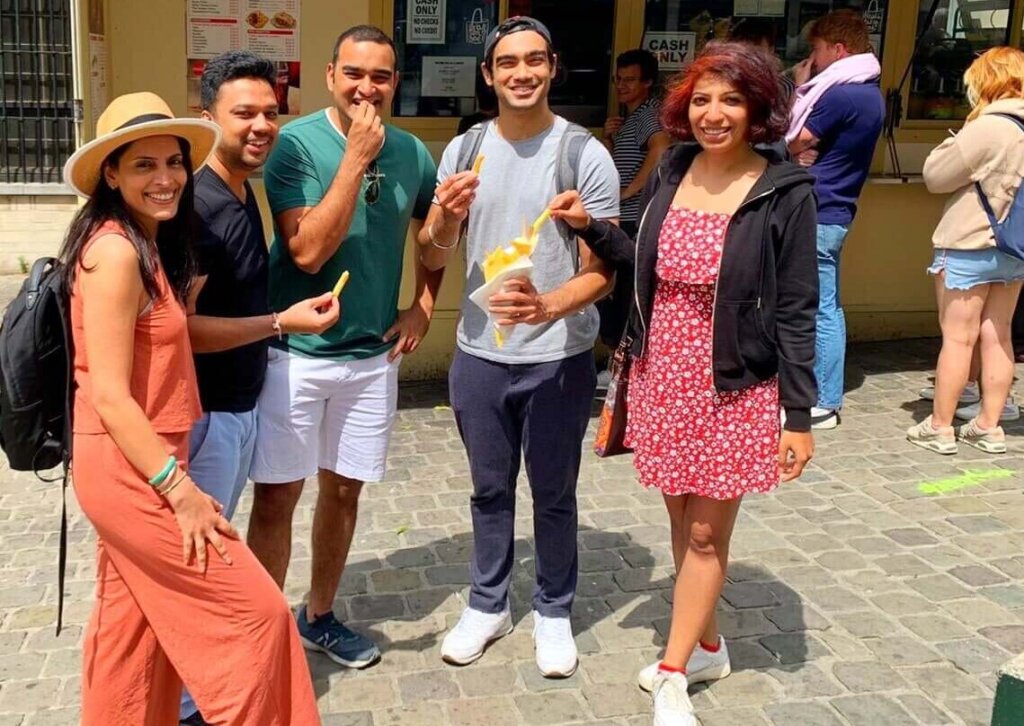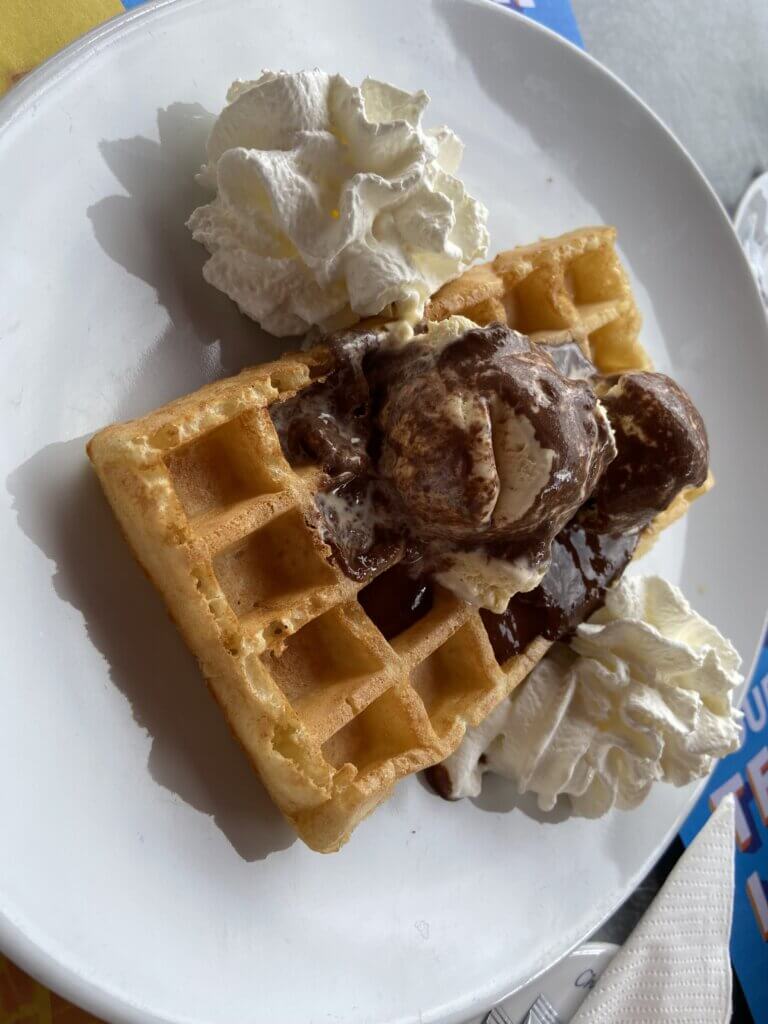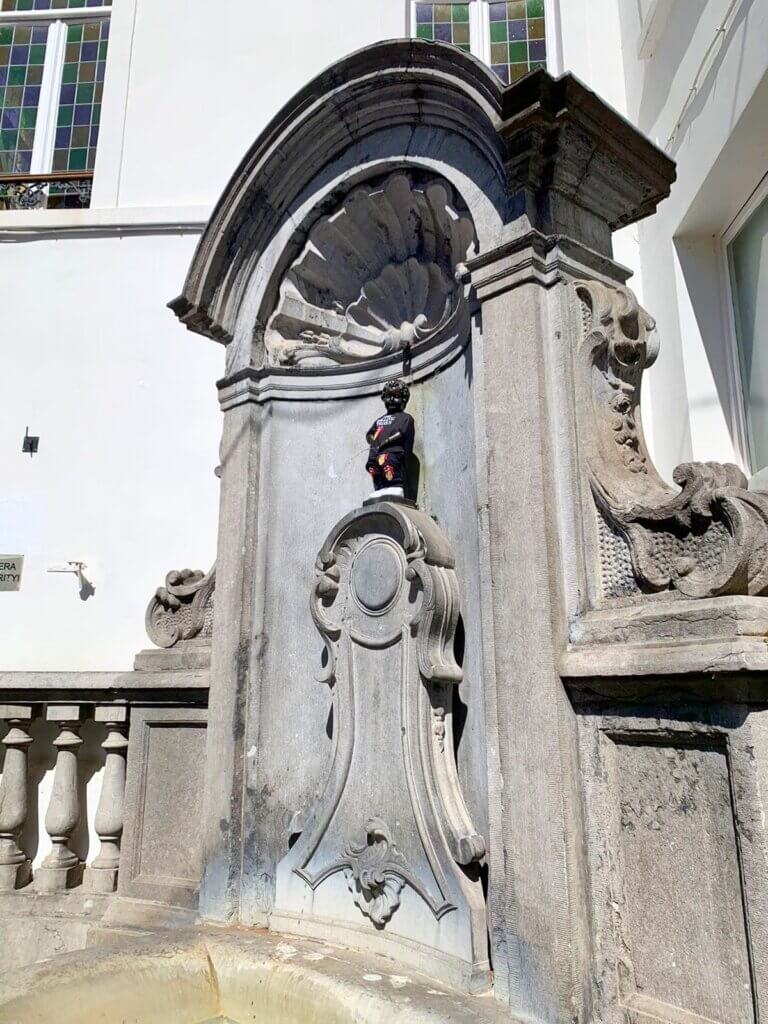 Later in the day, we decided to explore the vibrant nightlife scene in Brussels. Some popular areas for barhopping include the lively Saint-Géry neighborhood, the historic Ilot Sacré, and the trendy Flagey square. In addition, Brussels has a thriving live music scene, offering a diverse range of genres and venues, from jazz clubs and blues bars to rock venues and intimate concert spaces. Some popular venues include Ancienne Belgique, Botanique, and Jazz Station. If you're more into nightclubs, districts of Ixelles and Matonge are known for their eclectic range of clubs and music styles.
---
Day 2: Brussels
We started our day with a visit to The Hergé Museum. This is because my boyfriend is a big fan of the iconic comic series "The Adventures of Tintin." The Hergé Museum is in Louvain-la-Neuve, a city in the French-speaking region of Wallonia, about 30 kilometers southeast of Brussels. This can be combined also with your day 4 itinerary, where I recommend a road trip through Wallonia. However, since there was a lot to do on that day anyway, we decided to keep the Hergé Museum on this morning and took a train journey from Brussels to the city of its location. The entire journey (train + museum visit) took us about 5 hours, leaving us with the afternoon and evening to explore the rest of Brussels.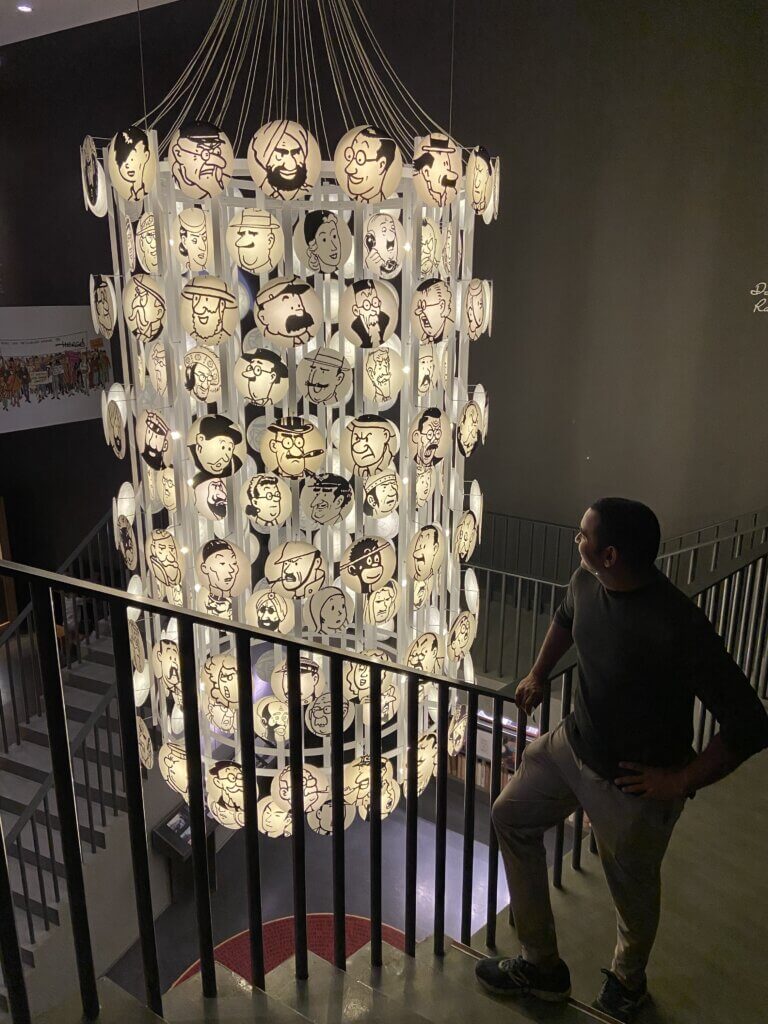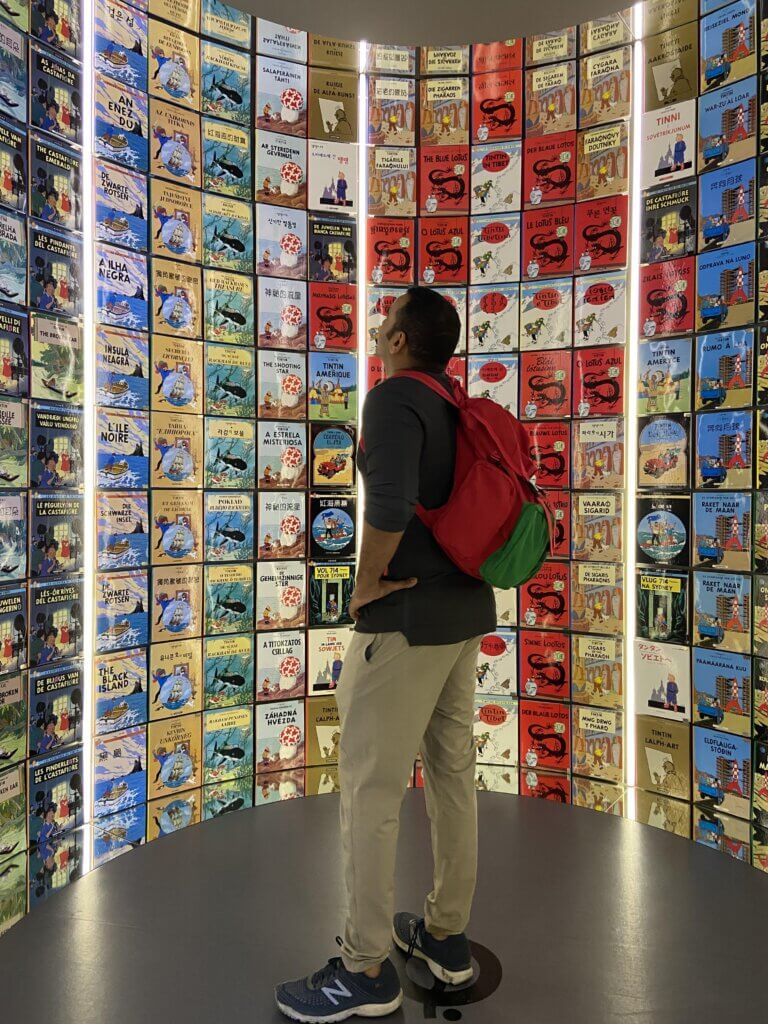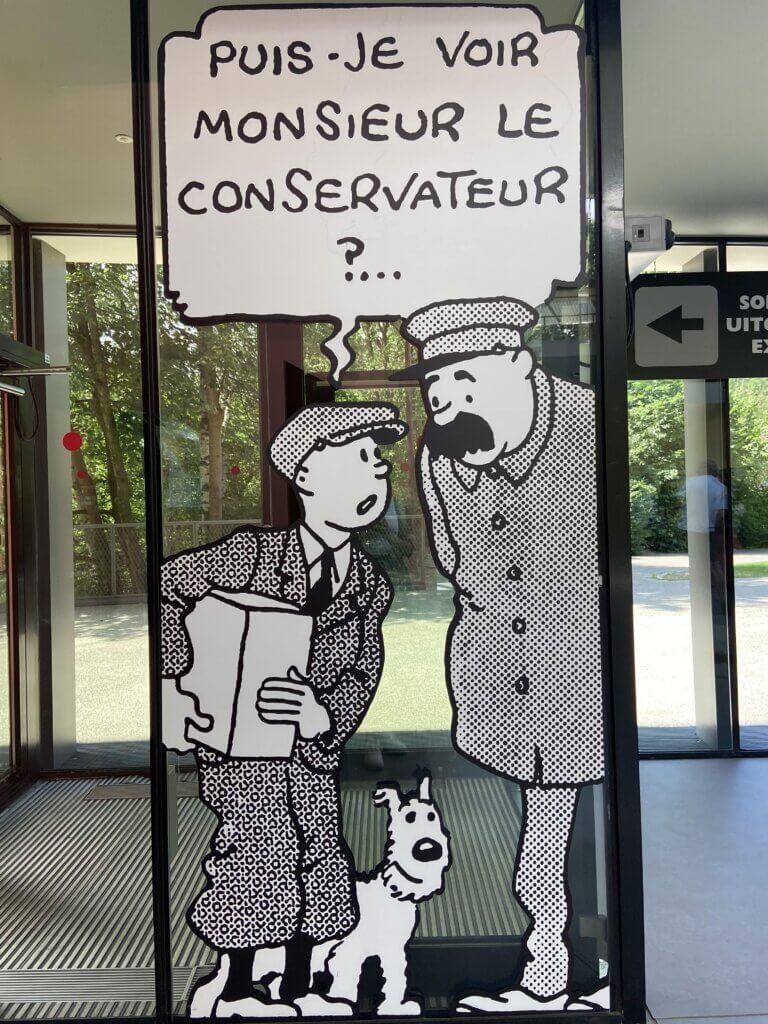 The museum extensively covers Hergé's most famous creation, Tintin, and his adventures around the world. It offers a comprehensive overview of the various Tintin albums, their characters, and the cultural impact they have had. The exhibition includes original artwork, storyboards, and interactive displays that allow visitors to immerse themselves in the Tintin universe.
Once back in Brussels, we headed to Parc du Cinquantenaire. The destinations we visited on this day weren't walkable, as they were on day 1, so we downloaded Uber and decided to take it easy as the taxis weren't too expensive. Cinquantenaire Park is a vast set of gardens dotted with monuments and museums, dominated by a triumphal arch with three arcades. It is one of the emblematic places of Brussels, in the Beaux-Arts style. We went here on a Sunday when several salsa dancers had taken over the corridors and were having fun, while we watched and enjoyed them swinging beautifully to the music. Thereafter, we had a little picnic in the park with the arch in the backdrop, creating a nice, peaceful afternoon for ourselves.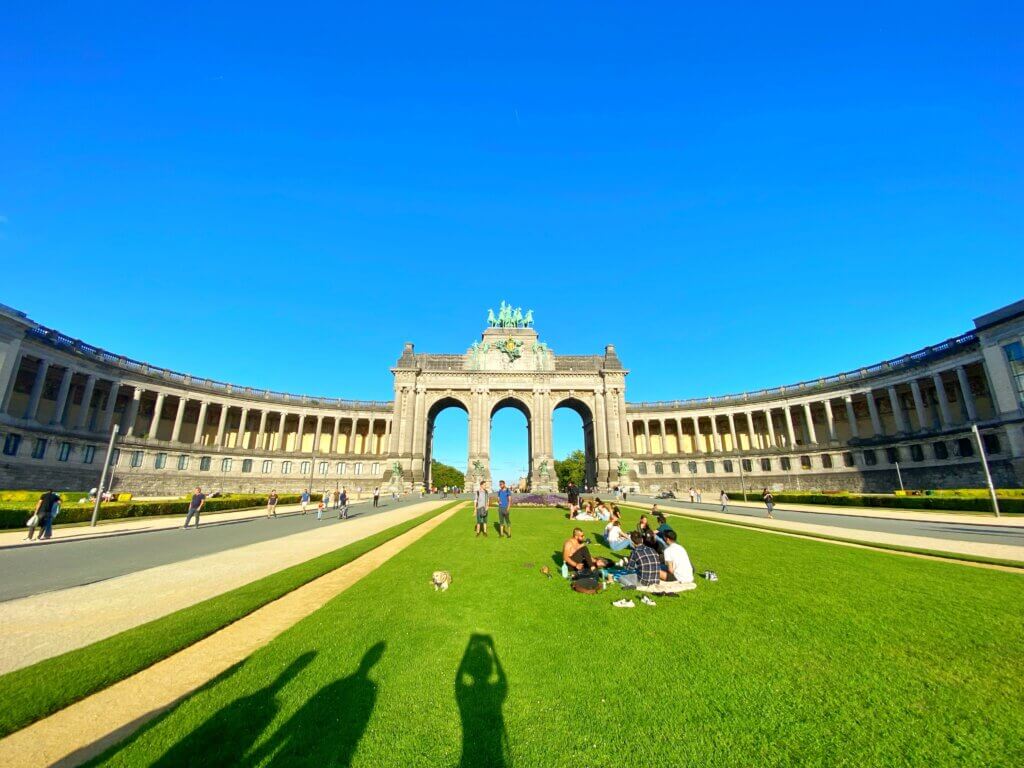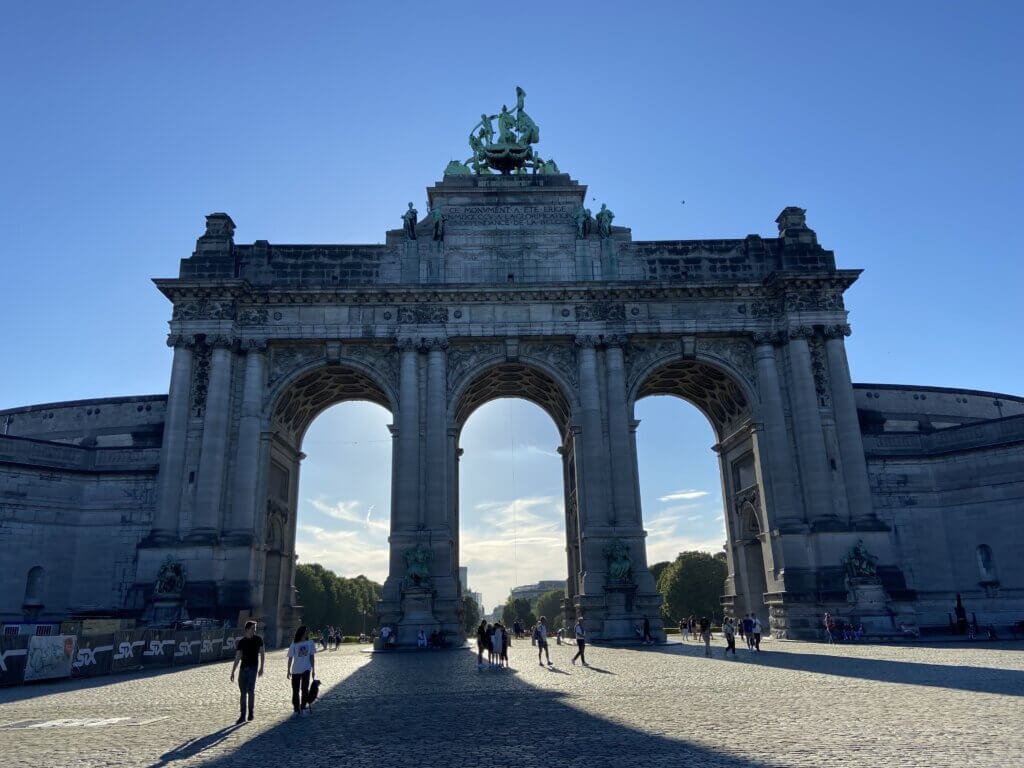 .
From here, we headed to the National Basilica of the Sacred Heart in Koekelberg. Known to be the fifth largest church in the world, it's constructed in the Art Deco style and is an architectural masterpiece from the twentieth century. My love for exploring medieval architecture led me to this basilica and I was not disappointed. The exterior as well as the interior of the church is quite impressive. The gardens outside make for a great place to sit and relax in view of this excellent piece of work.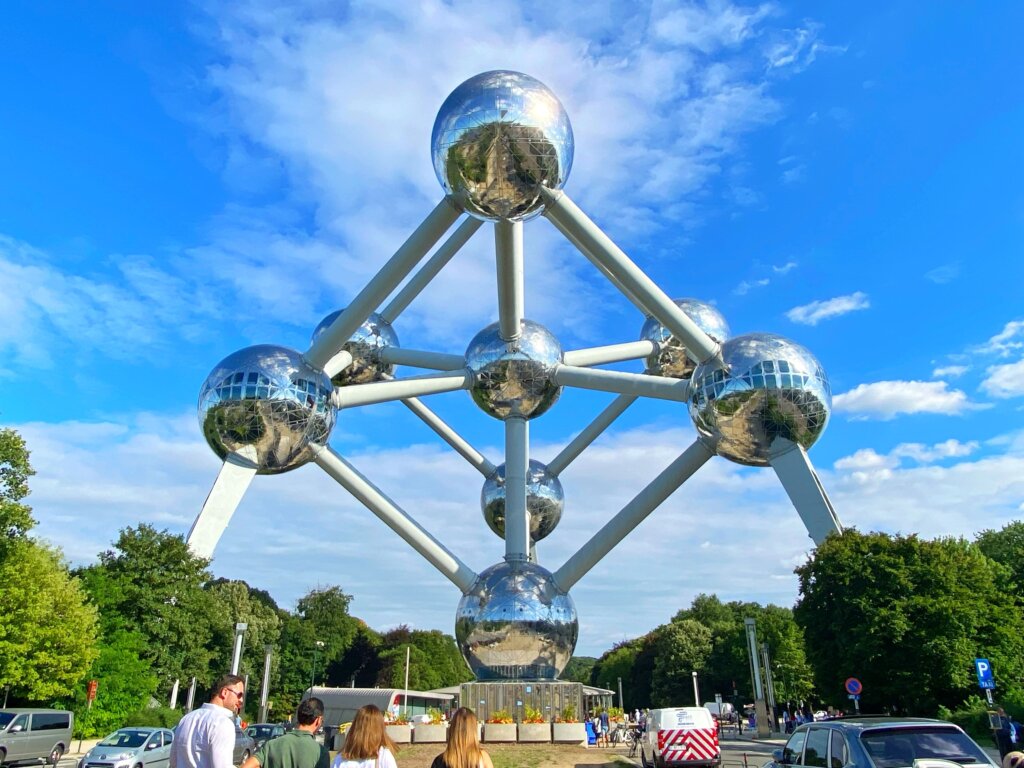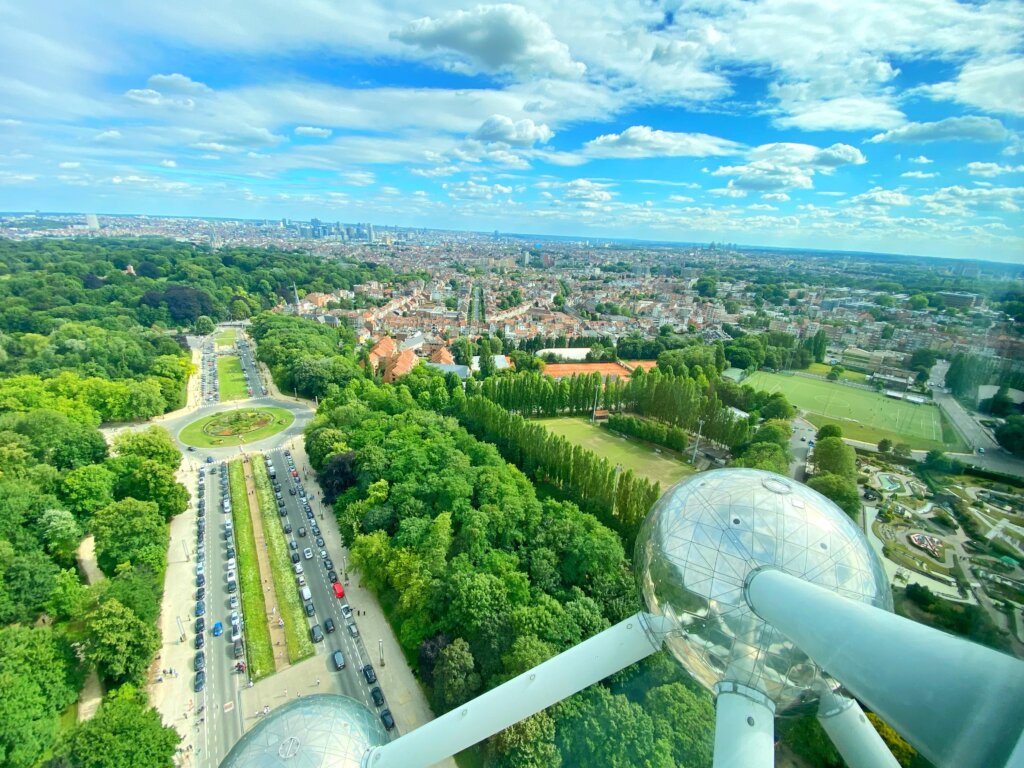 Finally, from here, we headed to yet another architecture masterpiece but from the modern world – The Atomium. Originally built as an event center for 1958 Brussels World's Fair (Expo 58), this awe-inspiring monument has now become a centrepiece of Brussels skyline and now acts as a cultural exhibition center. While the exterior of the building makes for excellent photos, it's worth buying the ticket to go inside to experience all the exhibitions on the various floors too.
---
Day 3: Road trip through Wallonia
While Brussels was an interesting experience, for me, it is always key to move out of the chaotic, busy cities into the countryside. We rented a car to explore the stunning region of Wallonia in Belgium, home to several well-preserved historical UNESCO World Heritage Sites but also charming canal villages and dense forests. The sprawling woodlands of the Ardennes are perfect for nature lovers, whereas the intriguing, laidback towns are amazing for the fairytale lovers & romantics.
It's going to be a long day so start early! We started our road trip with a visit to Villers Abbey, about an hour's drive from Brussels city center. While the abbey itself is quite ruined, it used to be one of the most revered places in the 13th century and still retains some of the original facades of the spectacular Cistercian architecture. Take a walk through the trails behind the abbey and stop to read the various spiritual messages about life. The abbey's visitor center also has a nice café where you can have breakfast before you head to your next destination.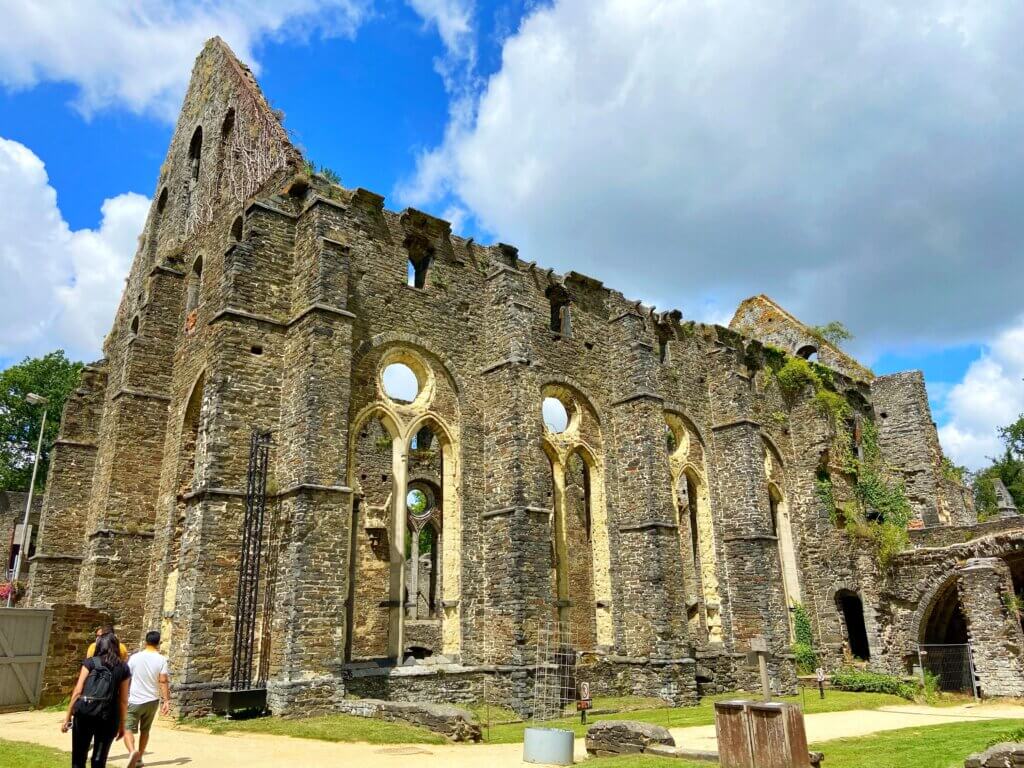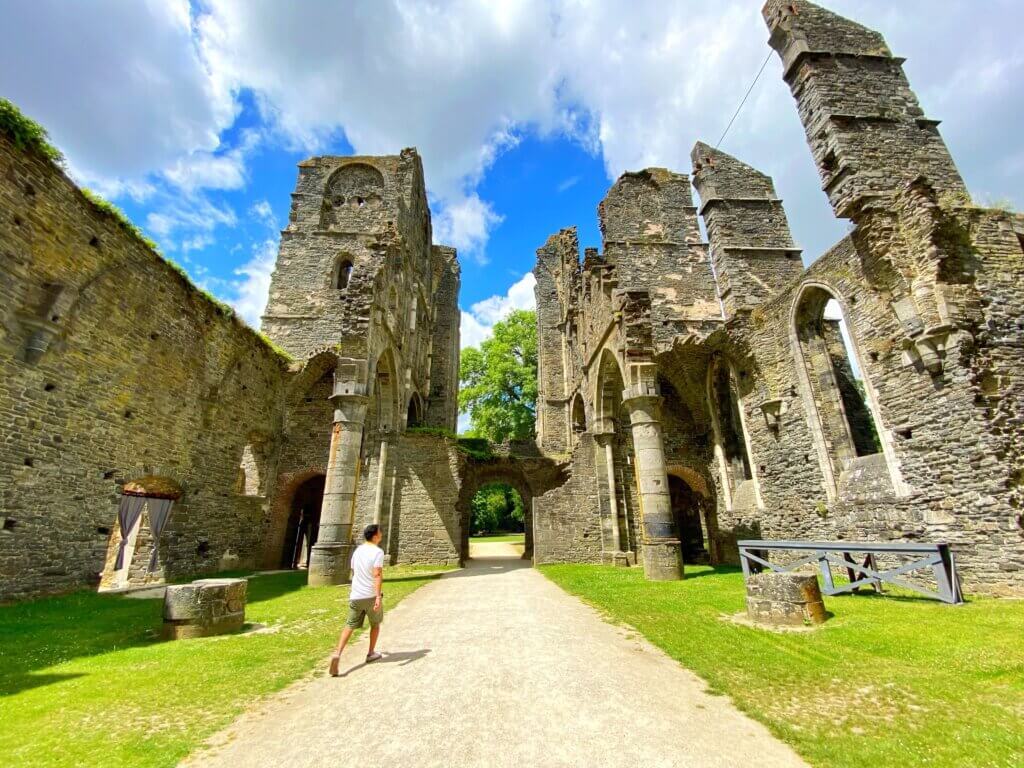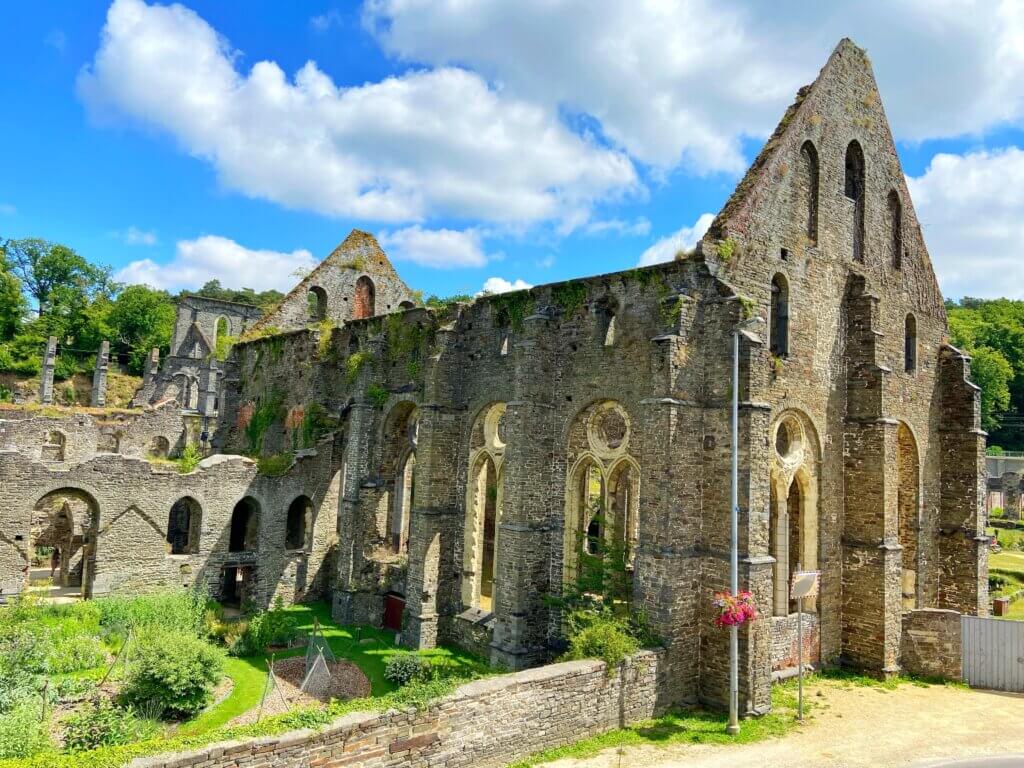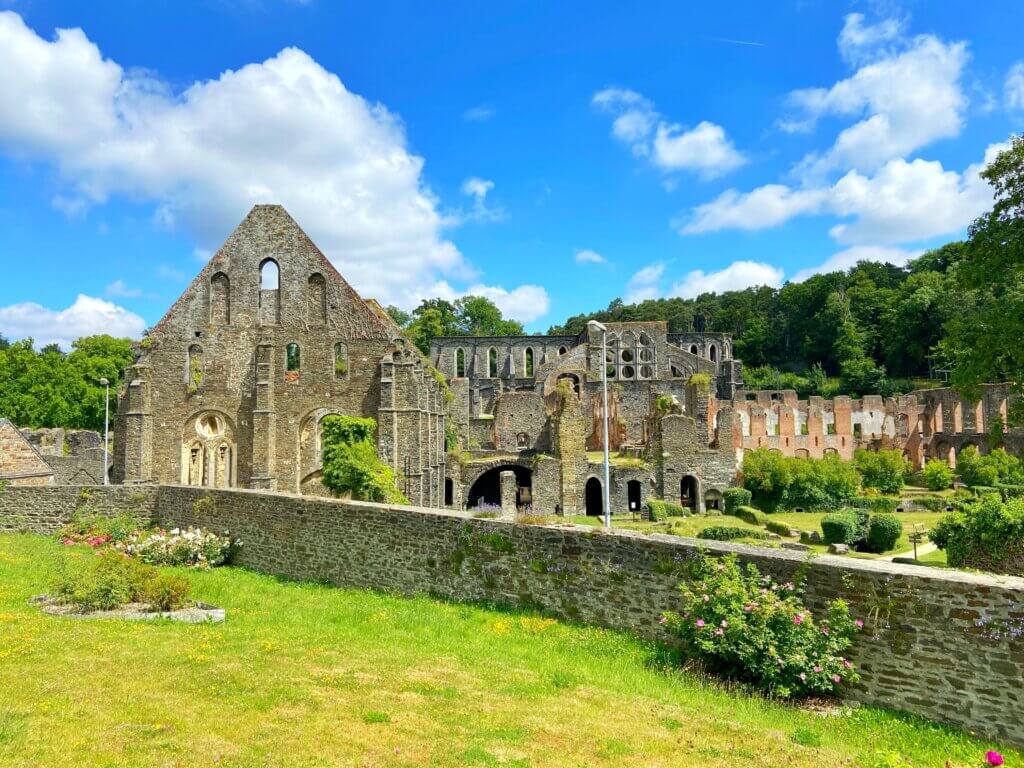 Your next stop is The Abbey of Maredsous. Located in the Molignée valley, this neo-Gothic style structure set against the woody background of the region makes for perfect photos and you can even visit inside the abbey to learn about monks' life in the olden days. However, if you're not interested to take a tour inside yet another abbey, you could skip that and just focus on the beer & cheese tasting! The cheese and beer are made on site and can be tried at Saint-Joseph cafeteria in the abbey's vicinity.
From here, head for a unique experience in the Molignée valley, Rail biking! There are several biking routes to choose from, we chose the shortest one, from Falaën-Maredsous and return (6 km). A leisurely activity that allows you to ride 4-seater bikes on former rail tracks in a picturesque setting, I highly recommend this experience, especially if you're travelling in a group. We also took along a bottle of wine and some snacks to have a quick picnic at the mid-point of the trail before we turned around to return to the start. The experience can take a total of about 2 hours.
Important note: There are fixed departures, 4 times a day, so plan your visit accordingly.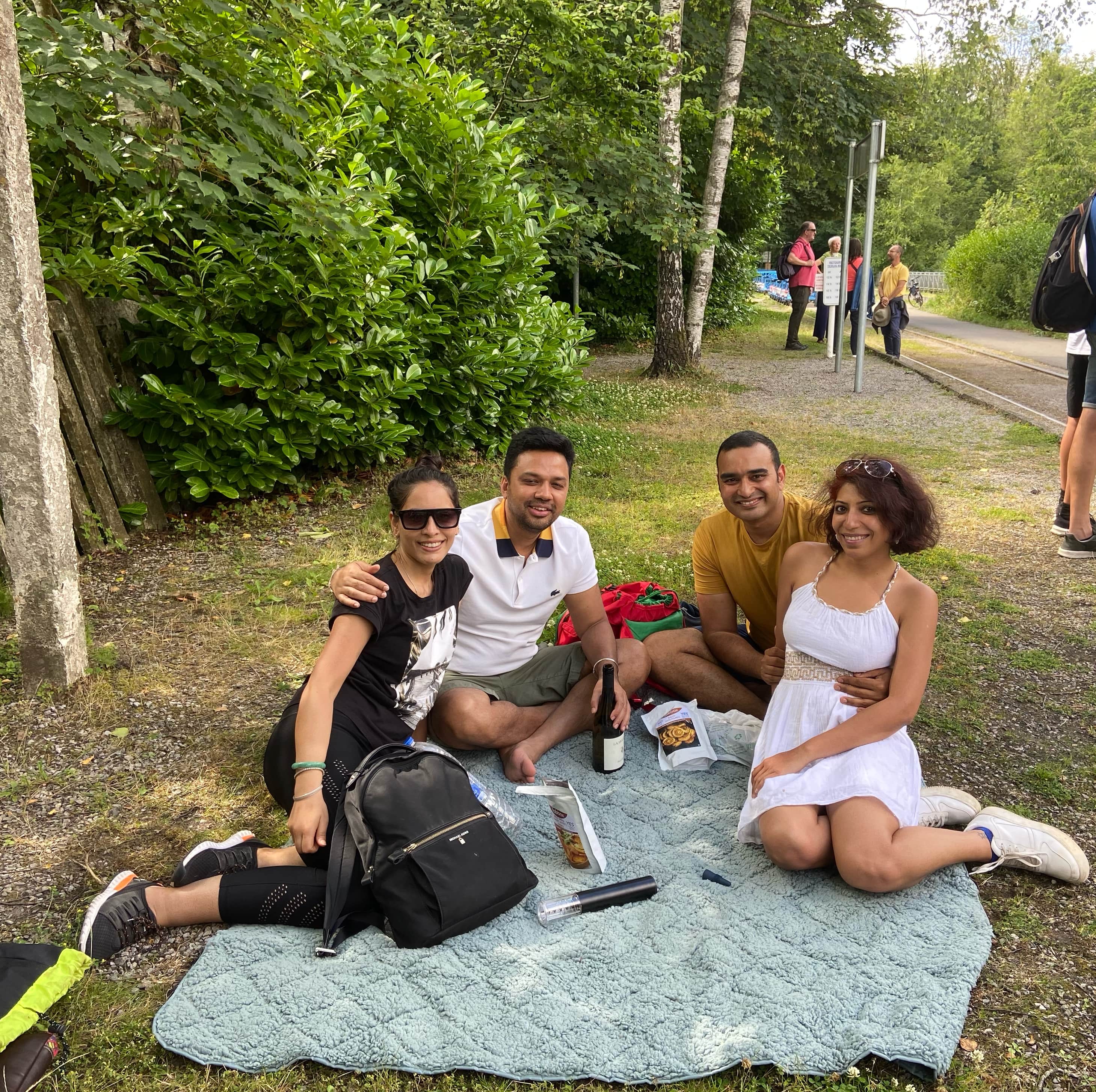 From here, we drove to Dinant, a charming town located hardly 20 minutes from the rail biking center. An array of colorful buildings and an iconic Gothich church, set against the backdrop of a looming rock face crowned with a citadel, along the river Meuse, this charming town was a short stop for us but well worth the visit. The banks of the river are strewn with several restaurants and cafes, which makes for a great place to grab lunch. We also walked to Neuhaus Dinant, a popular chocolatier brand that can be found across the cities in Belgium and has some of the best Belgian chocolates you will find.
Depending on how much time you have left & your interest, you can choose any of the following activities thereafter:
Kayak down Lesse Valley: Not too far from Dinant, you can kayak down the Lesse River, amidst lush forest and wild birds, in the serene Lesse Valley. You can choose between the different experiences, from the easy ones for families to the challenging ones for adventure lovers. This is a fantastic way to spend the afternoon in Wallonia!
Wine tasting at a winery: Again, not to far from Dinant and on your route back to Brussels, you can experience the burgeoning wine culture of Wallonia and take a break from all the beers! One of the most popular ones is at Château de Bioul, where you can try different wines on this family castle's grounds. Another popular one is Château Bon Baron, located close to Dinant as well but on the opposite side.
Visit Wallonia's capital, Namur: Namur is not too far from Dinant either and can be visited on the route back to Brussels. A lively student town that's home to several funky bars, cobbled stone laneways and incredible food, Namur's also popular for the citadel that overlooks the city, which transforms into a spot to catch the sunset due to the views it offers from the top.
Hiking in the Ardennes countryside: This one is much further down south from Dinant and will need more time so head here only if you still have at least the evening left for you to explore. Head towards the District of Bouillon, where you will find several hiking trails into the lush Ardennes, across all types of challenging levels. The tourism office has the information about all the hiking trails available in the area.
"Reading between the lines" see-through church: Now, this one is not technically in Wallonia and is quite the drive from Dinant (1.5 hours). However, it is an extraordinary piece of art / architecture and that's what lured us to explore this place. Located in a very remote village (Borgloon), our gps lead to the starting point of the easy 2-km walk to the church but we were a bit unsure if we were on the right path due to the lack of any signs (or people) leading to the church. The location of this church was serene, laidback, and picturesque in a bucolic way, which added to its charm. We managed to catch a beautiful sunset here, before heading back to Brussels (another 1.5-hour drive)!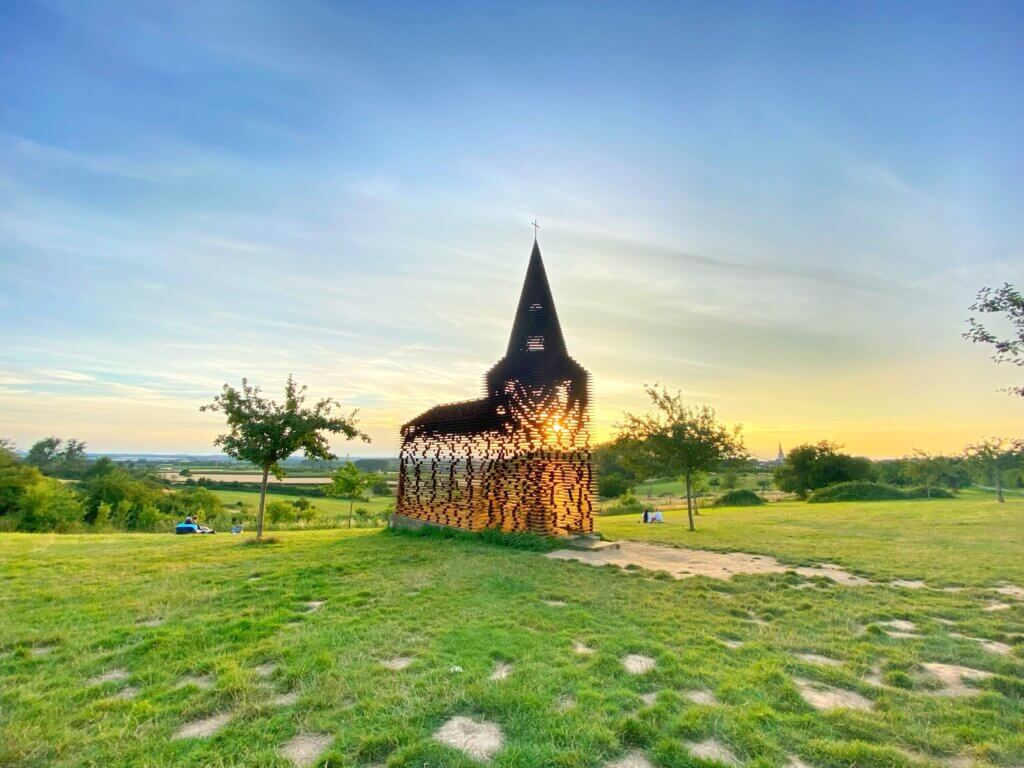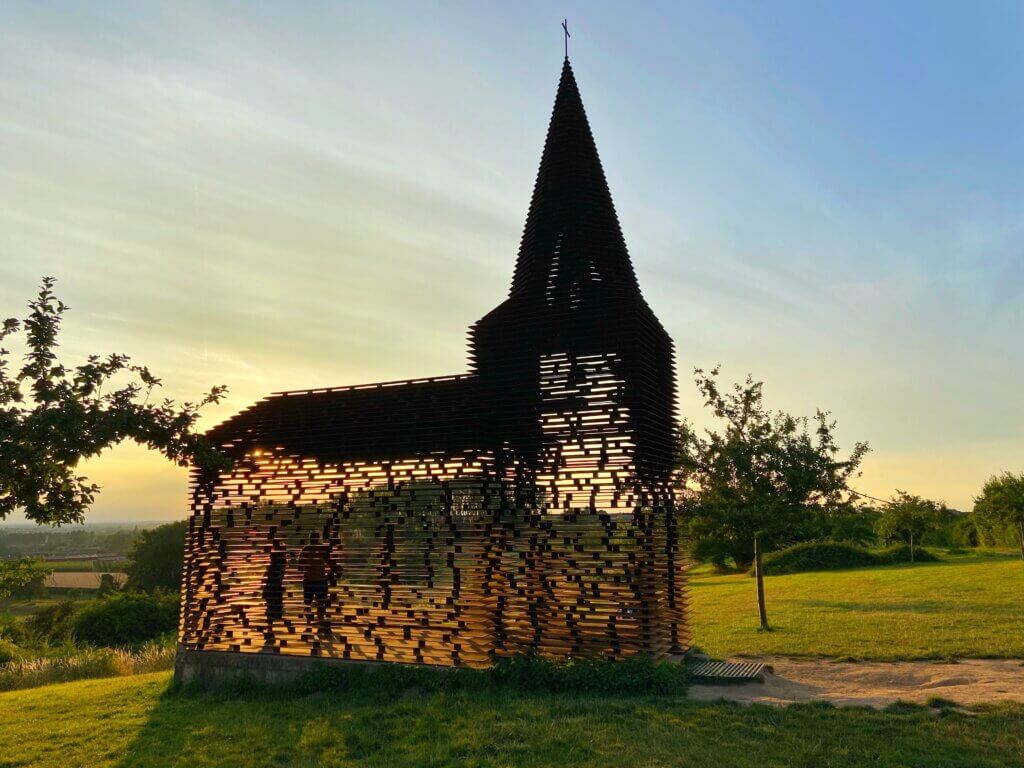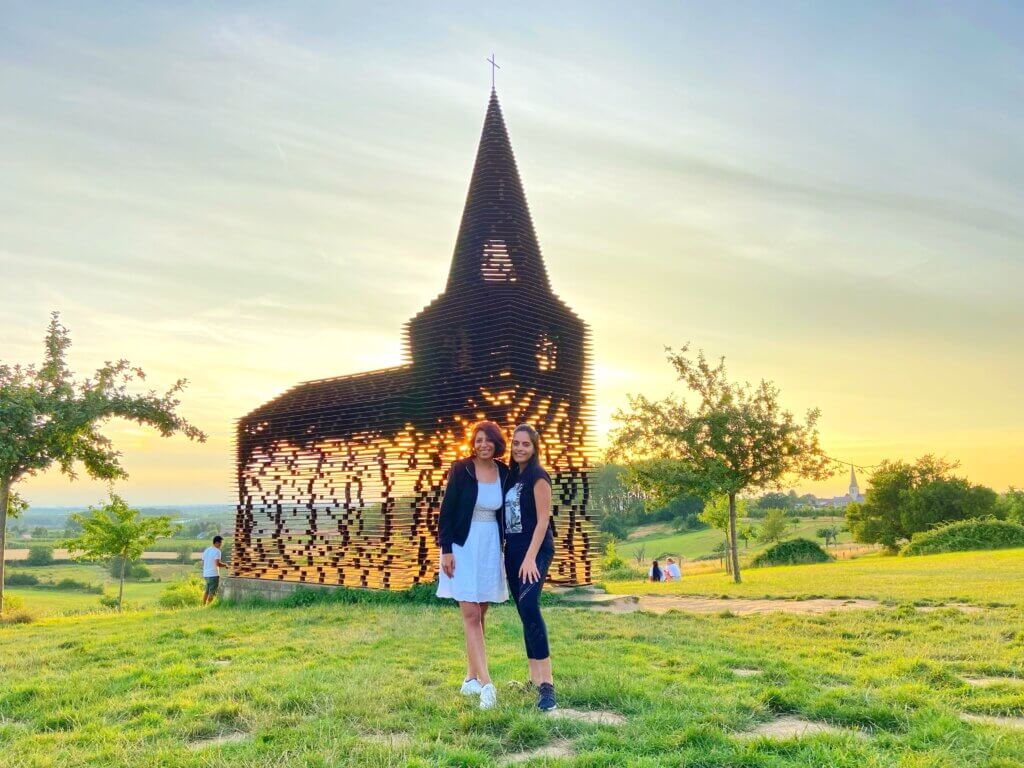 ---
Day 4: Extend in Wallonia OR visit Antwerp from Brussels
For a nature lover like me, extending a day in Wallonia would've made a lot of sense and I regret not having done it, in hindsight. However, if you wish to go back to the chaotic city life instead, then exploring yet another popular destination in Belgium – Antwerp is an option. By train, Antwerp is hardly 45 minutes from Brussels Central Station, and the tickets can be purchased over Trainline or Omio.
Known as the diamond capital of the world for several centuries, Antwerp is an interesting city to explore. You can start your journey from the historic center of Antwerp, which is known for its beautiful architecture and charming streets. Visit the Grote Markt (Main Square) and marvel at the stunning guildhalls and the City Hall, walk to the Cathedral of Our Lady (Onze-Lieve-Vrouwekathedraal), a magnificent Gothic cathedral that houses impressive works of art, and offers panoramic views of the city from its tower, explore Antwerp's reputation as a fashion capital by visiting the Fashion District, particularly the Nationalestraat, where you can find a variety of designer boutiques, concept stores, and fashion-related museums, grab a coffee or a drink and some food at one of the bars or restaurants along the Scheldt River, which has a very lively atmosphere. The city is totally walkable, and you can spend 5-6 hours here easily just strolling and soaking in the atmosphere.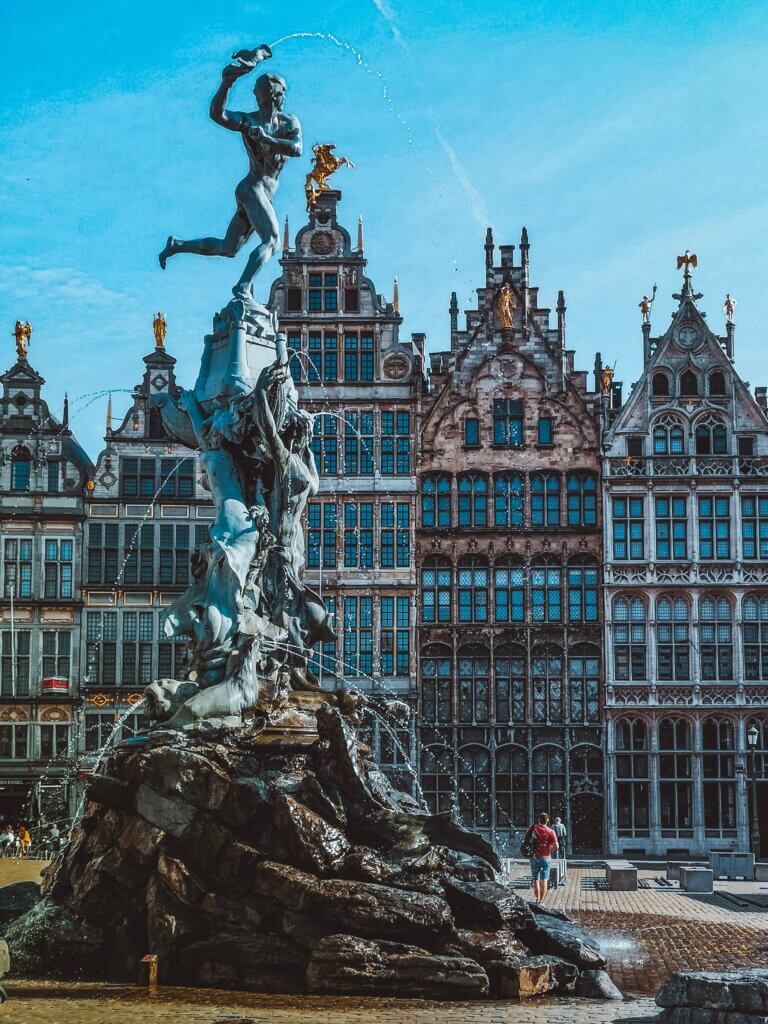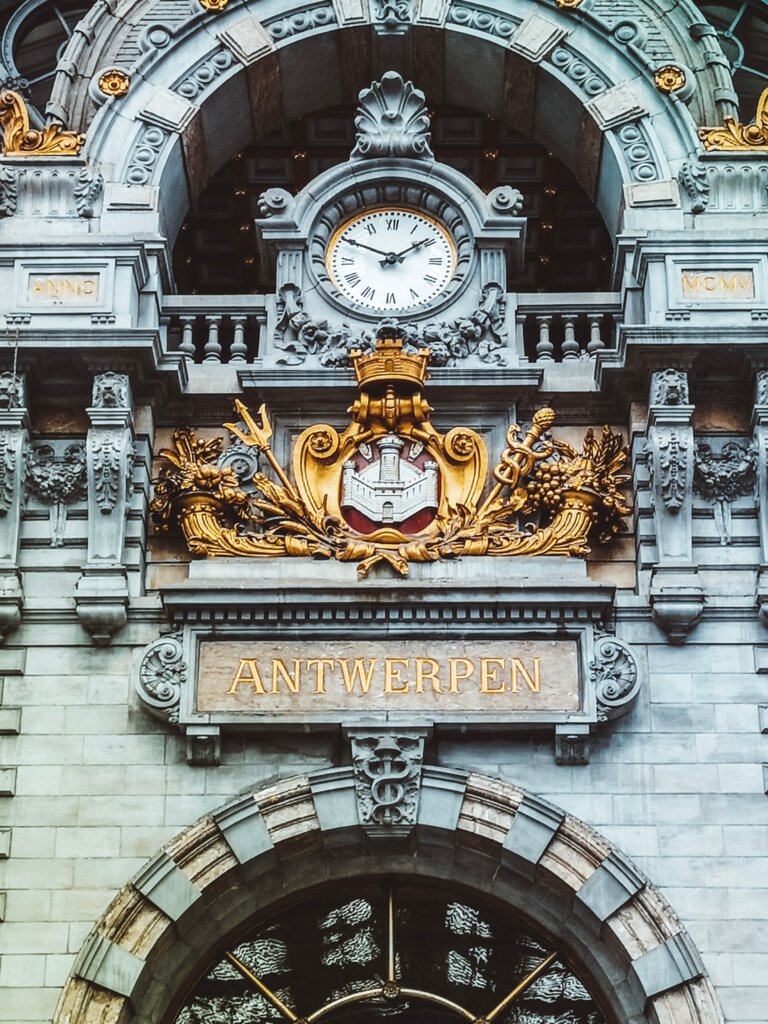 Important tip: While travelling in the public transportation in Belgium, be extremely cautious of your belongings. Pickpocketing is common and the perpetrators are always on the lookout for opportunities, especially after they identify tourists, to find ways of grabbing their wallets/ purses/ expensive belongings. As careful as I was, I had my wallet knicked from inside my purse while boarding the train from Brussels to Ghent, losing a lot of cash, credit cards & my drivers' license.
---
Day 5: Ghent
A lot of people choose to spend just half a day at Ghent, on the way from Brussels to Bruges. However, since we had a bit of time and wanted to cover Ghent in a leisurely manner, we decided to spend the night here. We started off with breakfast at Simon Says, as it came highly recommended from some other bloggers. Set in the heart of Ghent's city center, along the cobbled streets, the coffee bar is a vibrant space housed in a beautiful art nouveau building, and a great way to begin the day.
From there, we strolled along the canal and reached the medieval castle of Gravensteen. I am a fan of fairytale-like castles, and this was definitely one! We took the audio tour guide and I always find it helpful to do that, and this one was actually quite entertaining! In a very witty manner, the speaker takes you on a tour of the the Castle of the Counts. Keep aside about 2 hours (1.5 for the tour and 30 minutes for taking some splendid photos) for your visit here.
From here, head towards St Nicholas' cathedral, a stunning Gothic cathedral and one the most prominent landmarks in the city that holds great historical and architectural significance. On the way, you will cross the famous St Michael's Bridge, a monumental stone arch bridge over the Lys river.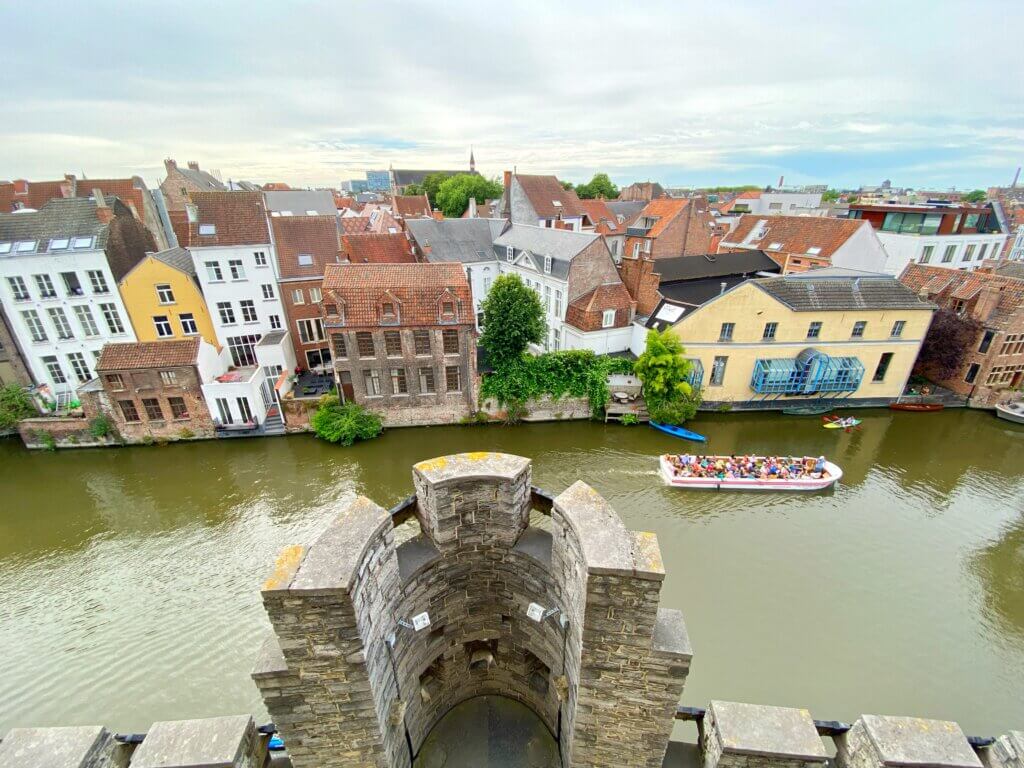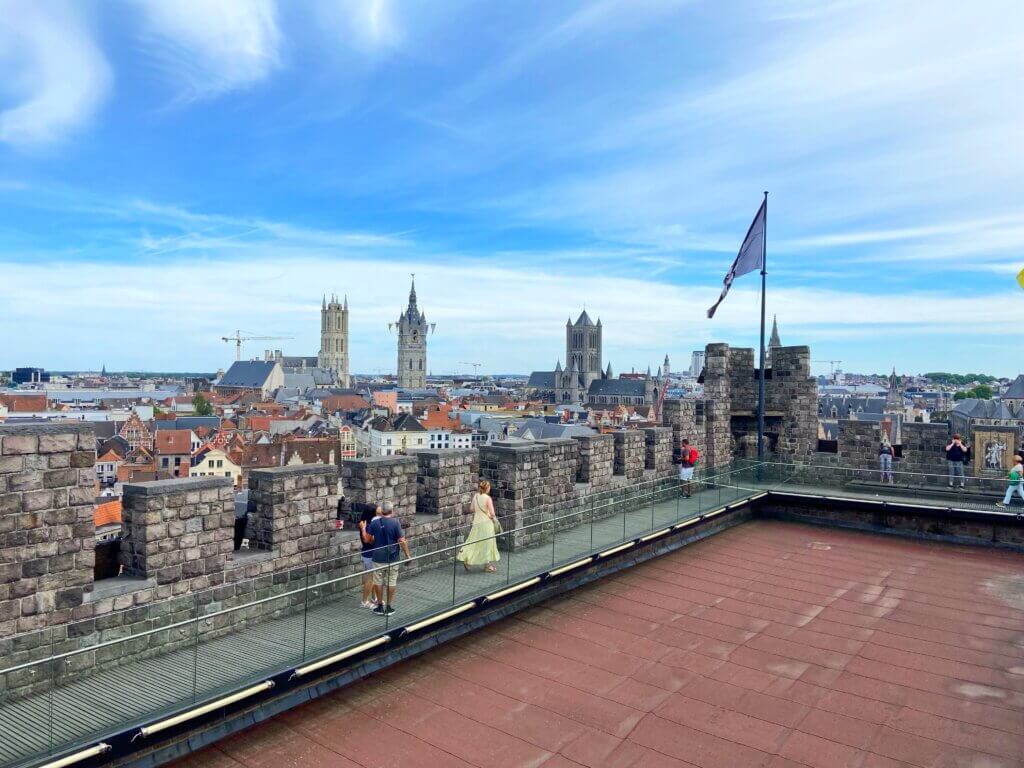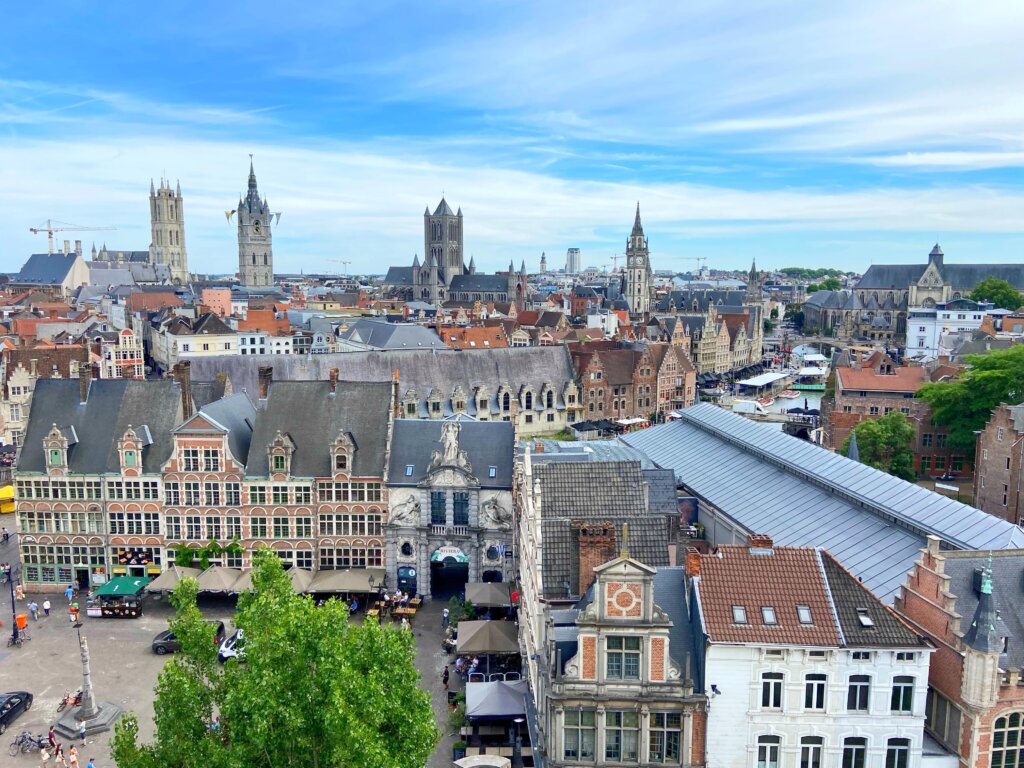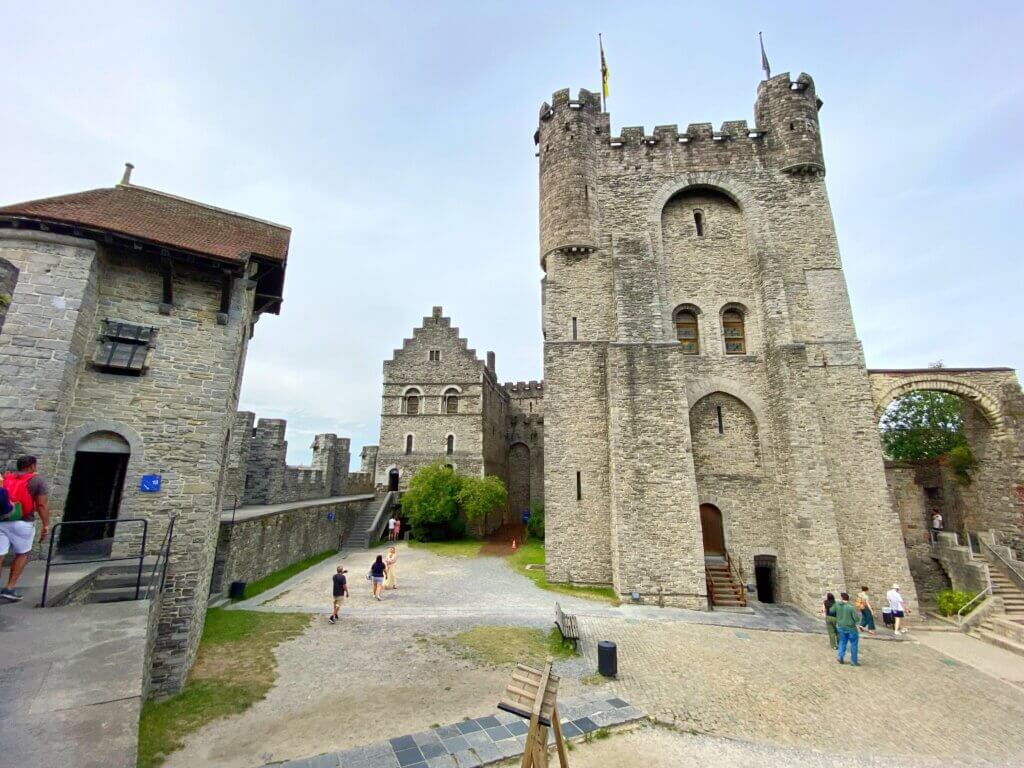 While we didn't go inside the cathedral, I was impressed by the Gothic architecture, characterized by pointed arches, ribbed vaults, and ornate details. The exterior features intricate stone carvings and a magnificent tower that soars above the city skyline. You can also ascend the tower of the St Nicholas Cathedral for a panoramic view of Ghent. While the climb can be a bit challenging, the rewarding vistas of the city's skyline make it worth the effort.
From here, we headed to Werregarenstraat, a narrow alleyway that comes to life with all the street art. As an officially sanctioned street art tunnel or graffiti alley, this public gallery is a place to get a lot of beautiful and colourful photos.
As we had some leisurely time in Ghent, we decided to take the canal boat tour and that was a great decision! The 40-minute boat tour was accompanied by a commentary on the history of the city and gave a very different perspective of the architecture of Ghent and its stunning buildings. We took our drinks along which added to the experience and was a very relaxing time as we sailed through the calm waters.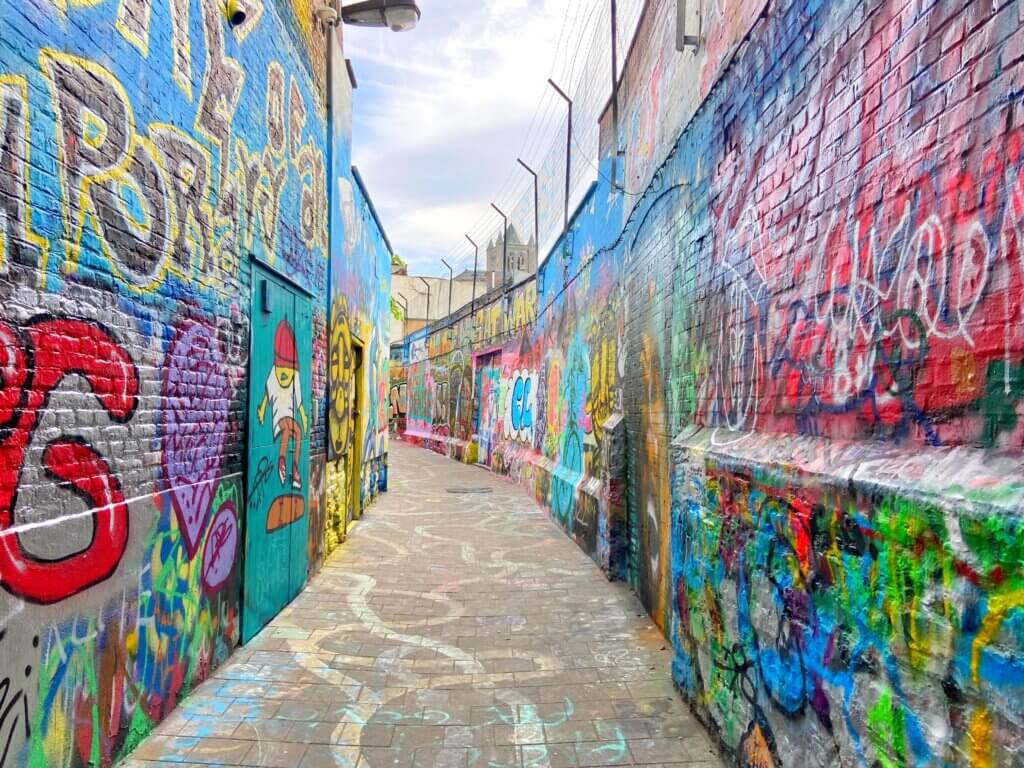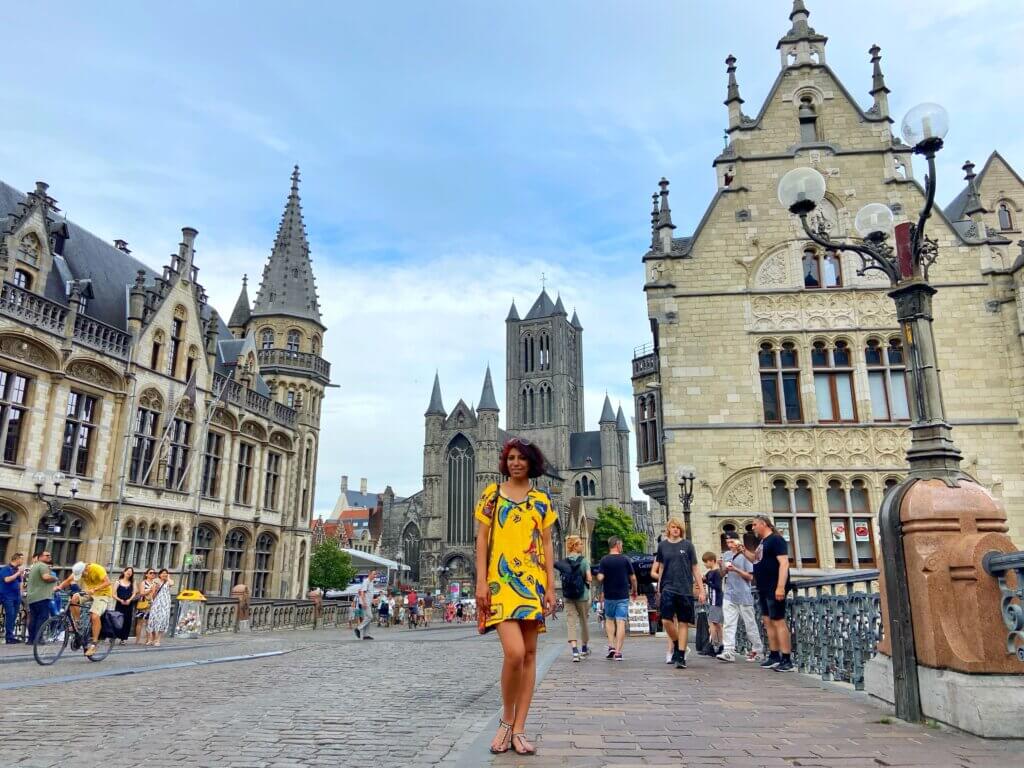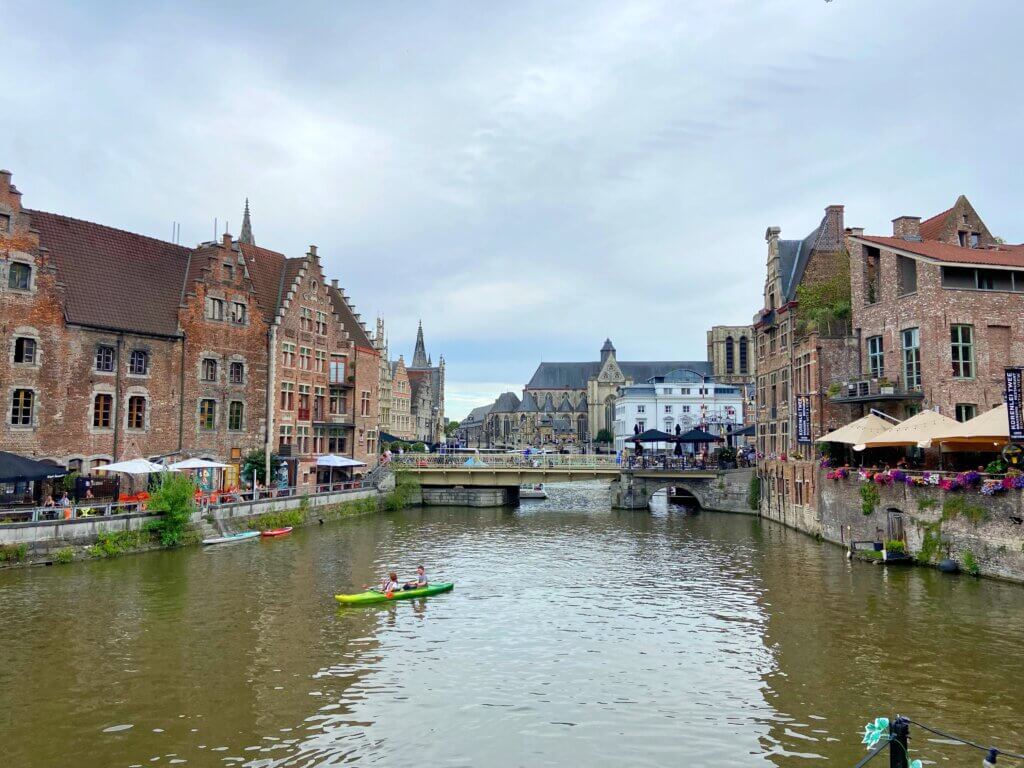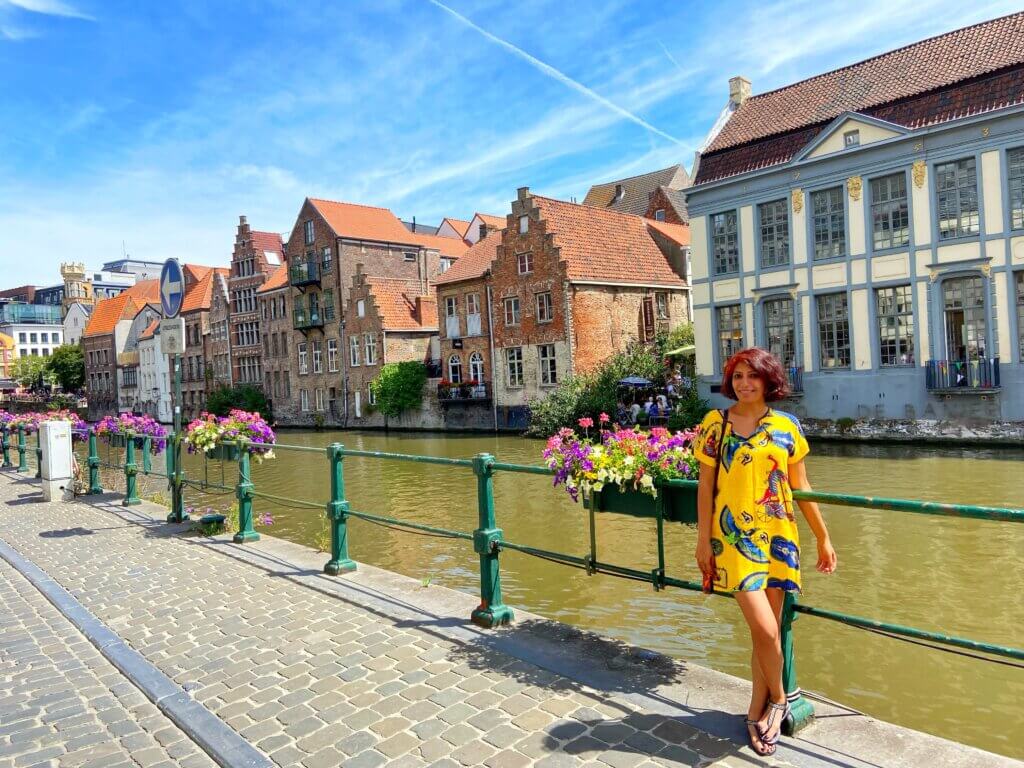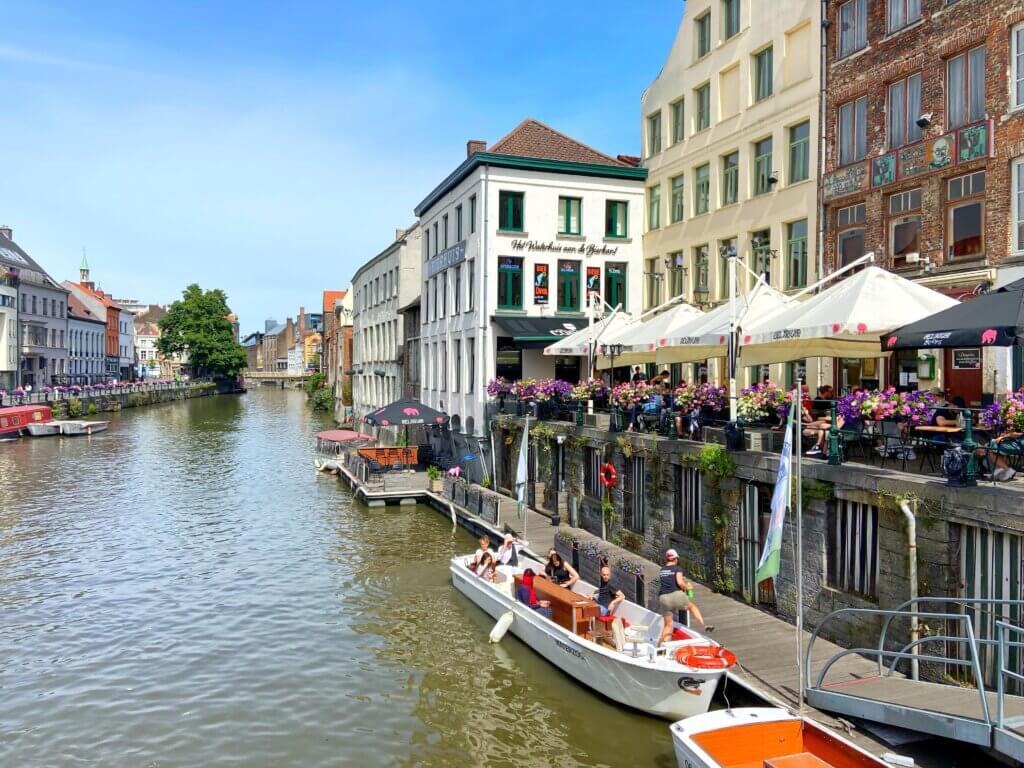 We ended the day at Patershol, the culinary heart of Ghent. While you can find eateries back-to-back here, offering global cuisine, some places that stand out and deserve a visit are: the traditional pub in the inner courtyard of the House of Alijn and Roots, a small gastro-bistro fine dining Michelin guide outlet in the heart of Paterhol that offers excellent, fresh, no nonsense type of food.
---
Day 6: Bruges (Brugge)
Less than 30 minutes train journey from Ghent is my favourite city in Belgium – Brugge. Located in the Flemish region of Belgium, it is one of the country's most well-preserved medieval cities and a UNESCO World Heritage Site. I fell in love from the moment we arrived – with its picturesque canals, charming cobblestone streets, and well-preserved architecture, which give it a fairy-tale-like atmosphere. We started off with the canal boat tour here as well, which was totally worth it as we saw some of the best architecture the city has to offer from a unique perspective. Thereafter, we decided to take a free walking tour of the city.
Some key iconic monuments/ structures that stood out during our walking tour were Belfry of Bruges, the Church of Our Lady, and the Basilica of the Holy Blood.  Luckily, our hotel was in The Markt, a bustling square in the center of the city and a vibrant hub with outdoor cafes, horse-drawn carriages, surrounded by stunning historical buildings. Doesn't it sound absolutely magical? It is!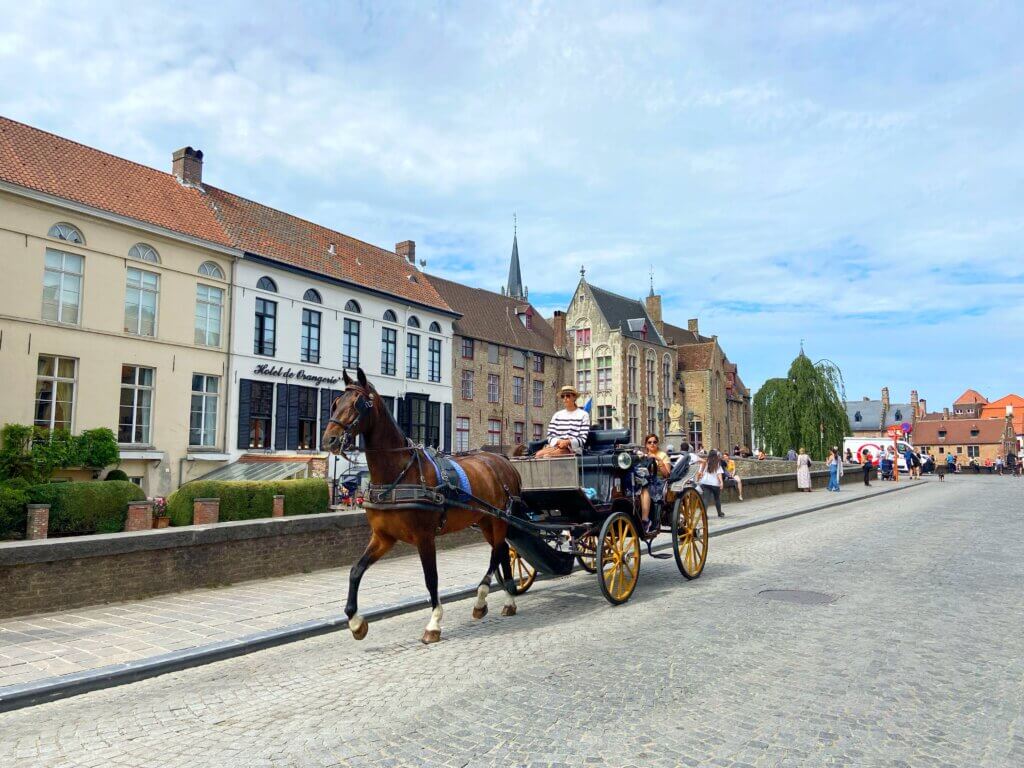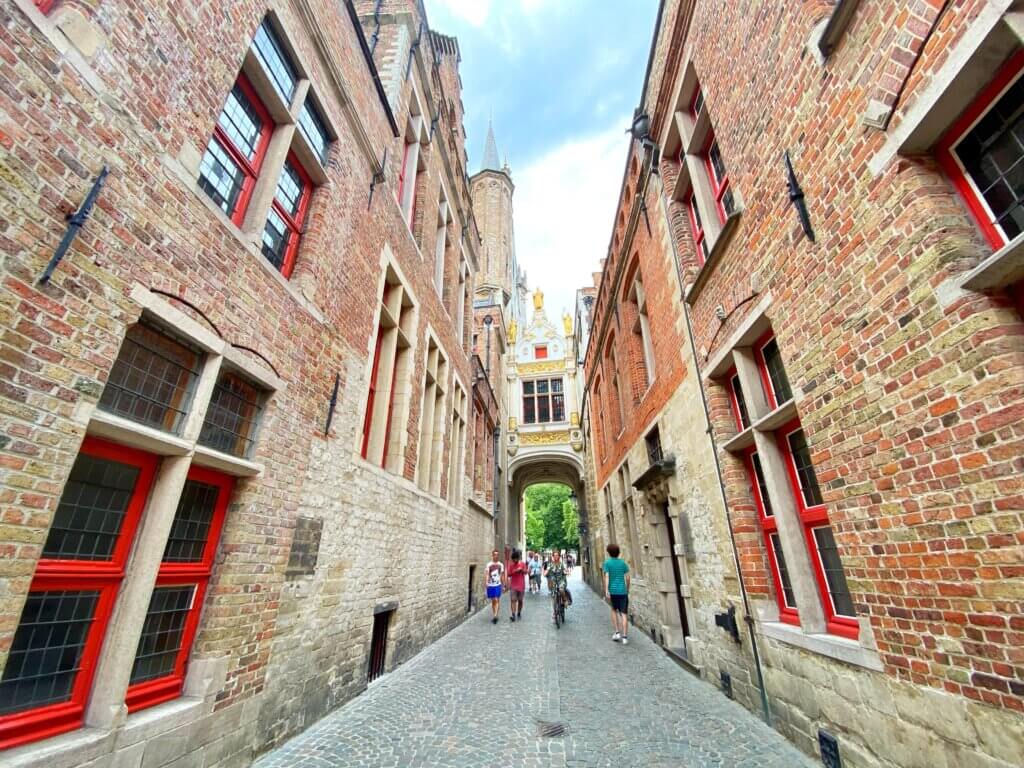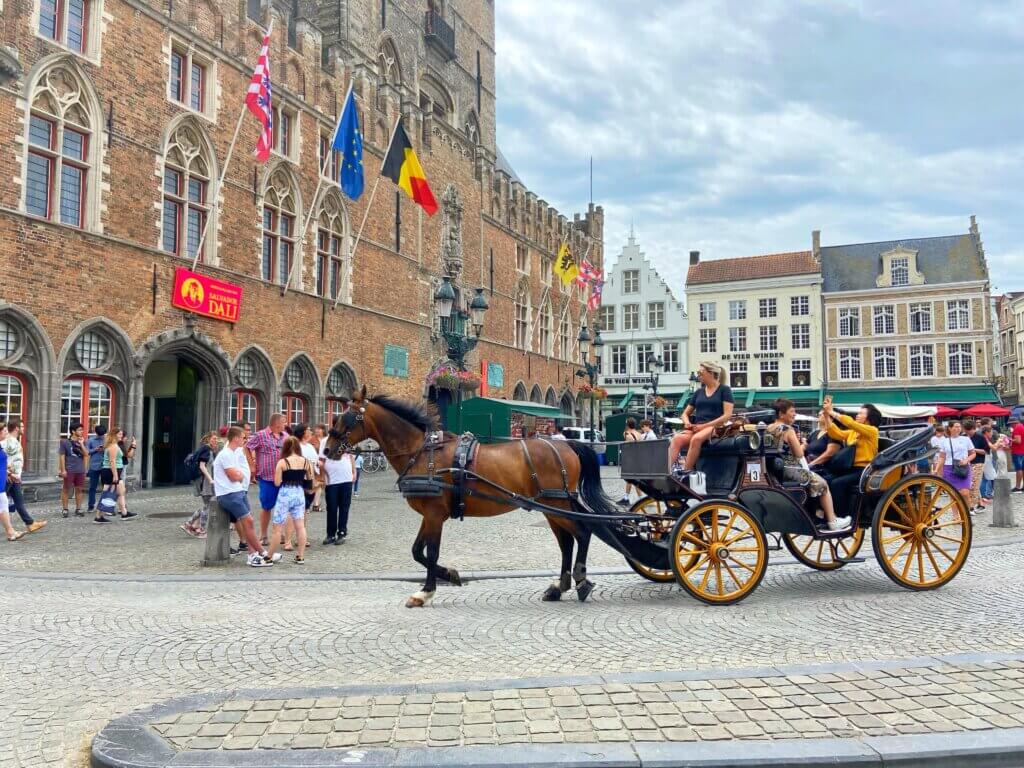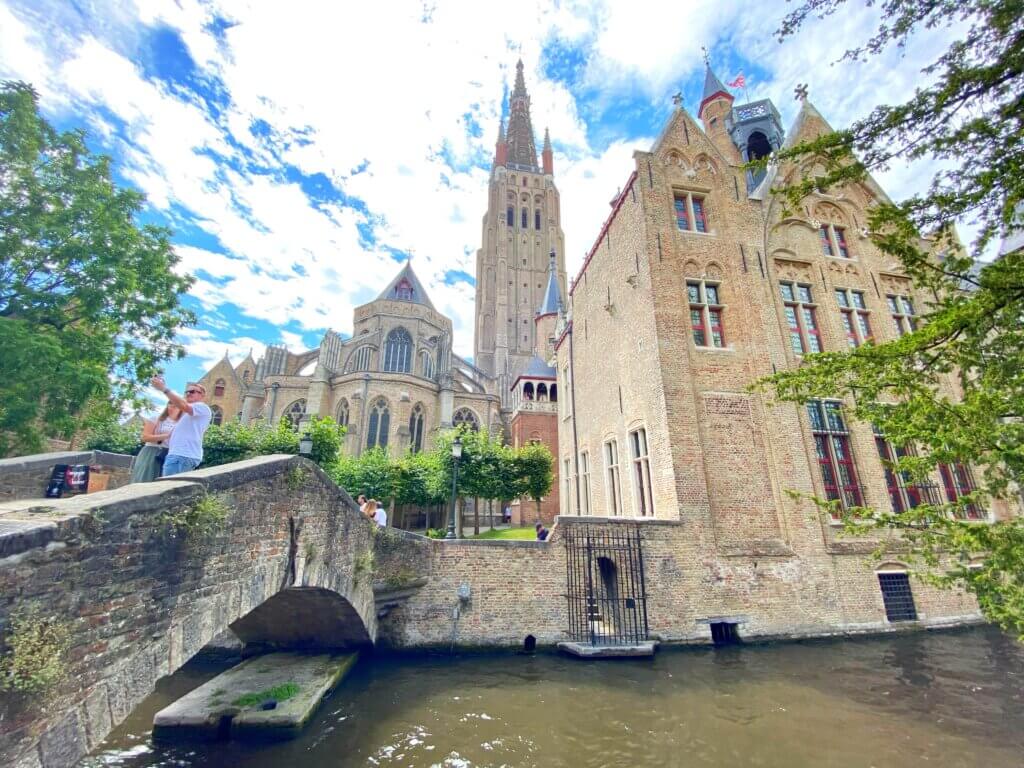 After the walking tour, we decided to do a self-guided walk to other scenic destinations in the city such as Minnewater (Lake of Love). An extremely tranquil spot for a leisurely stroll, there's also a restaurant located at one end, right over the lake, offering excellent views of the lake and some great wine, beer & food. We enjoyed lunch here before heading towards the stunning Gothic church from the 13th to the 15th century: The Church of Our Lady. It's striking brick steeple, known to be the second largest in the world, can be seen from all over the city.
The day was spent mainly strolling around the city, taking endless photos of the stunning architecture, soaking in the lovely vibe, hogging on waffles and fries, and tasting all types of chocolates in the unique chocolate boutiques.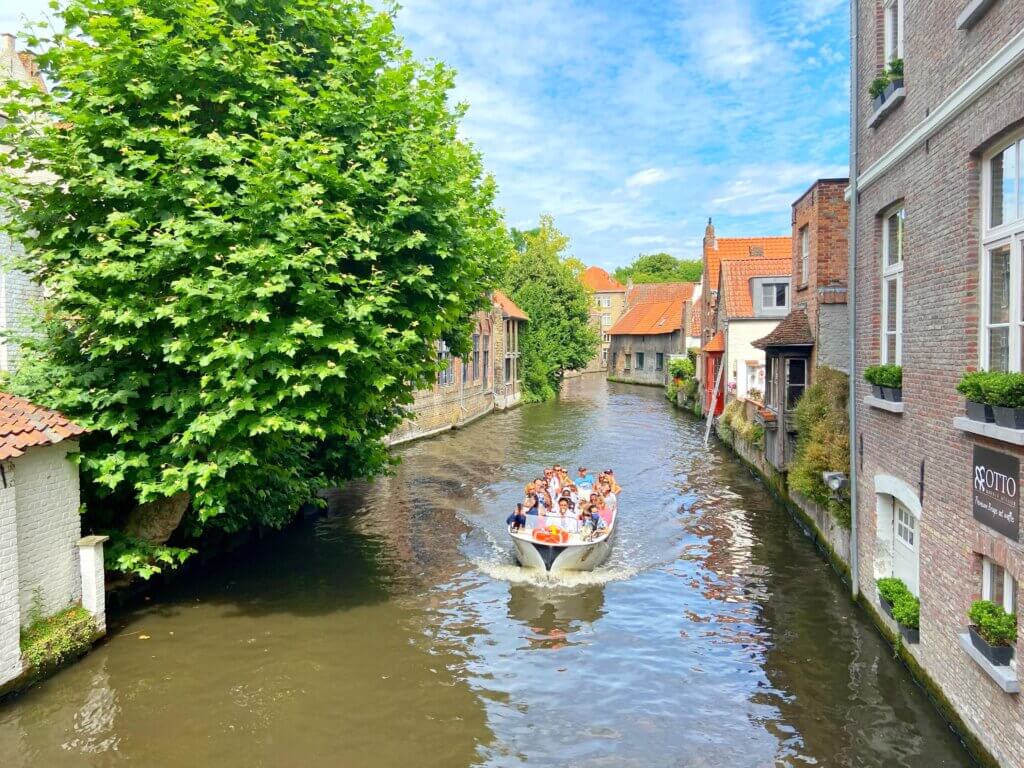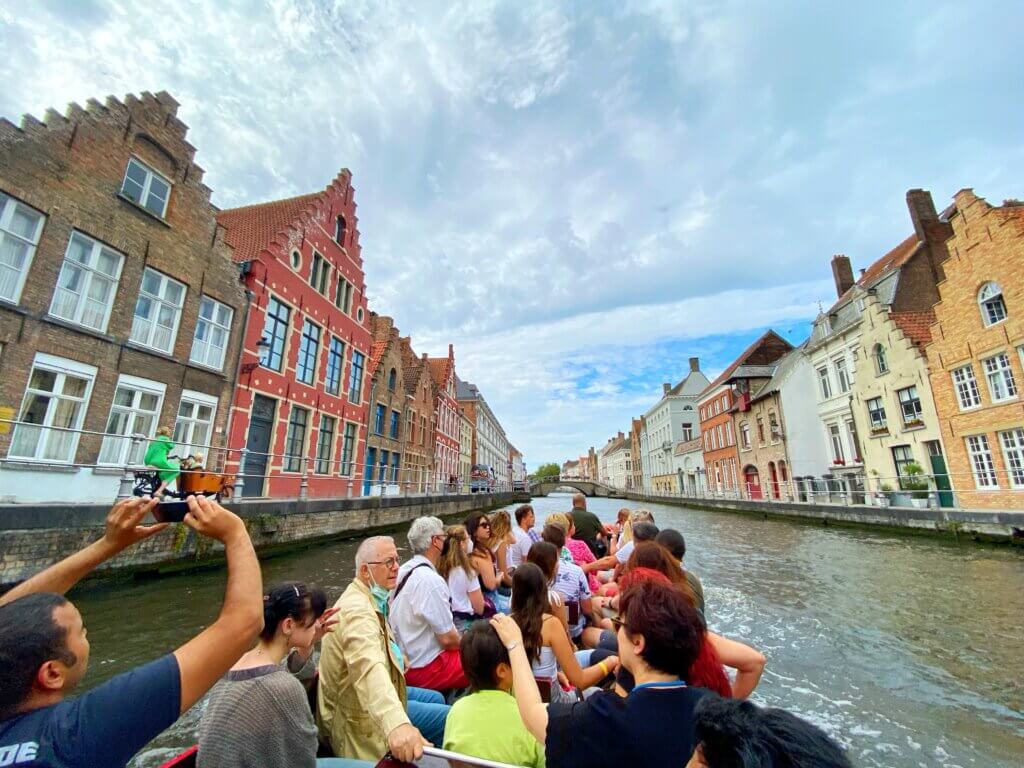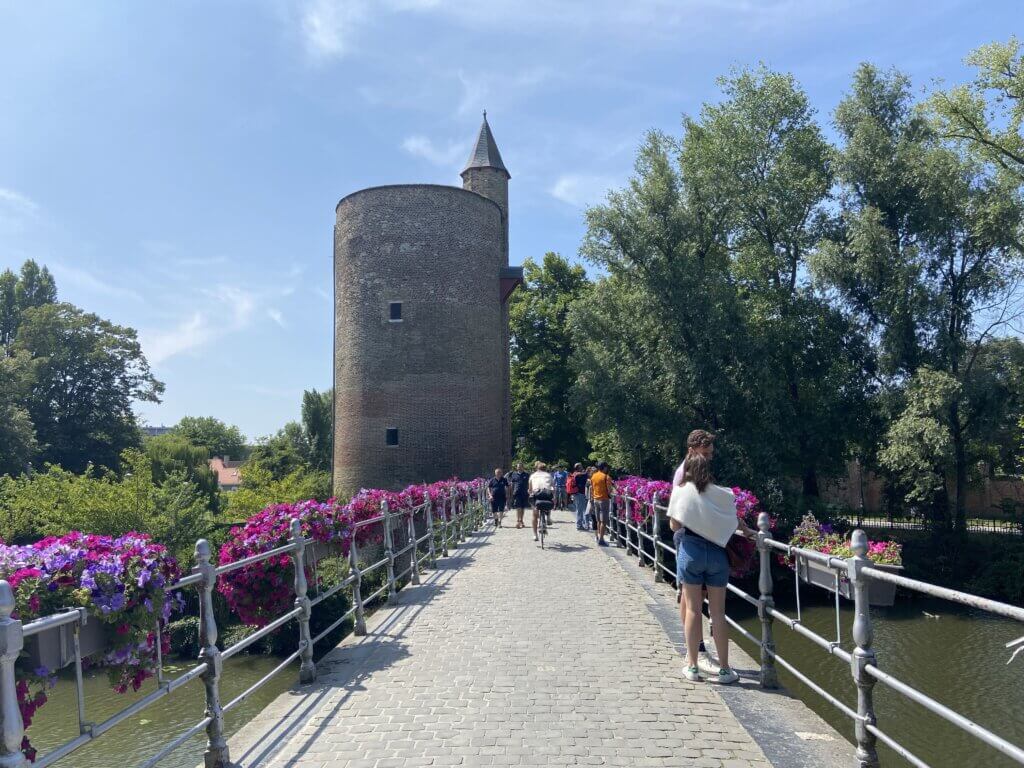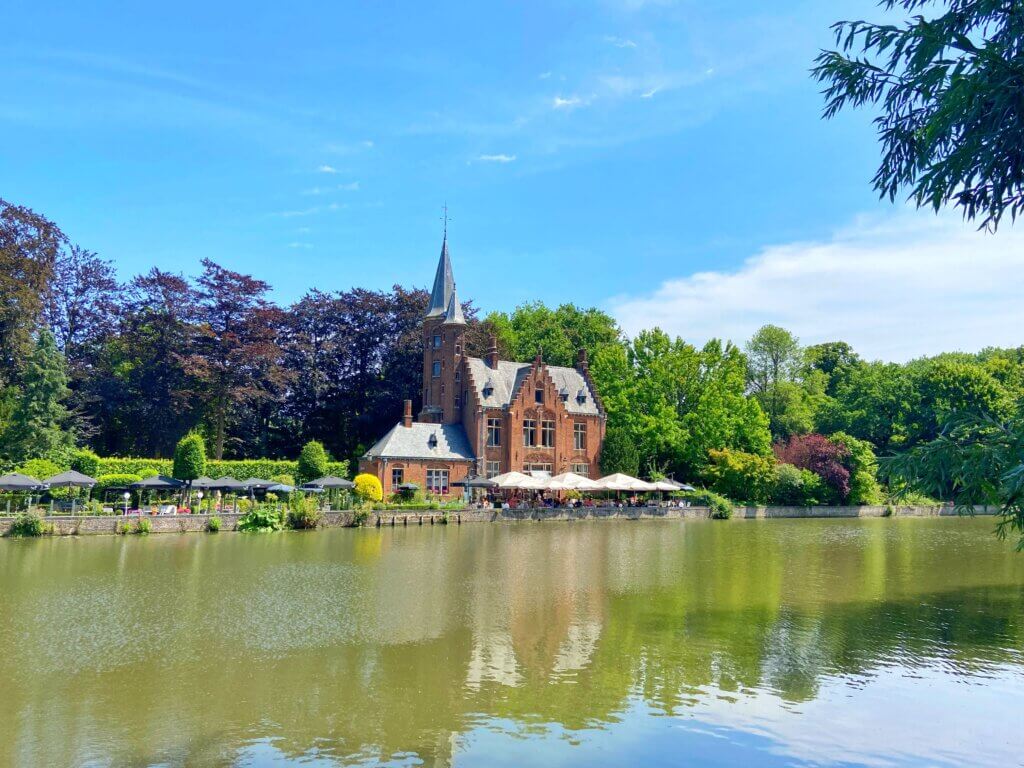 ---
Day 7: Bruges (Brugge)
If you're short on time, you can fit the itinerary in Brugge to 1 day instead of 2. However, I loved the city so much that I didn't mind spending two leisurely days walking around it, exploring its many monumental structures.
Today, you can enjoy a leisurely 3 km walk along the river through shaded trees and parks, starting from Zonnekemeers Gate to Kruispoort Gate. Enjoy the architecture of these stunning arches while you take a relaxing stroll through the quieter areas of the city. Only a little ahead of the Kruispoort Gate, you will see several windmills too. The New Parrot Windmill is a traditional wooden structure located on a small hill in the Sint-Anna quarter where you can go all the way up near the fan blades and take lots of photos!
After the little walk, have a meal and some drinks in one of the cafes or restaurants in Sint-Anna Quarter, a very laidback and serene part of Brugge, which is quite the contrast to the city center.
Finally, we ended the day with dinner and drinks at a restaurant near Rozenhoedkaai, charming quay that is situated along the Dijver Canal, offering stunning views of the city's medieval architecture. The place is an Instagram hotspot, and one of the most visited places for photographers and influencers.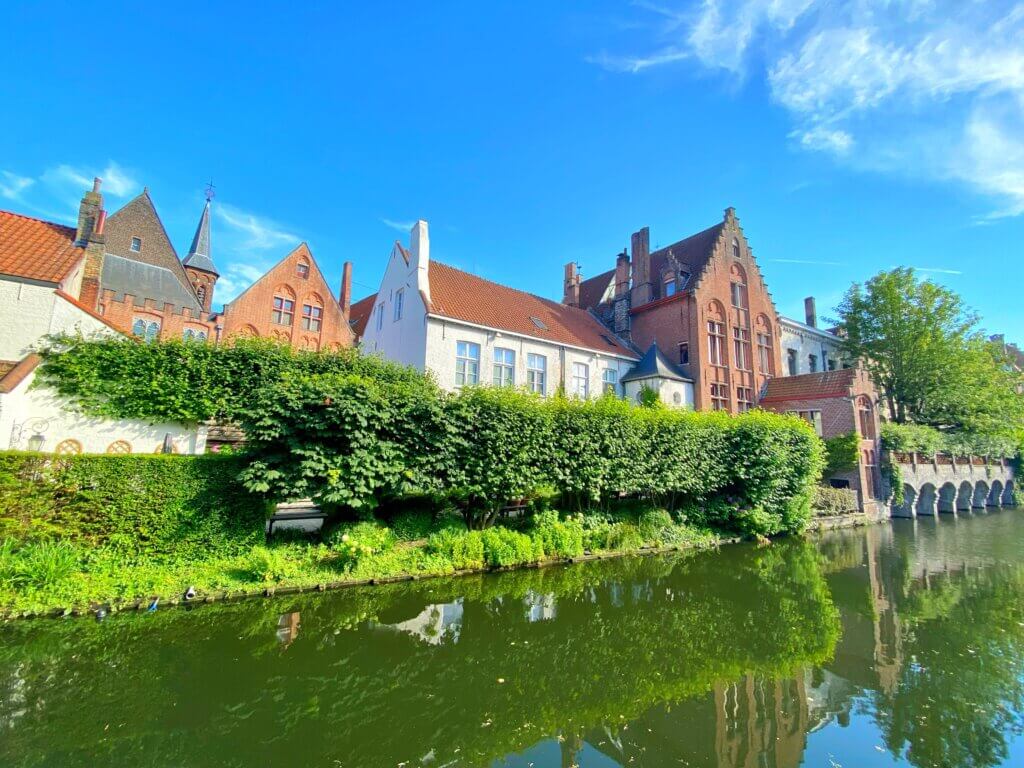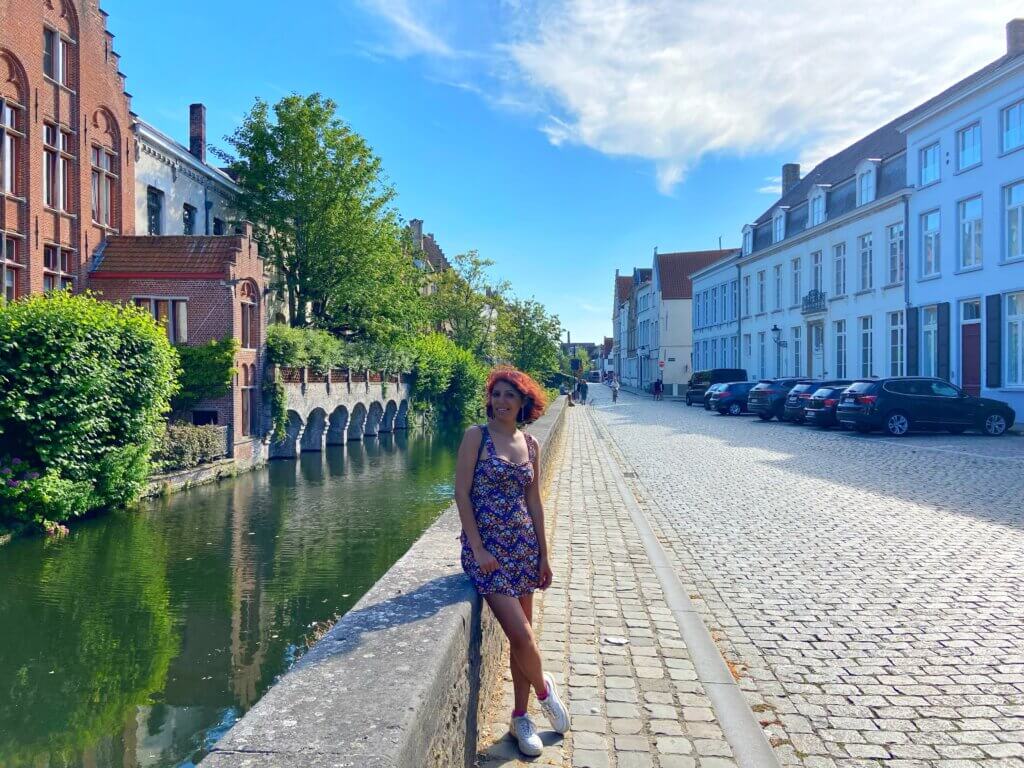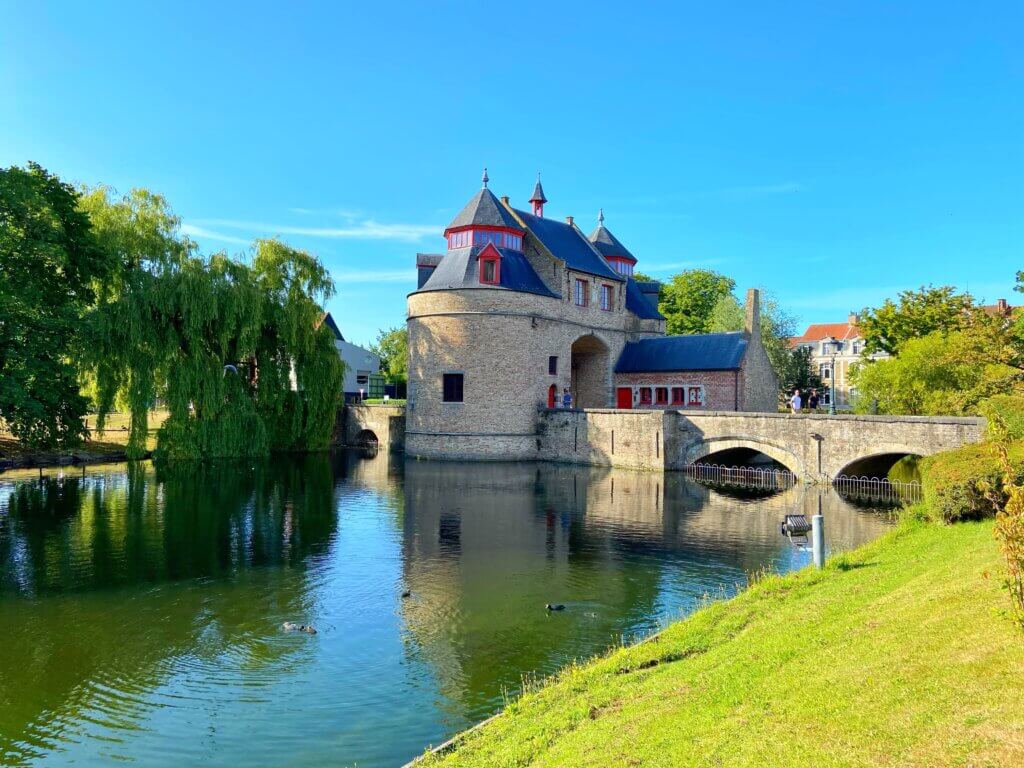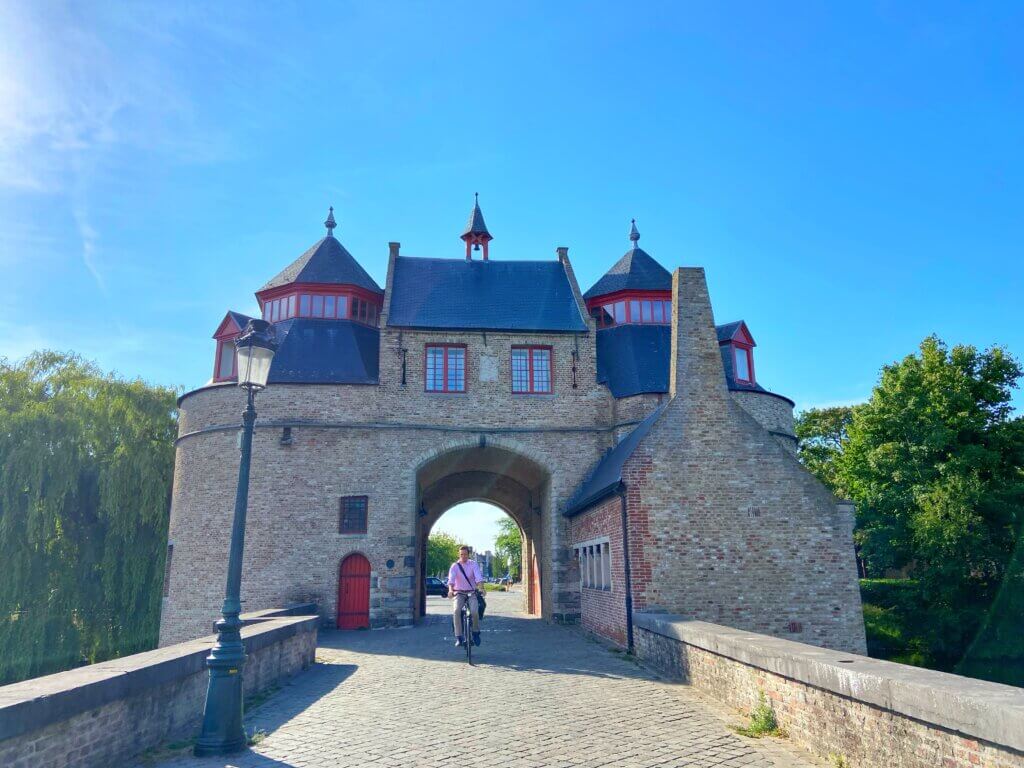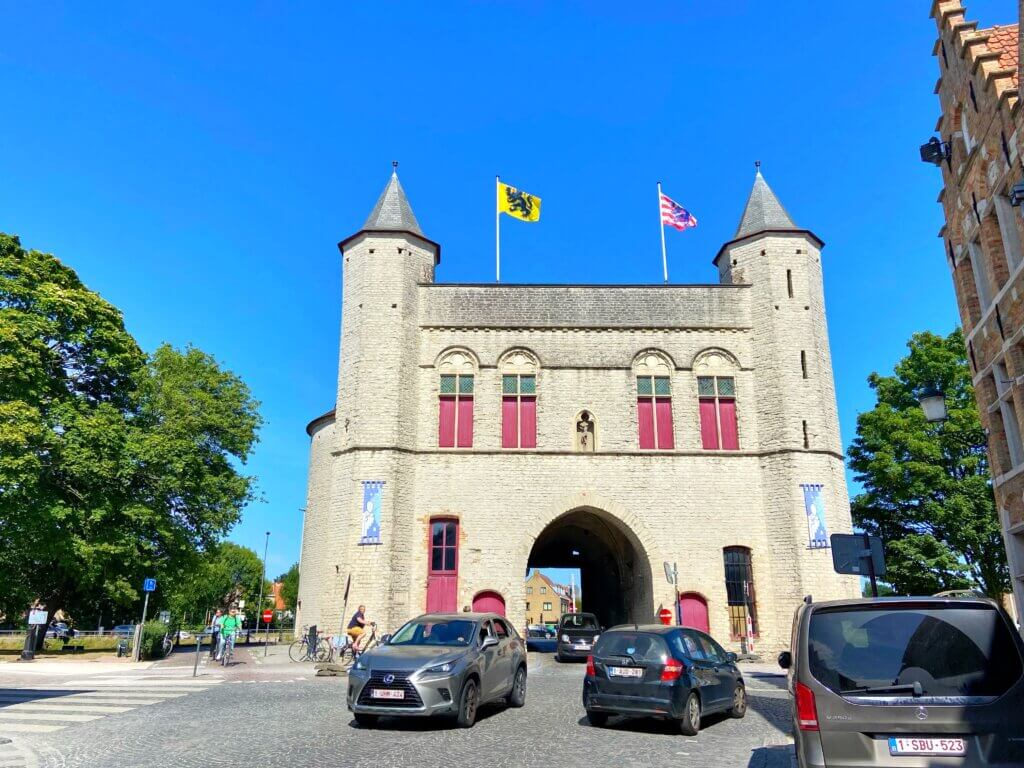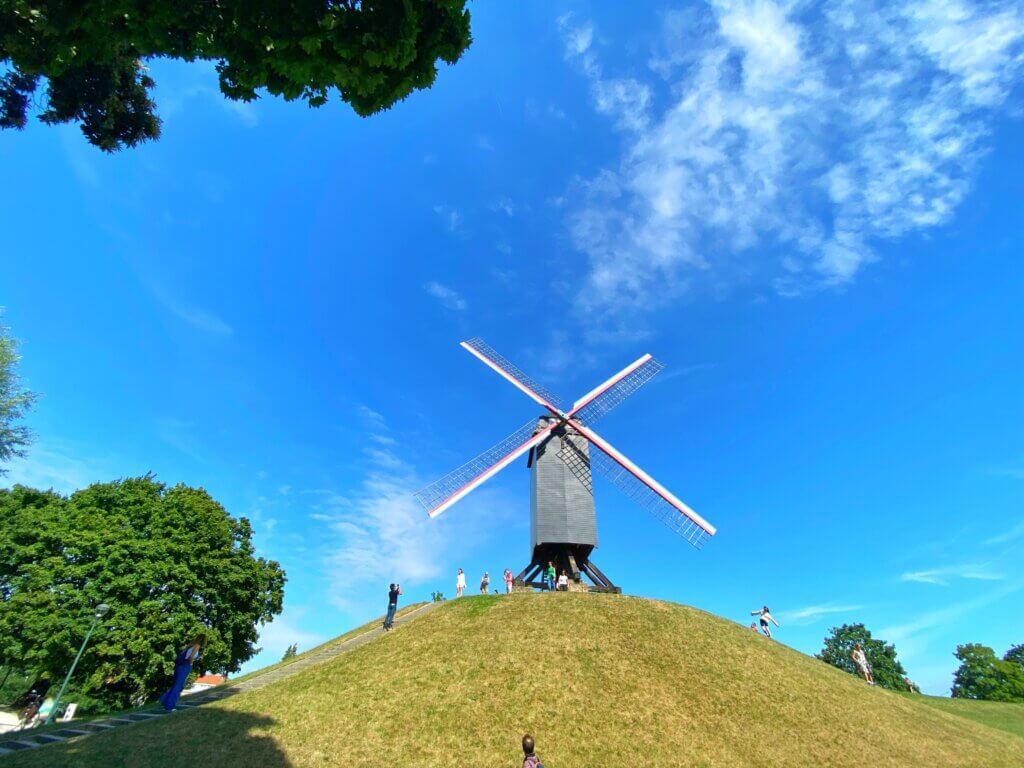 Optional: if the slow pace of the day doesn't excite you, take a train & head towards Ostend, a popular coastal getaway located about 45 minutes by train from Brugge.