Wander With Wonder – Discovering Wow Moments Around the World or Across the Street
Head to the Santa Maria Valley in California to discover great food and wine—and now, coffee and tea. Read on to discover more about the Central Coast coffee and tea farms. 
When I think of California's Santa Maria Valley, I visualize Santa Maria-style barbeque and the excellent wine, especially pinot noir and chardonnay grapes, that thrive in the area. I never thought Santa Maria Valley would be known for its Central Coast coffee and tea. Visiting Dewlson Family Farm, I discovered that coffee is a novelty in this area. Ron Dewey and Judy Paulson's passion for their farm and its various projects is infectious.
It began as a retirement project for Ron Dewey and Judy Paulson after long careers in the Navy. They both wanted something different and liked the farming lifestyle. The idea needed to incorporate a generational aspect, something they could pass down to their kids. The farm was established in 2010, and today Ron and Judy call it an "Oasis of Experience" with the idea that you come to learn and explore with a "fun farm experience."
The Farm
The farm consists of 60 acres, of which 40 are planted with 5800 Lisbon Lemons. The Lisbon Lemon is an old lemon variety that may have originated in Portugal and is known for its distinct long nipple. The tree features green glossy leaves with fragrant white flowers that produce lemons in about nine months. The Lisbon Lemon is more versatile, more popular, and less acidic than other lemons. It is used in many everyday products.
Other varieties of lemons, fruits, and exotic fruits are growing on the farm, including coffee and tea. Other fruits include Owari Satsuma, Miracle fruit, Black Mission Fig, Caviar Lime, Ice Cream Banana, Cara Cara Pink Naval Orange, Dragon Fruit, Yellow and Red Strawberry Guava, Keffer Lime, Passion fruit, Pluot, NectaPlum, Minneloa Tangelo, Goji Berry, Goumi, Shiro Yellow Plum, Wurtz Little Cado, Pink Lemonade, Pineapple Guava, Buddha Hand, Bearss Lime, Moro Blood Orange, Ghost Apple, and Star Cherry.
The farm utilizes sustainable and organic practices, although without certification. Dewlson Family Farm aims to protect the health and well-being of their family, farm, associates, and guests.
Environmental consciousness and conservation are guiding principles at Dewlson Family Farms. With Ron's background in Naval Engineering, he created many projects affiliated with these goals. The rain storage system that Ron created is quite impressive.
Central Coast Coffee
Visiting the farm, you will learn more than you ever wanted to know about coffee. This Central Coast coffee tour takes you from viewing the coffee plants to tasting the coffee berries and continues through the drying and roasting process. Finally, you get to a taste tour of coffee while watching the beans roasting. You can end your day by purchasing your favorite roast.
There are two main coffee plant varieties: Arabica, sweet and smooth, and Robusta, a burnt and bitter bean. Dewlson Family Farm grows five varieties of Arabica. Planted in 2017, these coffee plants came from the Big Island in Hawaii. The varieties are Catual Rojo, created in Brazil; Caturra Amarillo, mainly used for Columbian coffee; Puerto Rico, a very hearty variety; Geisha, the most expensive coffee in the world; and Cuicateco, a Peruvian variety.
Due to the windy conditions coming off the ocean in Santa Maria, the coffee grows in a greenhouse explicitly created for growing coffee. Coffee berries come in two colors: red and yellow. Many of the plants are self-propagating.
The coffee tasting utilizes the pour-over method as Ron serves you light, medium, and dark samples of coffee. Ron roasts the beans in front of you. The tasting is enhanced by pairing chocolate. Typically, lighter roasts pair with dark chocolate and milk chocolate pairs best with darker roasts.
Central Coast Tea
The Dewlson tea tour takes you through the outdoor area where three Chinese tea varieties grow. Here, you get to pick your leaves for the tea tasting. Another tour aspect is learning about the herbs that mix with the different teas. Finally, you blend your tea.
All tea comes from the Camellia plant, an evergreen shrub whose leaves produce the tea. The various processes produce different oxidation and types of tea, including black, oolong, green, yellow, and white teas. The tea grown at Dewlson Family Farm includes Fuding, often associated with white or jasmine tea, and the least processed tea containing flavonoid and amino acid content. Longjing, which means Dragonwell, is a green tea, China's most famous tea. It contains Vitamin C, amino acids, and antioxidants. Finally, Jin Guang Yin, which means Dlack Dragon, produces Oolong tea. It is slightly oxidated and contains amino acids and antioxidants.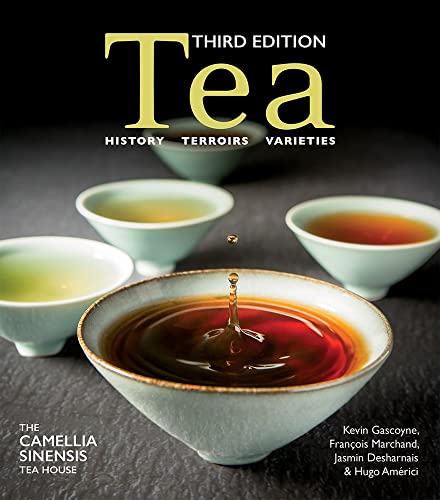 Tea: History, Terroirs, Varieties
An updated edition of the Worlds Best Tea Book acclaimed by the 2014 World Tea Awards. This widely praised bestseller has been updated to incorporate the changing tastes of tea drinkers, developments in production, the impact of climate change, and an expanded and more highly developed tea market. This third edition improves Tea with this revised and extended content plus new photographs.
Prices pulled from the Amazon Product Advertising API on:
Product prices and availability are accurate as of the date/time indicated and are subject to change. Any price and availability information displayed on [relevant Amazon Site(s), as applicable] at the time of purchase will apply to the purchase of this product.
Herbal teas do not come from the Camellia plant, so technically, they are not tea. Adding herbs to black or green tea is beneficial. Adding basil helps with stress, lowers blood sugar, and helps with heart disease and mouth problems. Chamomile calms, induces sleep, and soothes the digestive system. Jasmine reduces stress and improves cardiovascular health. Lavender is calming and reduces tension. Lemon Balm also calms and helps with indigestion and lowers cholesterol. Lemon Grass has antioxidant and anti-inflammatory properties.
The tea tour goes from the plant to picking, drying, and storing and ends with brewing. We paired milk chocolate and dark chocolate, and various jams with tea during this tasting.
Exotic Plant Tour
On this tour, you walk through the exotic trees and plants, learning about their history, purposes, uses, tastes, and textures.
Articles Related to the Central Coast of California
Buellton, CA: Gem of the Santa Ynez Valley
Ultimate Guide to 2 Days in Santa Maria Valley, CA
Experience the Butterflies at Pismo Beach
Art and Wineries in Paso Robles: Best of California's Central Coast
The Best of Wines and Barbecue of Santa Maria Valley
Visiting Dewlson Family Farm
All tours are by appointment only on Friday, Saturday, or Sunday.
With Ron rooted in science and Judy's nurturing qualities for every plant on the property, they form an ideal match for Dewlson Family Farm to excel and provide a fun farm experience.
Let Wander With Wonder be your guide to discovering more of California's Central Coast. We also have more great ideas for culinary travel.
Discover Central Coast Coffee and Tea at Dewlson Family Farm