Faroe Islands are the most offbeat place we have been to, so far, and it felt necessary for me to write a blog on what you need to know before visiting because there's so little information available online for this place, yet there's so much you need must know to be well prepared for your trip to this gorgeous archipelago in the North Atlantic Ocean. Faroe Islands are remote, sparsely populated, difficult to reach and expensive to stay in. This is what makes them exotic; the infrastructure is amazing yet there are hardly any people to be seen, which means, you can enjoy all of it to yourself! Here's my guide to all you need to know before visiting Faroe Islands.
---
What are the Faroe Islands?
Faroe Islands are a self-governed (autonomous) territory of Denmark, located between Iceland and Norway, in the North Atlantic Ocean. However, funny enough, while Denmark is a Schengen country, The Faroe Islands are not part of the Schengen cooperation and not a member of the EU. While these islands are quite small, they pack a punch with the magnificent, raw & unadulterated nature, giving one the opportunity to experience some of the most adventurous hikes, unparalleled beauty, and pure, fresh, crisp air to breathe in. The archipelago comprises 18 small islands, most of which are accessible by either car or boat, or even a helicopter, which is surprisingly cheap because it is funded by the government. With a population of 50,000 people, you're likely to come across more sheep than humans, and this will enhance your experience double-fold if you're someone looking to disconnect from the daily hustle bustle of your life, in a faraway land.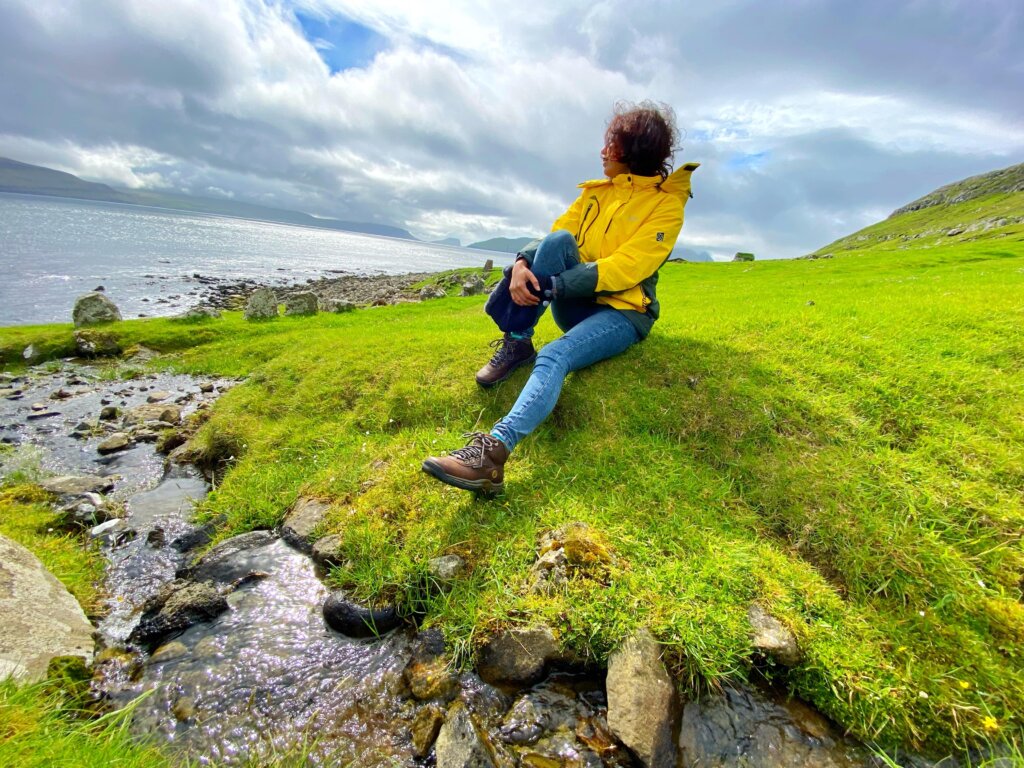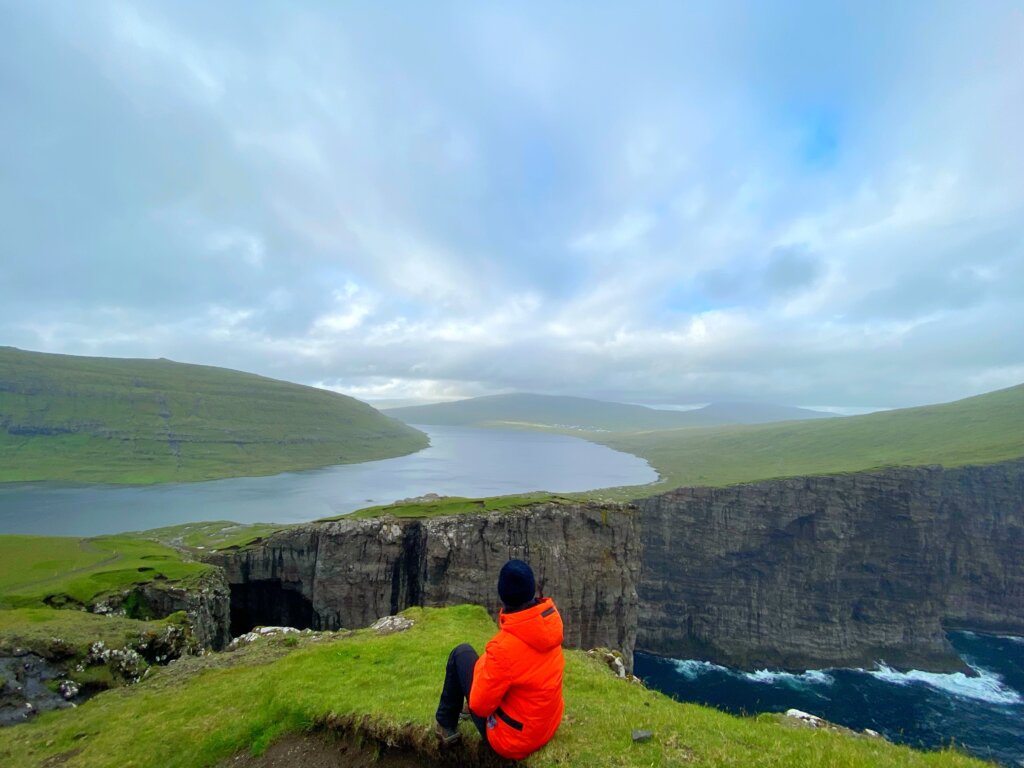 ---
Do I need a visa to visit Faroe Islands?
A visa to Denmark and a Schengen visa does not give access to enter the Faroe Islands, so if your nationality requires a visa to visit the EU, make sure you apply specifically for an additional entry to Faroe Islands, which can be done only through the Danish embassy. Even if you already have an existing Schengen visa, you will still have to go through the whole process of getting an additional entry visa for The Faroe Islands, which is pretty much the same process as a normal Schengen. While this aspect might be a hassle (it certainly was for us, considering the waiting times for Schengen during the summer months), it is totally worth it.
---
How do I get to Faroe Islands?
The Faroe Islands have very limited connectivity. You can get to them either by sea or by air, and there's only one airport in the Faroes, Vágar Aiport. The islands have their own National airline, Atlantic Airways, that operates daily flights from Copenhagen & Billund in Denmark, Reykjavík in Iceland, Edinburgh in the UK, and Bergen in Norway. They also have weekly flights to certain destinations in Portugal, Spain and Greece, only during summer.
The best and the easiest way to get to the islands is from Copenhagen by air. However, if you have leisurely time and want to experience something very different, you could also choose to take the ferry from Seyðisfjørður in Iceland or Hirtshals in Denmark. During the summer months, the ferry ride usually takes 32 hours from Hirtshals to Tórshavn in the Faroes and allows the transportation of your car too. There's also a ferry that connects Aberdeen Northlink Ferry Terminal (in Scotland) to Faroe Islands and takes about 7.5 hours.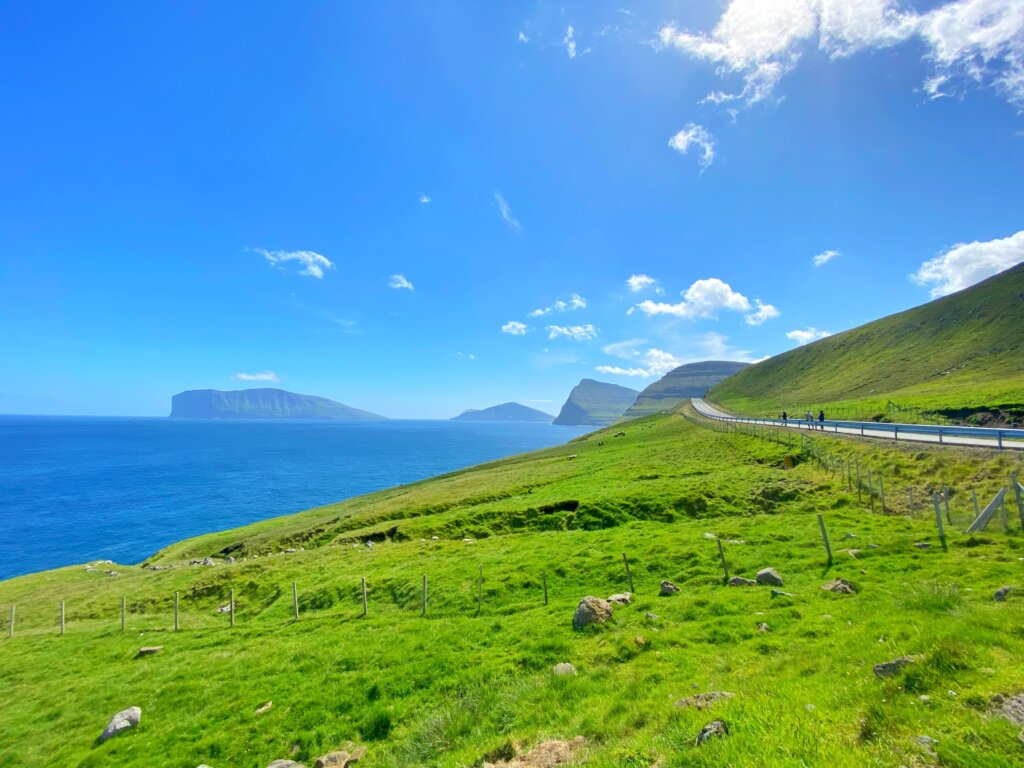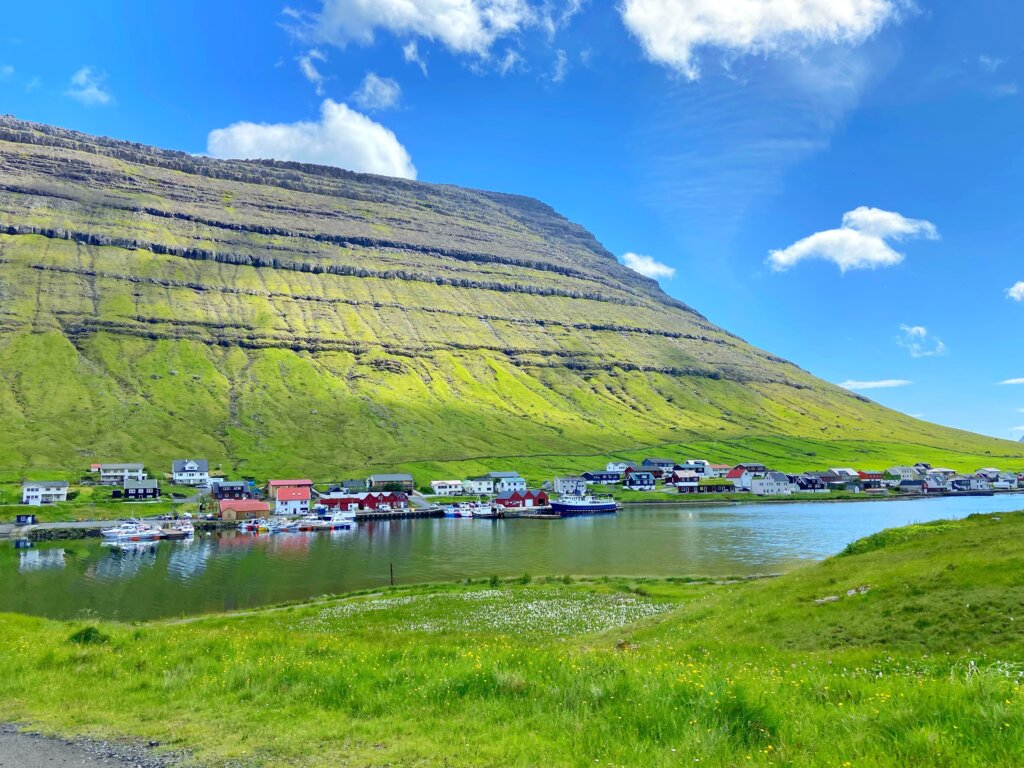 ---
How do I explore the Faroe Islands?
Getting around in The Faroes is best through renting a car. You can also rent a campervan, but it can get very expensive to do so and they usually sell out way in advance, so a more pocket friendly idea is to rent a car and stay in a cheap accommodation in either Torshavn or Vágar, which can be your base for the entire trip. Faroe Islands do have their own network of buses that can transport you from one island to another; this is a cheaper alternative for sure but also allows for lesser flexibility, and it can mean that you will still need to walk a lot to your destination from the town itself.
The islands have an excellent infrastructure of roads, bridges, and subsea tunnels, and because there's not many people (subsequently less traffic on the road), driving in The Faroes is an absolute pleasure! The subsea tunnels come at a price, of course (the tolls are quite high), but it's nevertheless the most time saving way of traversing the islands, especially if you're on a tight schedule. You do not need to rent a 4WD as most roads are paved. Some roads leading to villages can be narrow and gravel, but as long as you follow the speed limits, and are generally cognizant of your surroundings, you have nothing to worry about. The best idea is to rent a car at the airport itself, preferably beforehand especially if you're flying in summer, where the cars can get sold out quite easily. Parking is not hard to find except possibly in the more crowded towns such as Torshavn, and only when you're in the city center. Petrol stations can be far and few, so always make sure that your tank is full, especially when you're planning to visit remote towns and villages.
Most car rentals will come with the toll tag automatically fitted in the cars, so you don't have to worry about paying the tax at a petrol station. However, check this with your renter company when renting.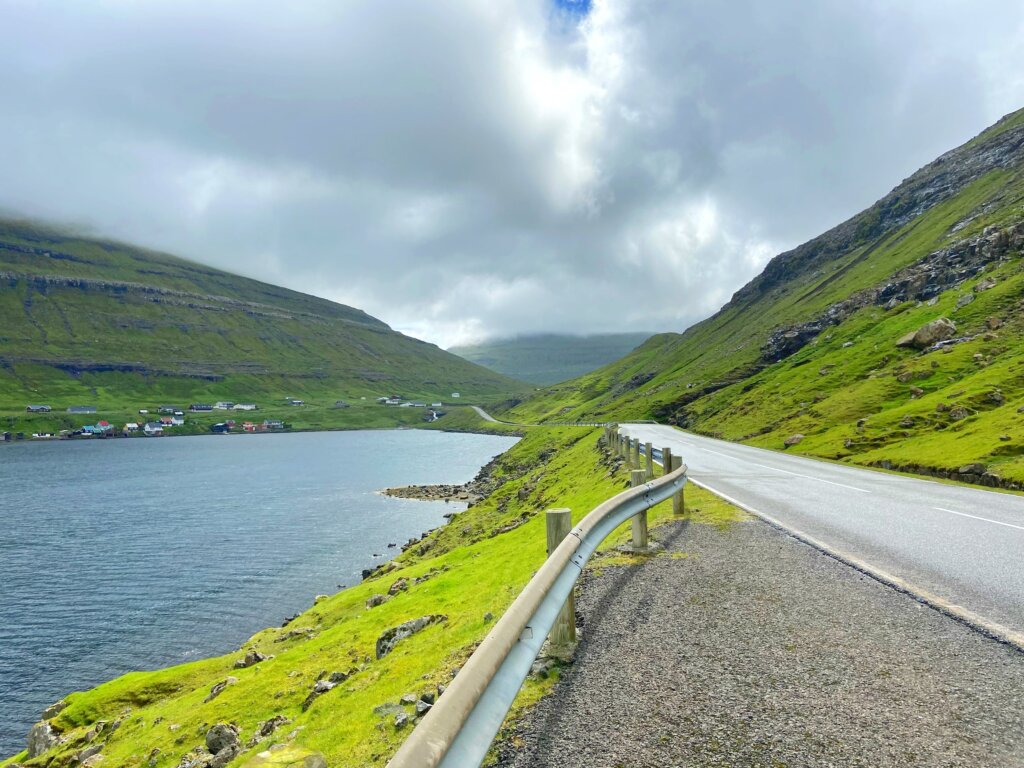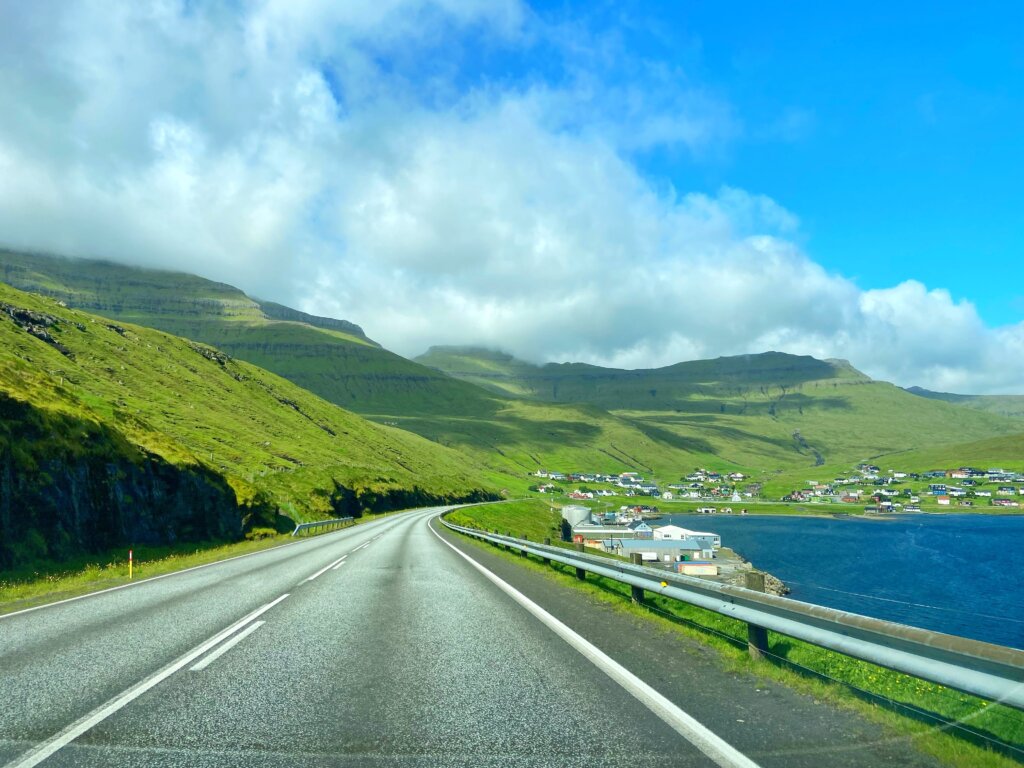 ---
What should I wear in Faroe Islands?
The Faroe Islands are known for their unpredictable and unstable weather. While the summer months (July & August) are the warmest, be prepared for strong gusts of winds, rains, and cloudy, grey skies always. Getting a bright sunny day with clear blue skies is like chancing upon hidden treasure, it's rare, almost unimaginable and you really must be lucky to see it! Out of 5 days in the Faroe Islands, you may not get to see the sun at all! This means, you need to carry waterproof, windproof, and warm clothing with you. Of course, rugged hiking shoes are a must too. Even though we travelled in July, we felt the need for woollen caps, socks, and gloves on most days, except the one magical day where we caught the sun for a few hours. Also, make sure to layer up as it can go down to 7 – 8 degrees C even during summer. The good thing about summer is that the days are long; sun rises as early as 5 am and sets as late as 11 pm, giving you a good 16 -17 hours of light to explore.
---
What else should I prepare for in Faroe Islands
Everything is expensive including food, so it's best to carry some food with you or buy groceries from the local market to cook your own meals at your accommodation.
Restaurants are also hard to find outside the city so if you're planning to go to some remote island or villages, always carry something to eat with you just to be on the safe side. Most restaurants follow strict meal hours so you're likely to not get any food if you're hungry at 5 pm!
Some remote islands which are connected only by ferries are likely to be so isolated that you won't find any accommodation or restaurants there after hours (say, 6 pm). So, either you have pre-planned to stay there overnight and booked your stay or make sure to get out before the last ferry, unless you want to be stranded in the middle of nowhere.
Ferries, while cost friendly and efficient, also have high chances of cancellation should the weather turn. Keep this in mind while planning your trip. This is another reason why renting a car is useful; you can be prepared with the basics while travelling to remote areas and in case of changes in plans due to the weather.
The population in The Faroes is small which means if you get stuck in some remote location, you may not find anyone to help you out. Hence, it's best to stay connected (get yourself a local sim card with calling minutes as well as data) in case of any emergencies.
While it may sound weird, but helicopters also connect certain islands to the mainland and aren't cheap to travel by. Sometimes, they're most efficient way of getting there, with the least chances of cancellation due to weather.
One of the most popular things to do in Faroe Islands is to watch the puffins. The Faroe Islands are home to a large population of Atlantic puffins, small black-and-white sea birds that are seen only between April to August, with the peak breeding season taking place in June and July.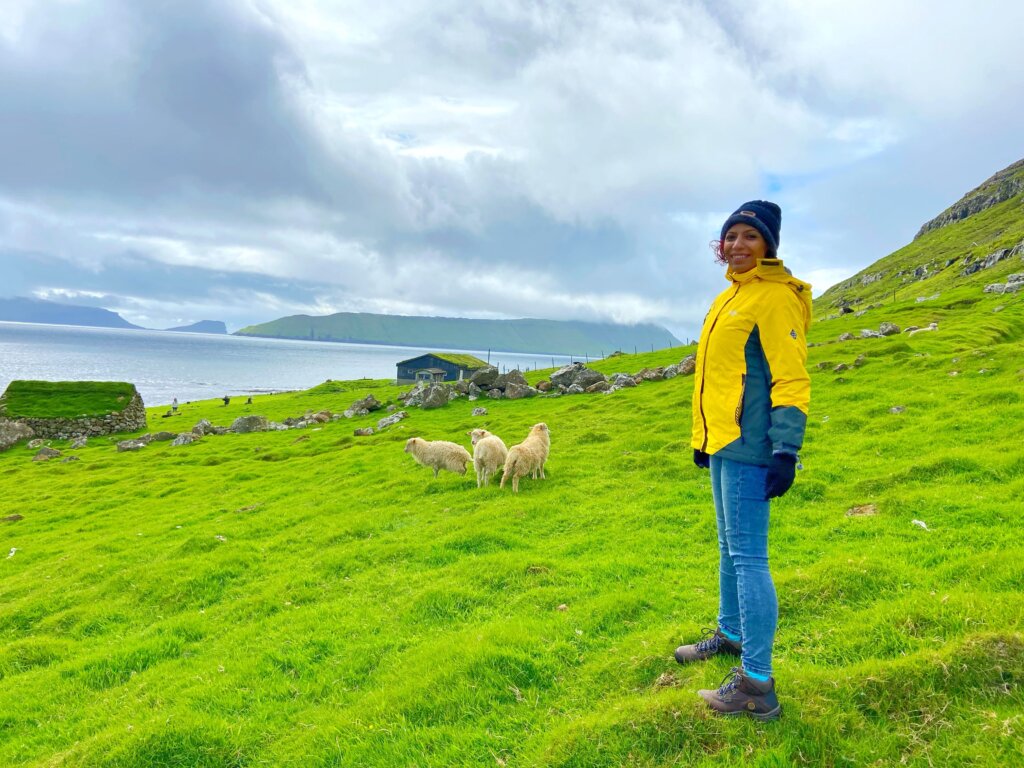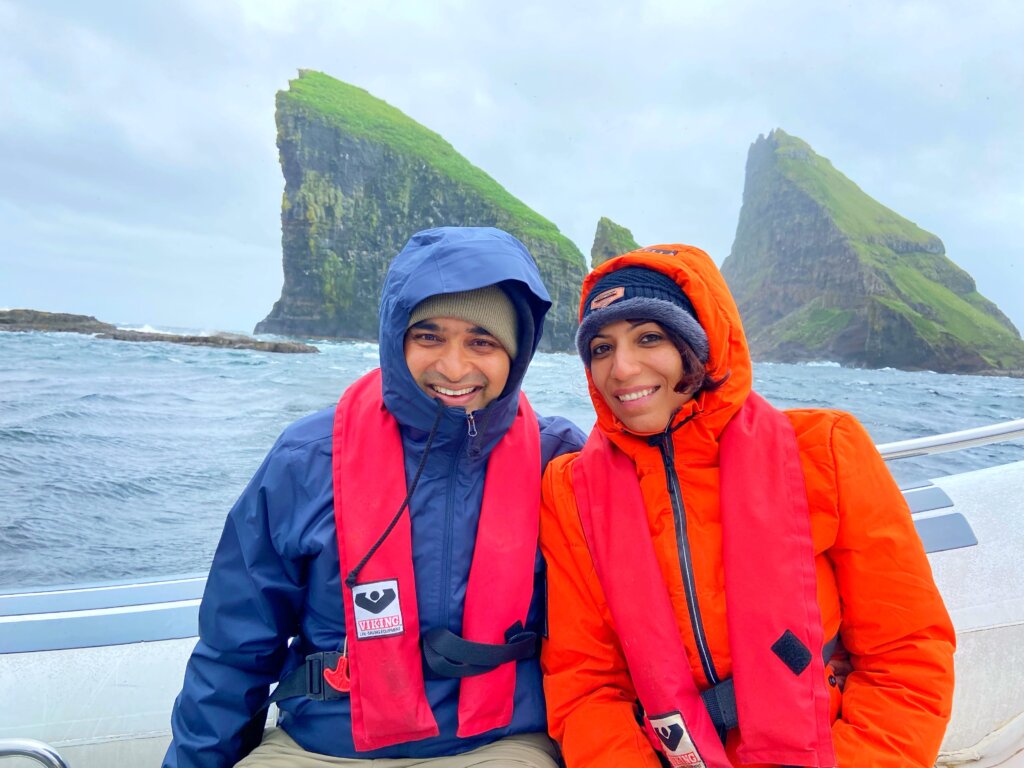 All in all, while travelling to the Faroe Islands does require some preparation, it's all worth it. Once you're amidst the rugged landscapes, dramatic cliffs, and picturesque villages, you will forget about the hardships you may have borne to get here. A trip to the Faroe Islands is for the adventurers, who would go lengths for capturing stunning landscapes, enjoy peaceful and quiet vacations with the nature, and experience outdoor activities such as hiking, birdwatching, and fishing.
---