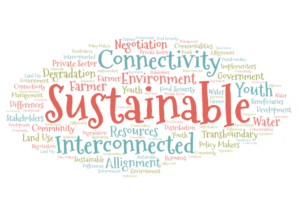 Yesterday, November 12th, Over 150 participants from 18 African countries have come together for the first day of the African Landscapes Dialogue – a gathering of Landscape Leaders from across Africa bound together by a shared vision and responsibility to problem solve collective problems facing the continent and the planet.
Opening remarks were given by Stephen Nindi from the National Land Use Planning Commission (NLUPC), Fidelis Mutakyamwila, the Chair of the Board of the National Land Use Planning Commission, and Sara Scherr, the Director-General of EcoAgriculture Partners and the Landscapes for People, Food and Nature Initiative. We were very honored with the presence of Hon. William Lukuvi, the Minister of Lands, Housing and Human Settlements Development. From the Government of Tanzania, who also said a few words in the opening of the conference and welcoming of landscape leaders in relevant local, national and regional programs.
Discussing Reality and The Exchange of Ideas
Minister William Lukuvi highlighted the importance of a Dialogue on Landscapes as a critical step in restorative action planning for his country of Tanzania, East Africa, the African Continent and for the world as a whole. 
The Minister confessed that he did not know much about the concept of 'landscapes' and 'Integrated Landscape Management'. "We used to think landscapes are about cutting grass and planting flowers," he mentioned, but went on to say that he now understands that 'Landscape Management' is an essential approach if we want to tackle challenges – such as climate change – that his country and the world are facing with increasingly greater intensity.
In closing of his statement, the Minister invited everyone to work together, those from within and outside of Tanzania, to tackle this cross-boundary issue. "It is with this statement that I am extremely pleased to open this Dialogue, a space to discuss the reality and exchange ideas on landscape management ". 
The Need for an Integrated Landscape Management Approach
The ideas and words of the Minister were echoed by Hayo Haanstra, representing the Government of the Netherlands, and Boris Buechler from Boris Buechler from GIZ, representing German Cooperation. 
Hayo mentioned that the conclusions from more recently published international reports,(such as the IPCC report on Climate Change) are clear: we are not meeting our obligations to preserve biodiversity and mitigate climate change and we are failing implementation. For this, we need to start using an integrated landscape approach. A most vital consideration will be to think about the financial support of the Integrated Landscape Management approach, in consideration of effective implementation. Hayo finished his statement with the question, "How can we make it attractive for financial institutions and the private sector to invest in these approaches?" With focused collaboration and inclusive problem solving, there is great intention for such a strategy to be developed during the course of the African Landscapes Dialogue. 
Innovative partnerships
Boris Buechler, representing GIZ, also contributed to the opening statements, mentioning that he sees landscapes as a core factor to overcome poverty and food insecurity. Buechler went on to say he is pleased to see an increasing discussion on the need for stronger integrated approaches for landscapes and he hopes that this dialogue will bring about new ideas for innovative partnerships. According to Boris, this is what is really needed for the sustainable development of landscapes that support livelihoods and ecosystems. 
Keywords mentioned by participants throughout this first day