When I think of Japan, I always associate it with two things: the delectable meal sushi and Mount Fuji, the country's most recognisable mountain. They are both equivalent to Japan. It would be a shame to leave Japan without enjoying Mount Fuji and eating sushi. Mount Fuji is visible from a number of locations. But Lake Kawaguchiko is the best location to see Mount Fuji clearly.
Lake Kawaguchiko from Tokyo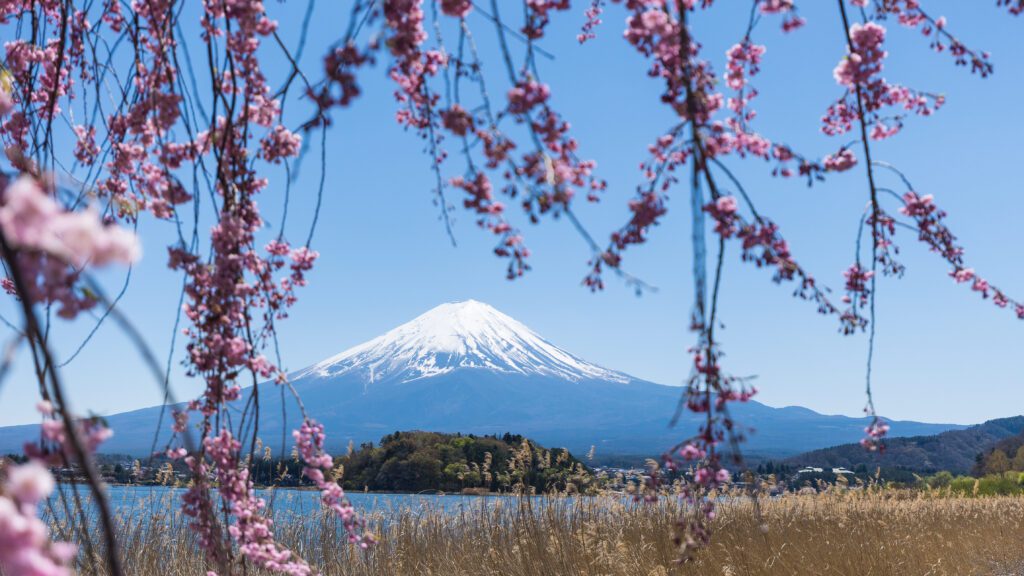 Lake Kawguchiko can easily be taken as a day-trip. However, I suggest you to take it as a weekend gateway, you can start during a Saturday morning and get back during a Sunday night. It will increase the opportunity of watching the mount Fuji. Along with the trip to Nikko, visiting lake Kawaguchiko is one of the best weekend gateways from Tokyo.
There are several ways to reach Lake Kawaguchiko from Tokyo. The shortest and easiest option is to use a bus. You have plenty of options when you will book a bus.
Lake Kawaguchiko from Tokyo by Bus
If you want to visit Lake Kawaguchiko from Tokyo on your own, the best way would be to take a bus because this will be the quickest and cheapest way of reaching Kawaguchiko. You can get the bus from different places in Tokyo. Depending on where your hotels are located, you can choose the departure station.
From Ikebukuro and Shibuya
Seibu tourist bus runs from Ikebukoro and takes a little over 2 hours to reach Lake Kawaguchiko. Tokyu transit bus runs from Shibuya and takes two and half hours to reach Kawaguchiko.
You can buy advance bus ticket to Kawaguchiko from Tokyo by from our partner website. The ticket cost will vary from US$15 to US$18 one way. It is advisable to book online as the morning tickets get sold out during a weekend.
From Shinjuku
Highway buses departs from Shinjuku Expressway Bus Terminal (4F) which is easily accessible from anywhere in Tokyo. Get down in JR Shinjuku station, take the new south exit. The bus takes 2 hours to reach lake Kawaguchiko and will cost you JPY 2200 one way. You can book tickets online in advance from their website.
Lake Kawaguchiko from Tokyo by Train
From Shinjuku station, you need to take the Chuo Line – Fuji-Excursion 7 Limited Express Kawaguchiko. It will cost you JPY 4400 which is twice compared to taking bus. You cannot use JR pass for this train. However, if you want to take advantage of your JR pass, you can use it partially and need to change your train midway. That way, take the JR train from Shinjuku to Otsuki station. You need to transfer from Otsuki using Fujikyuko line.
Book a Guided Tour to Kawaguchiko
If you think that, none of the options above are not suitable for you, and you don't want to take any headache, you can book this Mt. Fuji and Lake Kawaguchiko Day Tour from Tokyo. This is a day trip, will cost you less than $100 and an excellent value for money.
How to get to Lake Kawaguchiko from Kawaguchiko Station
Although you can walk to Lake Kawaguchiko from Kawaguchiko station, you have two very good options.
Take a Bus
The town itself is not big. There are three bus lines (Red, Green, and Blue) run throughout the day which covers most part of the places. If you stay for more than a day in Kawaguchiko, you should buy a pass for two days which cost JPY 1500. Using this pass, you will be able to take any buses in town. You need to ascent the bus from the backdoor. While alighting, you need to show your pass to the bus driver. If you do not want to buy a pass, you can use IC card like Pasmo or Suica. Even, they accept Visa card. All you need to do is to tap them when you get into the bus at the back. Don't forget to tap the card while getting down again. If your purpose is to enjoy the lake and Fuji mountain mostly, you should focus on Red line bus.
Red line bus runs in every two minutes, green line runs hourly while the blue one runs in an interval of 2 to 4 hours.
Rent a Bike
Another great option to explore the town is riding a bike. You will find both electric or regular bike for renting. There are several shops near the station. Renting is pretty easy, you need to fill up a for, pay, and you are good to go.
Things to do in Kawaguchiko
Kawaguchiko is called as a cloud magnet. Most of the time of the year, top of the mount Fuji gets surrounded by mystic cloud. However, if you are lucky, you will get a bright day, and it means, you can enjoy some of the best views of mount Fuji.
Walk in the Lakeside Green Belt
Take the "Red-Line" bus from Kawaguchiko station and get down at station#17 named Itchiku Kubota Art Museum. Just a short walk from here will take you to one of the most scenic walking routes in lake Kawaguchiko.
The walkway is made of bricks facing green mountains. You will find place for resting after a while. If you visit during April, you will be able to enjoy colorful cherry blossoms!
To your left side, you will find a gorgeous looking mount Fuji, the iconic monument of Japan. It just stands there like a wise monk. Infront of it is beautiful, ever smiling lake Kawaguchiko, one of the great five Fuji lakes in Japan.
I just got mesmerized with the surrounding beauties. All I did was to walk on the paveway, and admired the surroundings.
It was not only about the pink cherry blossoms and ume trees but also some other fascinating colors. Once, you will have enough of the walk around the lake, get into the main road, and hop into the red line bus again keeping the lake to your left.
Visit Oishi Park to get great views of Mount Fuji
Your next destination will be the beautiful Oishi Park. You need to get down at the last stoppage, #20, Kawaguchiko Natural Living Center. Crossing the road will take you to the Oishi Park. The park has beautiful flowers, and a popular souvenir shop.
Oishi park is located in the northern shore of the lake and one of the best places to enjoy an unobtrusive views of mount Fuji. Grab an ice-cream, sit on the grass, and let the time passes.
Mount Tenjo Ropeway
This ropeway will take you an observatory deck in Mount Tenjo. You will get a panoramic view of the lake, Aokigahara forest and Mount Fuji. You should expect a long delay here, as most of the people visit here takes this cable car.
Fuji-Q Highland
Get ready for some adrenaline rush! Kawaguchiko is not all about nature and mount Fuji. Fuji-Q Highland is a fantastic amusement park. It has some of the famous roller coasters in Japan. One of them named Fujiyama is 70 meters tall, and operates at 130 km/h. Hence, it makes it the 3rd longest and 11th tallest roller coaster in the world.
Hotels in Lake Kawaguchiko
Koyabashi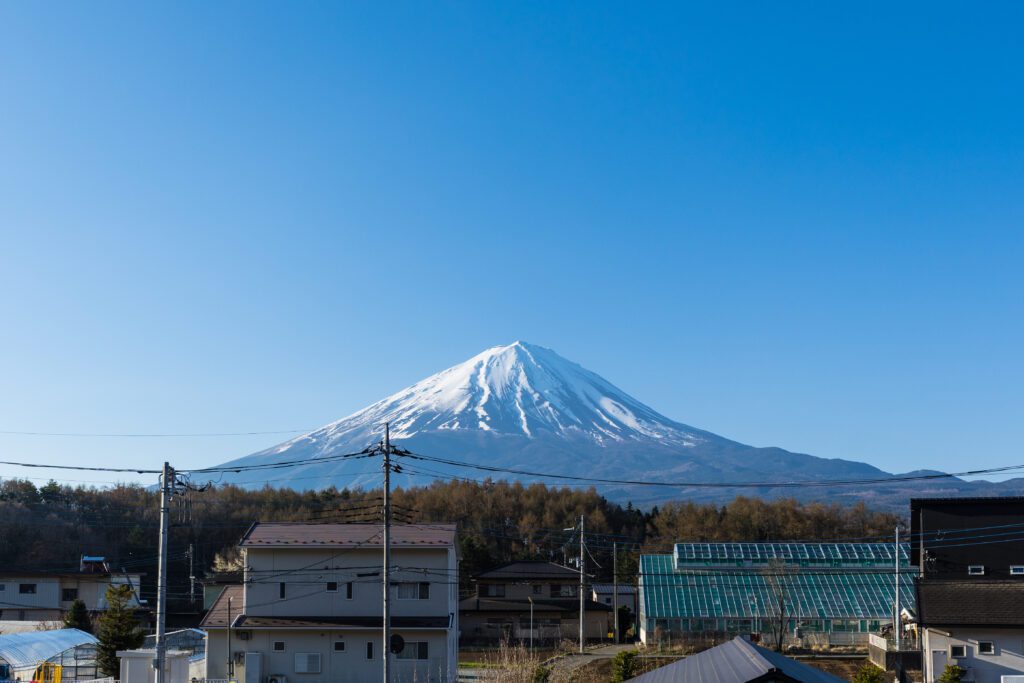 Koyabashi is a budget hostel, and one of the cheapest in Kawaguchi. From every room, you will get a fantastic found Fuji view. I took the photo of Mount Fuji above from the window of my room in Koyabashi. Only caveat is, it's a bit far from Kawaguchiko station, however, you can take the Blue line bus to reach here. As, blue line bus is scarce, check the timetable for planning your journey.
Frequently asked questions about Mount Fuji and Lake Kawaguchiko
Is it possible to roam around in Kawaguchiko without a car?
Absolutely! You can use the public transportation which is widely available. Besides, you can rent a bike or even walk.
Can I find any locker in Lake Kawaguchiko?
Yes, lockers are available for renting in Kawaguchiko train station.
How much does it cost to rent a manual bike in Lake Kawaguchiko?
1 hour ¥500, 3 hours ¥1,000, 1 day, ¥1,500, 24 hours ¥2,500, 1 night & 2 days ¥3,000
How much does it cost to rent a electric bike in Lake Kawaguchiko?
3 hours ¥3,000, 1 day, ¥4,000, 24 hours ¥5,500, 1 night & 2 days ¥6,500
On which day of the year did you take the photos of Lake Kagaguchiko in this blog?
Those are taken on 9 April.