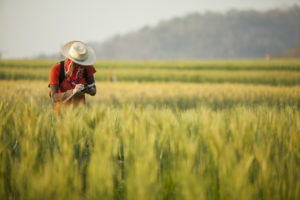 On October 8th we celebrated the Landscapes for People, Food and Nature (LPFN) initiative, which is wrapping up after nearly 10 years. The initiative, which began in 2011, has fully achieved its goal of advancing integrated landscape management (ILM) as a means to improve food production, ecosystem conservation and sustainable livelihoods around the world, through international knowledge sharing, dialogue and action.
This celebration took place during one of the virtual Landscape Roundtables regularly convened by FAO North America, led by Vimlendra Sharan, and EcoAgriculture Partners, led by Sara J. Scherr. Eight distinguished panelists represented the co-organizers of LPFN. They reflected on the initiative and shared their vision of where to go from here to further advance sustainable landscapes that fully meet the Global Goals. Each outline how their own organizations are taking forward the agenda of integrated landscape management. For more information about the event, you can access the agenda and information about the panelists, the event recording, the notes from the chat, the LPFN overview PowerPoint presentation by Sara J. Scherr, and the full write-up of the event.
A first panel on 'The Big Picture of Landscape Development' included Tony Simons, Executive Director of CIFOR-ICRAF; Bernhard Worm, Senior Policy Advisor of the Division Rural Development, Land Rights and Forests of the Federal Ministry for Economic Cooperation and Development (BMZ); Paola Agostini, Global Lead for Landscapes of the World Bank; Juan Lucas Restrepo, Director General of the Alliance of Bioversity International and the International Center for Tropical Agriculture (CIAT).
A second panel on ´Insights on Landscape Development from the Field' provided views from Christophe Besacier, Forestry Officer of Forest and Landscape Restoration at FAO; John Buchanan, Vice President of Sustainable Production at the Center for Environmental Leadership in Business at Conservation International; Katie Minderhoud, Knowledge Management and Learning Advisor at Solidaridad; and Salima Mahamoudou, Research Associate at the World Resources Institute.
Panel members highlighted ways that the LPFN had enriched their own organizations' work, built long-term partnerships, and stimulated the scaling of action.
The LPFN Journey
Back in 2011, the collaborative partnership, convened by EcoAgriculture with 10 co-organizers, eventually engaged more than 70 strategic partners (see here for a full list of LPFN partners and funders). The initiative started in response to the need for new solutions to address the challenges of food security, persistent poverty, climate change, ecosystem degradation, biodiversity loss and unsustainable development in a way that realized synergies and reduced trade-offs among those different objectives. While many international and regional organizations had begun working on integrated landscape approaches, this work was highly fragmented. The LPFN provided a platform for developing a common language and framework for collaborative action among sectorally-focused institutions.
LPFN undertook a major Global Review to synthesize the state of knowledge on ILM. Research partners collaborated to document 428 landscape partnerships in four continents actively seeking to achieve integrated landscape management goals. Long-term working groups of LPFN partners designed and defined studies resulting in over 110 publications and over 70 events that have, as Sara Scherr, President and CEO of EcoAgriculture Partners and Chair of the LPFN, noted, "formed the intellectual foundation for the movement of integrated landscape management." See here a full list of all LPFN publications and events.
LPFN worked to create a stronger enabling environment for landscape partnerships. The partners engaged international businesses to develop an action agenda to better link sustainable supply chain efforts with sustainable landscapes. Partners linked their work on innovative landscape finance; now landscape investing is becoming a recognizable asset class and also an approach for investors to use to reduce their risks and increase their impacts. On the international policy level, the LPFN partners have facilitated the endorsement of integrated landscape and territorial approaches by the Convention for Biological Diversity (CBD), the UN Framework Convention on Climate Change (UNFCCC), the UN Convention to Combat Desertification (UNCCD), the New Urban Agenda-Habitat III, and the High-Level Political Forum of the SDGs. The Landscape Academy was designed and incubated by LPFN and now is a digital learning platform run by the Global Landscape Forum.
LPFN also helped to connect and strengthen the relationships between the local leaders of landscape initiatives. The LPFN Landscape Learning Networks, primarily in East Africa, strengthened partnerships and influenced regional policy. Three African Landscape Dialogues (in 2014, 2017 and 2019) and the Mesoamerican Dialogue (2018) were convened by LPFN and regional partners to enable peer-to-peer learning, the quick deployment of tools and techniques, and craft action agendas for policy, investment, capacity building, and research. The African Dialogues generated the African Landscape Action Plan (with a phase II in 2017, and a phase III in 2019), formally endorsed by the African Union, reflecting the commitments and needs of local African landscape partnerships.
The Future of Landscape Development
The collaborative and innovative work of LPFN undoubtedly helped set the stage for a blossoming of integrated landscape initiatives. All the rich resources developed by the LPFN will remain accessible through the peoplefoodandnature.org website, but will no longer be updated.
Moving forward, integrated landscape initiatives around the world now need more widespread support if we are to meet the global goals. The panelists of this Landscape Roundtable demonstrated a promising trajectory for landscape approaches, given the recent emergence of ambitious national, international, civil society, and business programs focused on holistic landscape management. New landscape initiatives championed by the panelists' own organizations include:
Resilient Landscapes Initiative (CIFOR-ICRAF)

AFR100 (Government of Germany)

Forest and Landscape Restoration Mechanism (FAO)

Coalition for Sustainable Livelihoods (Conservation International)

Sustainable Landscapes Program (Solidaridad)

Global Restoration Initiative

(

World Resources Initiative)

Greatly scaled portfolio of landscape investment programs (World Bank)

Landscape research portfolio (CIAT-Bioversity Alliance).
EcoAgriculture Partners is now building on the lessons of the LPFN to convene a new 'radical collaboration'– 1000 Landscapes for 1 Billion People Initiative (1000L)–together with Rainforest Alliance and many other partners. 1000L will focus on 'turbo-charging' local landscape partnerships on the ground–aiming to enhance their effectiveness through digital tools, capacity-building infrastructure and shifting flows of finance towards their landscape investment portfolios.